Note: this post includes affiliate links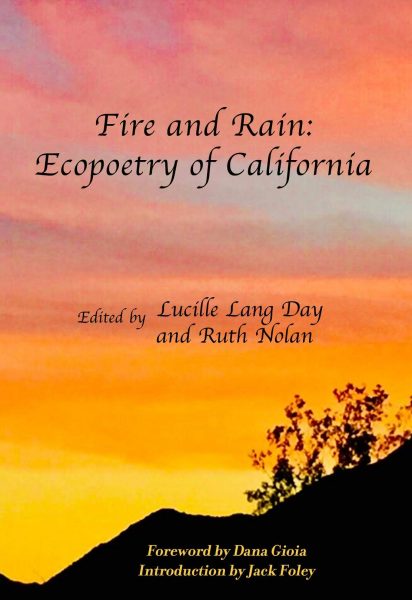 Fire and Rain:  Ecopoetry of California
Edited by Lucille Lang Day and Ruth Nolan
Marin Coast (by Kurt Schweigman)
"we hiked to the ocean today
left a prayer for earth
where land and sea
hug each other
it was better than good
maybe even
gooder than better

…as prayer and earth do feel
the simplest love
of a father and young daughter
who hold hands while hiking"
The brutal, vast devastation of the state of California by wildfire has shocked us all. My son is a Utah firefighter who was called in to help with the out of control, massive fires and he was stunned by the magnitude, the charred buttes of mountains, the flatlined cities rumpled with ash and smoke, unpeopled by death.
So, when I received a review copy of Fire and Rain: Ecopoetry of California, I immediately devoured the volume and page by page recovered the California of beauty and locale.
Sectioned and presented by locale, each poem recreates a new and old California, another slice of redwoods, sea, stretch of glorious PCH, canyons and gorges, lagoons and lakes – pristine, sometimes sullied but always breathtakingly beautiful.
From Mary B. Moore's poem, "Abundance," we glean the light that gathers just behind and above the horizon:
"The light differs here, half wild and whiter
than the tamer light that gild the inland
cities gold. It ricochets
off cilicates-mica flakes, sand grains…"
"Little Sur," by David St. John, rattles through us, a love song to the feminine and the surf:
"…These last wisps of morning fog and rags of sunlight
lift into the redwoods rising up along
The canyon walls & in the inlet below us elephant seals
announce their daily dawn arguments…"
And,
Jennifer K. Sweeney's "White October (Big Sur)
"You could lose yourself
crawling the car around coast cliffs
and all the ways you've wished

for disappearance…"
This anthology resists the destruction created by nature and man, reviving the magnificent spilling out of poem after poem, providing a palimpsest of light, air, and the whispering echo of beauty that soothes us as we both mourn Mother Nature's colossal destructiveness while resurrecting the magnificence of California in poem after poem. Luminous and ethereal, Fire and Rain: Ecopoetry of California allows us to rise to the sun that slants over a smoky horizon into the pure loveliness of nature gone rampant.
Exquisite.