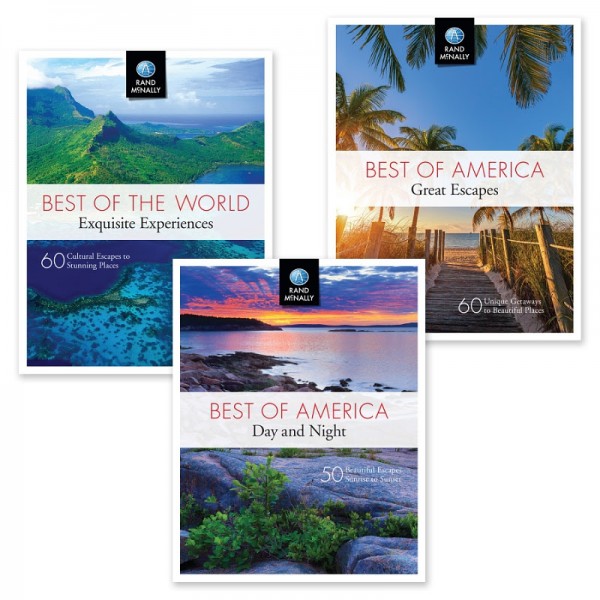 When I'm not in-flight or at a destination, there's nothing that I love doing more than a little armchair travel. Even Mr. S, who's not much of an explorer loves to pick up a great book of travel photographs like the new "Best Of" series by Rand McNally. This travel series is packed with stunning photos and engaging vignettes about U.S. and world destinations, Best of America: Day & Night, Best of America: Great Escapes, and Best of the World: Exquisite Experiences will awaken and captivate the traveler that stirs in all of us.
"These books are for road warriors and armchair travelers alike," said Stephen Fletcher, CEO of Rand McNally. "Our editors have spanned the globe to illuminate special locations that provide once-in-a-lifetime, 'bucket list' experiences. The 'Best of' series continues Rand McNally's tradition of guiding travelers – this time with vivid photographs and enlightening content."
Best of America: Day & Night
50 Beautiful Escapes – Sunrise to Sunset
50 beautiful American landscapes and cityscapes, and tips on the best time to experience them – by the light of day, by the light of the moon, or both
Catch the first sunrise in Maine, hunt for seashells in Florida, discover the colors of the Painted Desert in Arizona, explore California's redwoods, see volcanic lava in Hawaii, stargaze in Joshua Tree, and more.
Best of America: Great Escapes
60 Unique Getaways to Beautiful Places
60 captivating American destinations
Savor San Francisco, enjoy music in Austin, bike the Nantucket heathers, go Victorian on the Jersey Shore (and Antebellum in the Deep South), see Ernest Hemingway's Key West, paint the town in Santa Fe, and more.
Best of the World: Exquisite Experiences
60 Cultural Escapes to Stunning Places
60 of the world's most-alluring destinations
Shop for perfume in Paris, find Charles Dickens in London, go al fresco in Tuscany, bike Dutch tulip fields, ski the Alps, get lost in Moroccan markets, climb dunes in Namibia, and more.
DETAILS