As if my closet wasn't a nightmare, this being under the weather has made me realize how much my diet effects my health. I may be Champagne Living – but that can mean excess and additives, especially since I'm no Ree Drummond in the kitchen. I need a lot of grab and go, that's why I married a man who owned restaurants, so I'd never have to cook. That plan didn't work, when he sold them all back in 1985. So, I ended up being forced into the cooking position. Now that there are just the two of us at home, I try to make the kitchen one of the spots that I spend the LEAST amount of time in.
No one had to tell me about the junk food, additives and other CRAP (sorry, there's no other word that says it quite like that does) that's been in my pantry and fridge.  I'm smart enough to know it's there, but dumb enough to ignore it. I've eaten this way for too long, that I had NO IDEA where to start. Which brought me to: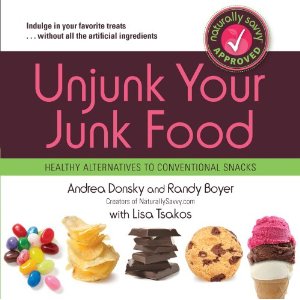 Unjunk Your Junk Food: Healthy Alternatives to Conventional Snacks
Since my only healthy eating bestie Ava lives in Utah (and I'm in Florida), she couldn't just walk over to help me clean out the kitchen. So with this great little book in hand, I marched into he kitchen. Never one to start out easy, I went right for the 'The Scary Seven,' determined to rid my kitchen (and body) of the chemical additives that I know are adding to my health issues.
HFCS: High-Fructose Corn Syrup (AKA glucose-fructose in Canada)
TRANS-FATS: Anything listed as 'partially hydrogenated' or 'hydrogenated' (includes vegetable shortening)
MSG: Monosodium glutamate
ARTIFICIAL FLAVORS: Any artificial flavoring
ARTIFICIAL COLORS: Any type of artificial dyes
ARTIFICIAL SWEETENERS: Chemical sweeteners including Aspartame, Splenda (sucralose), Ace-K (Acesulfame Potassium), Saccharine, etc.
PRESERVATIVES: Polysorbate 60, 65 & 80, TBHQ, Sodium Benzoate, BHA, BHT, Sulfur Dioxide (sulfites).
Some of what I got rid of were obvious, some were like reading War & Peace, and others I was SHOCKED to learn were bad for me. Some were easy to toss and others – like my beloved diet soda (which I'm not sure how I'm going to handle over time) were like taking a baby away from it's mother.
Fudgsicles – I'd always been told these were a great low fat treat that were low in calories. When I read the ingredient list that included lots of big words I can't pronounce (like polysorbate 80, 65 , high-fructose corn syrup, etc.) I was surprised. Why do they need that junk in ice cream?
Fig Newtons – Grrrr…these are FRUIT cookies right? I have a bit of a sensitivity to sulfites and I was SHOCKED to learn that these have Sulfites and Sulfur Dioxide. That means that if I binged on them – I'd have been in BIG trouble. I happen to LOVE Fig Newmans, so that was an easy substitute.
Diet Pepsi – My most difficult to part with. Of the 10 ingredients listed on the can – 5 of them are on the list. MORE THAN HALF! What am I going to do? I'm going to TRY Blue Sky Free Soda (it's 0 calorie cola). I'll admit that I haven't tried it yet…and I'm worried that I won't be able to do this.
On the OTHER hand, I was happy to learn that many of the items that I LOVE and use regularly are on the Naturally Savvy Approved list – like Snapple Iced Tea, Simply Lemonade, and many of the Breyer's Ice Cream and Ice Pop products. Also – Kettle Chips are my FAVES…so, I guess that I can still eat lots of my junk food without worry.
Personally, I'm feeling this whole Naturally Savvy eating isn't as difficult as I thought it would be, and rather than go OVER THE TOP and do away with EVERYTHING bad – I'm doing it gradually. I find when I go overboard, I tend to revert back to  my old habits again…but, as I get used to each substitution, it gets easier.
What I have learned is to READ those labels before I buy. Especially when I know that many of the items have a healthier alternative that I already LIKE and can buy easily at my neighborhood grocery store.
Are you thinking about getting rid of all of the chemicals that lurk in your food too? Follow Naturally Savvy on Facebook and sign up for the Naturally Savvy Newsletter. Better yet, for only $7.20 on Amazon.com – pick up a copy of  Unjunk Your Junk Food
. It's an EASY, VISUAL way to learn about the healthy alternatives to your snack foods.
I received a copy of this book to facilitate my review. All opinions are strictly my own.