Moving, no matter what the reason is a lot of work. The concept of gathering all of your personal belongings and placing them in boxes to ship off to your new destination requires weeks or preparation. While you may be breathing a sigh of relief because you've arrived at your new place, you should be warned that there are additional steps you need to take after a move. After the movers have unloaded the truck and you've safely arrived at your new home, here are some things you're going to want to tackle.
Safety
While the house should have been checked over before you moved in, it is still a good idea to check things like the locks on the windows and doors to make sure they are all secure and that you and your family are safe. It's not just security either, but the health and safety aspect of the house. Make sure that your roof is secure and insulated with a contractor such as Mr Roof and that any little DIY jobs such as creaks, cracks and small breakages are fixed.
Get Utilities Turned On
If you haven't already scheduled this, you'll need to get on the phone with local utility companies to make sure that your home or rental property has adequate heat, gas, and running water. While some services may be transferable from your old home, others will require you to complete a new customer application and submit a deposit. You'll want to make sure that you've scheduled the day off, if necessary, to ensure you're there for the contractors when they come to set up services.
Get Rid of Pests
Vacant properties can sometimes be the hub for insects and other unwanted pests. They will essentially hide in hard to reach spots until you've unpacked and then make a home for themselves amongst your belongings. To minimize the chances of an infestation and to maintain a healthy home it is best to hire a local pest control company. A Dallas pest control service provider, for example, would be best suited for families who live in the Dallas area.
Change Your Address
Though changing your address should have been added to your list of things to do prior to moving, it is imperative that you do this once you've arrived at your new home. Not only do you need to notify the post office and service providers, but you need to make the local department of motor vehicles aware of the switch. As most areas require this be done within 30 days, the sooner you put this on record, the better.
Installations
Will your household need to use things like cable, phone, and internet? Perhaps you need to have ceiling fans, electrical sockets, or other things installed around the home. Having them properly installed before you've starting unpacking can eliminate a lot of frustration as it allows contractors to maneuver around the property without destroying your things. It gives them easier access to phone lines, electrical wires, and plumbing as well.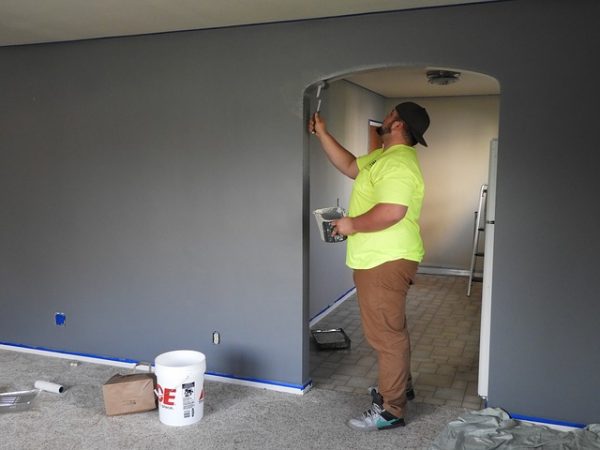 Paint
If the interior of the home you're moving into isn't the color you'd like it to be, it is best to paint the walls prior to unpacking everything. This makes it easier to avoid mistakes like getting paint on valuable or sensitive belongings. Be sure to use a tarp to cover the floors to avoid dripping and spills which can be hard to get out of certain flooring materials.
Decorating
Before you can get really comfortable in your new home you need to make the house feel more like a home. Decorating always seems to do the trick here. You can spend the weekend arranging furniture, unpacking boxes, and putting things in their place. If you have a big house or a lot to unpack, try not to overwhelm yourself, however, and simply complete one or two rooms each week until your entire house is done.
Though arriving at your new home may seem like the end of the struggle when it comes to moving, there are still some steps you need to take. Since there is often a lot to remember before, during, and after a move, it is recommended that you create a checklist and keep it with you. Once you've ticked off the last item on this list, you're ready to enjoy your new space and transition into your new life without the stress.