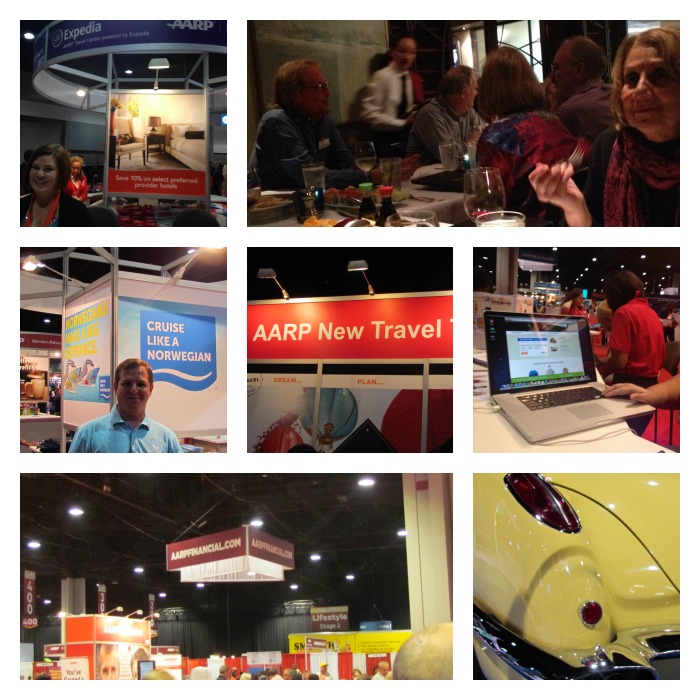 I may complain about my wrinkles, and my changing body, but when I step back from myself a bit and look at where I've come in these almost 60 years, I'm pretty darn proud. Frankly I wouldn't want to go back to being 20-something with kids at home and no time for myself. I've been there, I LOVED it, and now it's time for a new phase of my life.  As a blogger, most of the people that I spend time with on a professional level tend to be men and women who are much younger than I. It's unfortunate that I don't get to spend as much time with like minded people, but thanks to AARP Membership Advantages, last week I had the PERFECT opportunity to not only spend a few days with people with whom I had a lot in common (we were all travel bloggers over the age of 50), but I also got the opportunity to learn about all of the advantages that membership in AARP affords me that are ONLY available to people d'un certain age as the French so eloquently put it.

When AARP suggested that I was going to #LiveItUp at the #Life@50+ conference in Atlanta, I pictured stations to get your blood pressure checked, and questionnaires about your risk of having a heart attack, and while indeed there were healthy living stations in the EXPO, I had the opportunity to hear the likes of
Samantha Brown
Jean Chatzky
Jane Pauley
Dan Marino
and  MORE speaking
Better yet, I came away with  some GREAT MONEY SAVING information that once you're an AARP member (at a low cost of $16 per year), you get savings that are not available to the general public ANYWHERE ELSE. Since you come to Champagne Living to learn how to enjoy life and for great travel tips here are a few to make you want to rush to AARP.org and get your card NOW.
Motel 6
What does the diva of Champagne Living want with Motel 6? Well, since Clem travels with us on road trips, I always need a pet friendly place to stay. All of the Motel 6 properties accept pets and THEY DON'T CHARGE A PET FEE (I've stayed in hotels that add $50 per day). AARP members ALWAYS get a 10% discount, as well as FREE WIFI, and late checkout until 2:00 pm. FREE wifi, pets AND a discount? Yes, you'll definitely see my car parked at Motel 6 on my way to New England next month.
Norwegian Cruise Line
Since their home port is close by, I was all ears when I heard that not only do AARP members get a 5% discount on select cruises…but that discount is STACKABLE on top of any other GREAT offer you might find. SCORE!! There are always SPECIALS at AARP Member Advantages and if you book by November 1st, you'll also get up to $250 to spend on board fleetwide; up to $500 to spend on board when you book a Cruisetour; or a special $100 offer on their newest ship, Norwegian Getaway. Also enjoy up to $1000 in Air Credits; 50% reduced deposit; up to $100 off select sailings
Budget/Avis

Hmmm….we're taking that road trip to RI next month. Before heading to the Life at 50+ event I had NO CLUE that I could get 30% PLUS up to $40 off a weekly rental.  That's a LOT of money in your pocket for FUN while you're away.
LiveNation

Ben just went to the Cruzan Ampitheater in West Palm for a concert, but he'll have to wait til he's 50 and an AARP member to get a great deal like buy three tickets, get the fourth free. I just saw that they are selling Jeff Beck/Brian Wilson tickets for only $20.
Outback Steakhouse
With an Outback less than 3 miles from the mansion, we're there fairly often and AARP member save 15%  Mondays – Thursdays & on Weekend Lunch. Mmmm….I'll have a filet mignon with sweet potato please.
MORE
I'll periodically be bringing you more about the GREAT benefits of being an AARP member, as well as the 411 on upcoming Spring event will be held in one of my FAVORITE cities Boston on Mother's Day Weekend.  I'll also be giving you an inside look at what a Life@50+ event LOOKS like (hint: it's full of ENERGY and FUN).
This post was a result of a trip to the Life at 50+ event in Atlanta, sponsored by AARP. All opinions are strictly my own.