It's no shock that I enjoy a good glass of wine, and NOT just once in a while. I tend to have a glass most evenings with dinner, or if I'm socializing with friends. Of course I have my favorites, but lately I've been moving out of my comfort zone and trying some new wines…some good and some bad. I'm always a bit hesitant when I'm sent a wine to review and the paperwork that comes with it says $7.00 a bottle. I wonder if it will end up in my glass, or in my stew the next day.
This week, I've been drinking flip flop wines, since they sent me a bottle of their Pinot Grigio, Reisling, and Pinot Noir. What I expected and what I drank, are two very different things. At $7.00 a bottle (on sale for only $5.00 at my local Publix this week), I hadn't set the bar very high (sic). I was pleasantly surprised…especially by the Pinot Grigio. Glass after glass (until the bottle was empty), I kept trying to find something WRONG with this delightfully casual wine. I couldn't. It was by far better than some of the Pinot Grigio's that I've had at more than twice the price. I found it a perfect wine to be drinking outside (the weather in South Florida has been GLORIOUS lately) in the evening as I relaxed after a hard day of working, cleaning, having my nails done….  No, it wasn't at ALL what I had expected.
I also drank a bit of the Reisling, and while I don't particularly care for sweet wines, this one had such a clean finish, that I actually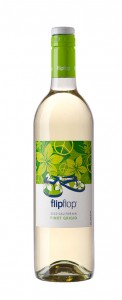 found myself enjoying it. I have yet to taste the Pinot Noir (which is one of my "go to" wines, as I love deep, red, and dry), as I tend to save the best for last.
These are great wines for serving at home with dinner, as they're a very casual, comfortable wine that you'll have no problem enjoying with a stew or simple dinner at home.
Here's the BEST part. For each bottle of flip flop wines sold, they will donate a pair of shoes to Soles4Souls, a wonderful organization who donates shoes to children who would otherwise go without. From donating to the children of New Orleans after Katrina, to putting shoes on children in Africa, Soles4Souls distributes these shoes to people in need, regardless of race, religion, class, or any other criteria. This year their goal is to donate 11 MILLION pair. So, by purchasing and enjoying flip flop wines, you'll also be doing GOOD.
My recommendation? These are nice wines, that you could serve to guests or enjoy yourself without spending a fortune. Now THAT'S Champagne Living.
For more information on flip flop wines and Soles4Souls, go to: flip flop wines and Soles4Souls

Soles4Souls on FACEBOOK: https://www.facebook.com/GiveShoes

Flip Flop Wines on FACEBOOK:  https://www.facebook.com/flipflopwines
I received product to facilitate this review. All opinions are strictly my own.