Have you heard the birds chirping outside of your door yet? Have the crocuses begun their push through the snow, promising better days to come? Even here in Florida, the weather is changing, the days are bright and sunny and the call to be outside more often is like music to my ears.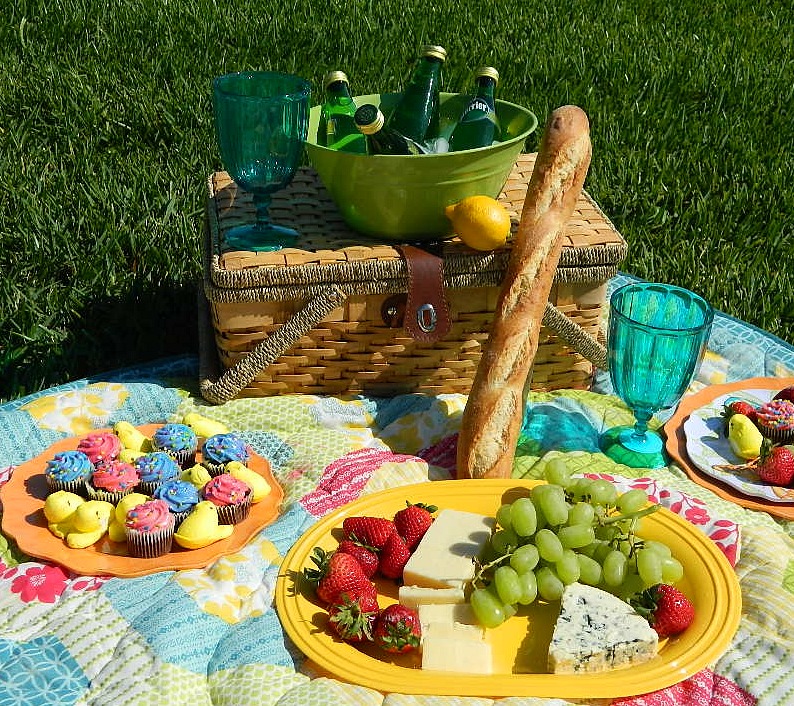 With the help of a few products from Better Homes and Gardens, I was able to create our first picnic of 2011 right in the backyard. With sunny skies and a beautiful BHG Patchwork Quilt on the ground (less than $25 in QUEEN SIZE), the stage was set for an elegant afternoon.  Plastic plates from Walmart (for under $2 each), and beautiful Victorian looking goblets ($6 each) filled with Perrier and lemon were set out for us to dine from.  For me, picnics don't have to be either expensive or a lot of work. As a matter of fact for under $25.00 I was challenged to create my little getaway from the day-to-day grab a sandwich lunch that I tend to do.
The retro looking picnic basket (also from Walmart's Better Homes and Gardens line for under $25), serves a double duty as a small table (and it sits in my closet full of beautiful scarves and shawls when I'm not dining al fresco).
Good french bread, a variety of cheeses and fruits for our main course, followed by miniature cupcakes and peeps. YES PEEPS, mean dining in an elegant fashion. Of course it's that time of year and springtime always brings out a little whimsy (hence the peeps). All I needed was a big straw hat to complete the experience.
I love the fact that everything came from my local WalMart and that the quilt and basket both are double duty home decor items from the Better Homes and Gardens home decor collection.
Help  me to celebrate spring and have a picnic of your own. There's no need to spend a fortune (my actual cost of food and the extra serving dishes came to $21.26).
If you have a minute, I'd LOVE it if you'd vote for my picnic in the Better Homes and Gardens perfect picnic contest. Mine is the Elegance, Sun and $25. Thank you!!! If I win, I'll have a VERY special giveaway for my readers using my prize!
Thank you to BHG for providing the setup and gift card to create my perfect picnic. All opinions are strictly my own.