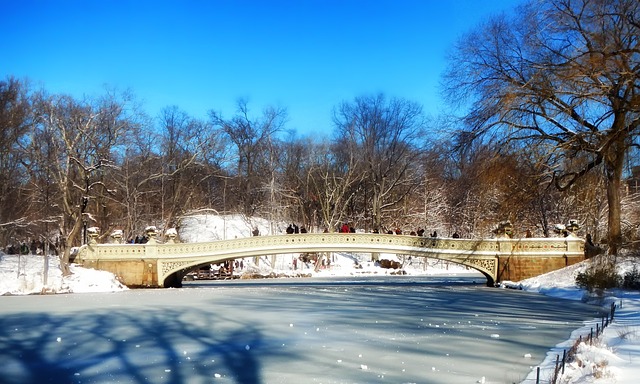 Why a winter post in July? Admittedly, the last thing most of us are thinking about right now is winter, yet, if you're planning a trip to New York, then it's the sort of city where you'll want to plan ahead and do your research in order to squeeze the most out of your trip.
Now, winter is one of the most magical and romantic times to visit New York, and if you've ever watched the film Home Alone: Lost in New York then you'll have a feel for how romantic the city can be in the winter, particularly around Central Park.  
There are plenty of other romantic destinations in the romantic weekend getaways to be had in the US, but here are five romantic ideas specific to New York thay will hopefully get your research off to a good start…
A SUNSET SAIL
Even in winter, a sunset sail around the Statue of Liberty provides an incredible view of visual highlights of New York. The cruise is often complimented with cocktails, yet whilst it is one of the most romantic things to do in the city, it's also one of the most popular, so expecting to be sharing this experience with plenty of other couples.
COMEDY NIGHT AND BROADWAY SHOWS
Perfect for a cold night are the variety of decent comedy clubs in New York City and amazing broadway shows where you can often pick up last-minute ticket deals making the shows surprisingly affordable.
WALK THE BROOKLYN BRIDGE
You'll want to wrap up warm in order to walk across this iconic landmark that is one of the oldest bridges in the United States, and at 1,595 feet it's a fair distance in consideration of how exposed it can be when the freezing wind is nipping at your neck; but it's worth the walk when on the other side you can enjoy a mug of mulled wine and some roasted chestnuts from a traditional street vendor.  However, this one is best reserved for a clear sunny day as doing the walk in the snow or rain is just hard work.
VISIT THE CENTRAL PARK ZOO
After enjoying a hand-in-hand walk next to the frozen lake of Central Park you can perhaps meander to the zoo where you'll find exotic winter animals including sea lions, seals, snow monkeys, polar bears and even snow leopards.
PEOPLE WATCH AT GRAND CENTRAL STATION
Grand Central Station is the filming location for one of the most notorious first dance songs of all time at weddings throughout America; "You and Me" by Lifehouse, this makes the perfect spot to sit and watch the world go by; enjoying the melting pot of cosmopolitan personalities that make-up this intriguing city… and there's something peculiarly romantic about the atmosphere.
The above suggestions are a solid starting ground to get you thinking about some of the things to do on a romantic winter escape to New York, but this is a big city with an overwhelming amount of things to see and do.  The best advice therefore is to plan ahead, even if you're not a fan of itineraries, it can be good to have some options in mind.