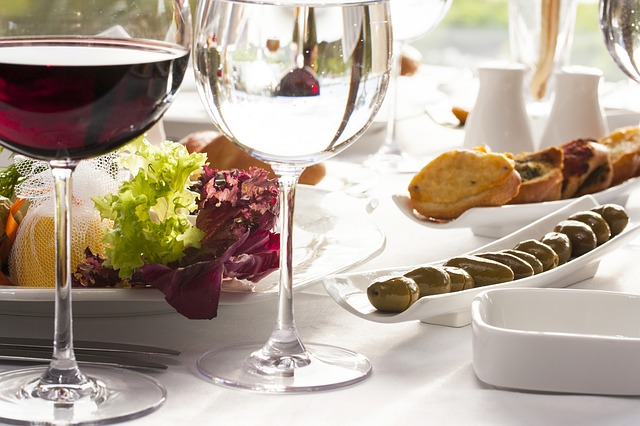 Part of the adventure with food is choosing the best possible drink to go with it. When it comes to healthy cooking, and food you've prepared entirely yourself, one of the greatest little adventures is pairing food with the right wine. But for most of us, it is something else feels incredibly elitist and complex, but it doesn't need to be at all! In fact, the basics of pairing food and wine are pretty simple…
Wine Goes With The Dominant Flavor
This is something that a lot of people don't think about. While a lot of people might consider pairing the wine with the meat, more experienced wine tasters who certainly spent their well earned time and money almost daily wine tastings, know that it's all about the dominant flavor. Think about the sauce being served with the meat, is it a thick jus? Or is it creamy? If you've got a dish that has a very rich source, the chances are, this will be the dominant flavor.
Acidic Food Needs Acidic Wine
When it comes to making the best pairings, it's all about accentuating the meal. So if you have an acidic meal, such as something you need lemon on, you need a wine to match it and accentuate the acidic notes of the dish. Some popular acidic wines include a Sauvignon Blanc or a Chianti.
Spicy Food Needs Sweet Wine
One of the big mistakes people make when serving up a wine with a spicy dish, such as curry, is to serve a wine that is high in alcohol and heavy with tannins. This is because the alcohol brings out the heat. Likewise, if you have made a dish that is not as spicy, you can use a high alcohol wine to bring up the heat. Even if you aren't a fan of sweet wines, there are some that are particularly palatable when you are pairing with hot foods, such as a Riesling.
Picking Dessert Wines
The primary rule in picking dessert wines is that the wine has to be sweeter than the desert you are consuming. Many dessert wines are not to people's taste, but you can still have a little bit of something like port before tucking into a luxurious, sickly sweet, chocolate cake.
These really are the basics when it comes to pairing wine with food. And while it's down to personal preference, there is no such thing as the wrong wine, but it's very much something to consider if you are looking to enhance the flavors of the dish you have. Because wine tasting is considered to be such a snooty practice, a lot of us can feel like we're out of our depth. But you may discover something that the most ardent of wine experts would turn their nose up at. And remember, if you really feel like you don't know where to begin, the local wine shop will always have a friendly employee to get you started on your journey to wine tasting perfection. When you're trying to bring out the flavor of a meal, wine, or even beer, can change the meal so much.