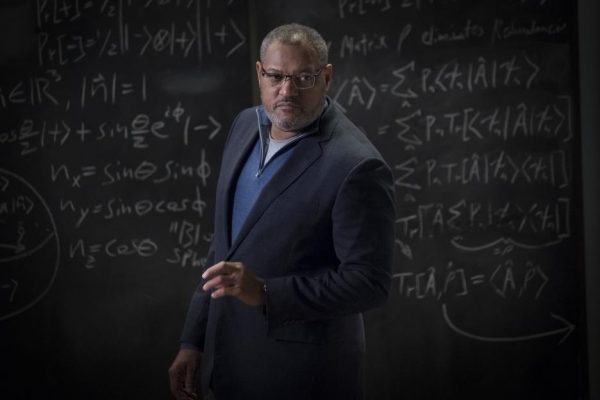 Sometimes it's difficult to guage a person. When I've seen Laurence Fishburne on the screen he comes across as imposing and serious. But I learned that the man with that commanding voice has a side I'd never seen coming. With a dry sense of humor that turns quickly to honesty about his love of comics and his excitement about this movie you are easily drawn into his experience being a part of the Marvel Universe.
Having been in both DC & now Marvel
I started reading comic books when I was very young, probably like eight or nine years old, and I'd always read DC and Marvel.  I love them both.  I'm just grateful and happy to be a part of that small group of actors who've been in both universes.  For anybody who thinks I'm disloyal to one or the other all I can say is, look, I paid money for both comic books so….
How he became involved in Ant-Man and the Wasp
I've been reading for a long time, been watchin' the movies,  and I ran into the director of the Fantastic Four movie, Rise of the Silver Surfer – his name is Tim Story, and I said to him, "Hey man, I'm Norrin Radd".  He said, who?  I said, Norrin Radd.  He was like, who's Norrin Radd?   So I had to tell him about the the origins of the Silver Surfer and Galactus.
I was like…I should play that part in it, so he was kind enough to cast me to do the vocal performance in that movie.  That was my first foray into the Marvel universe.  Then three or four years back I couldn't help myself, I wanted very much to be a part of the MCU because of the way it was progressing.  They are doing such great things. Louis D'Esposito and I had worked together about thirty years ago. So, I just asked to have a meeting with him and said, look, I'll do whatever you need me to do but I really would like to be a part of the MCU if there's any way that you can see that I can do that.  They came back and said, there's this character, Bill Foster, who I was not aware of oddly enough, because I wasn't an Ant Man reader.
They presented this character to me, and I met with the director, and we got on really well because he's also a guy who's in his fifties who loves comics.  It just kind of- just kinda organically happened.
About the father-daughter theme throughout the film
Well, it was really written…I mean it was really in the writing that Bill is  a surrogate father, or a foster father to Ava, so that was nice.  It gave me something human to play.  I mean, it's one of the best things about the Ant-Man character as Paul Rudd plays it, that his primary relationship, his most important relationship is with his daughter, and it's executed brilliantly in both movies.
About playing a villain
Heroes, villains, whatever it is, as long as you can make them human it's fun.  You know, that's the objective as to whether it's a hero or a villain, you wanna humanize them and allow the audience to have the experience of I don't like what he's doing, or maybe I don't like what she's doing, but there's something in them that reminds me of me.
Here's a little TEASE for you