I was a guest of the Massanutten Resort last week to experience all that this resort has to offer. All opinions are strictly my own.
Surprised?
So was I. I'd never heard of the Massanutten Resort before being invited on a press trip last week. I was even MORE surprised when I posted about my upcoming press trip to the resort (on social media) and received more responses about how many of you love it there.
Why had I not heard of Massanutten before?
Living on the East Coast this resort should have been on my radar long ago. Thankfully, I crawled out from that rock I've been living under, hopped on a couple of planes (each leg was quick) and arrived at the Charlottesville airport a few hours later. Before leaving I did my due diligence…I asked about Massanutten from my friends and I went online to read about it. I was there to experience their food and wine, but all I could find were articles about cooking schools and nearby dining establishments.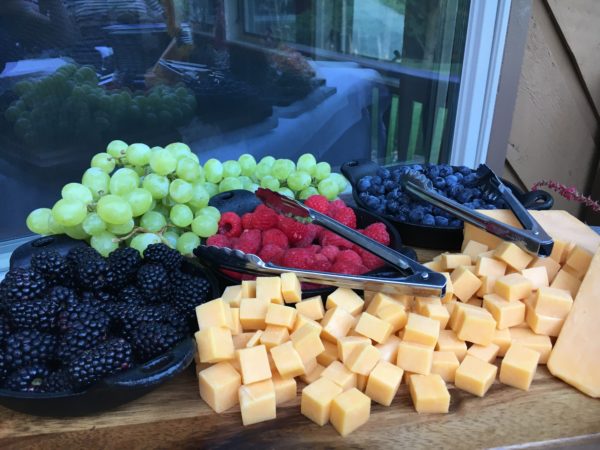 What was I getting myself into?
It turns out I was getting myself involved in a culinary adventure that needs to be EXPOSED for what it is.
Delightful

Delicious

Decadent
While I'm certain that I barely scratched the surface of culinary delights at Massanutten, I wanted to share a few of the highlights with you.
Campfire Grill
As you enter the newly opened Campfire Grill you'll feel a bit of nostalgia. The smell of smokers and firepits fill the outdoor space and the rustic appeal and live music help to steep your senses. The decor is pure camp, but don't let that fool you. Executive Chef Michael Ritenour has taken campfood to an all new level, and frankly I don't EVER want to toss a plain hot dog on the grill again.
We were treated to appetizers on the deck with a fabulous live band playing to set the mood as we checked out what was to become a few days of foodie heaven. The colors, the smells and the flavors all intertwine with obvious care by Chef and his team. From the simple bruschetta with hand pulled mozzerella…to pizza topped with local treats…
and my favorite Shrimp and Cornbread that had flavors that any grandmother would be pround to serve. I was so taken by this that I begged for the recipe (and yes, I'll be sharing it with you soon). The shrimp were cooked in garlic to that perfect snap with bacon that was hand cut and smoked, adding a truly unique flavor to the fried cornbread rings on which they sat.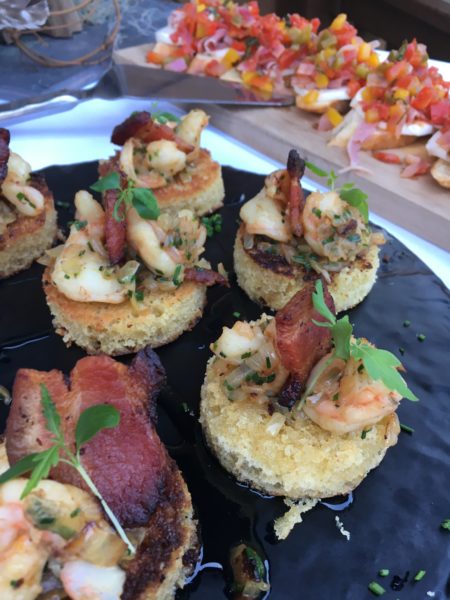 We moved inside for our dinner that started with a mixed green salad
and continued to the Three Creeks Sampler a platter of Tenderloin with Gulf Shrimp, Pan Fried Trout and a Local Chicken on a bed of rice and vegetables. Fresh grilled corn with sweet kernels that popped off of the cob were the perfect summer veggie. The man knows how to use a smoker like no one I've ever met before.
When I thought I'd had enough we were escorted back out to the deck for the most decadent campfire dessert…
The flames were lit on each of the table/fire pits and we made s'mores in true campfire style. With homemade thick graham crackers these childhood favorites captured the delight of every adult in attendance.
Surprised? So was I and I just couldn't figure out WHY I hadn't been able to learn about adventures into the food of Massanutten.
Base Camp
Base Camp – from all outer appearances this is a ski lodge restaurant. I've been to plenty of them in my life, from Mt. Tremblant in Canada to Loon Mt in New Hampshire. I've sat at my share of lodge bars and enjoyed a good burger or two with a local draft. How could this simple restaurant at the foot of a ski lift in Virgina be different?
As I walked by the outdoor bar toward the tables (we dined outside as the weather was sunny and hot), the sweet smell of smoked meat danced in the air. It is the smell that seems to bind so much of the food here at Massanutten together. The love for making everything from scratch with many of the basics coming from local vendors and a smoker…
Chef Michael greets us as we sit, introducing us to our bartender for the day. This will be an interesting meal of casual favorites paired with craft cocktails. I wasn't wrong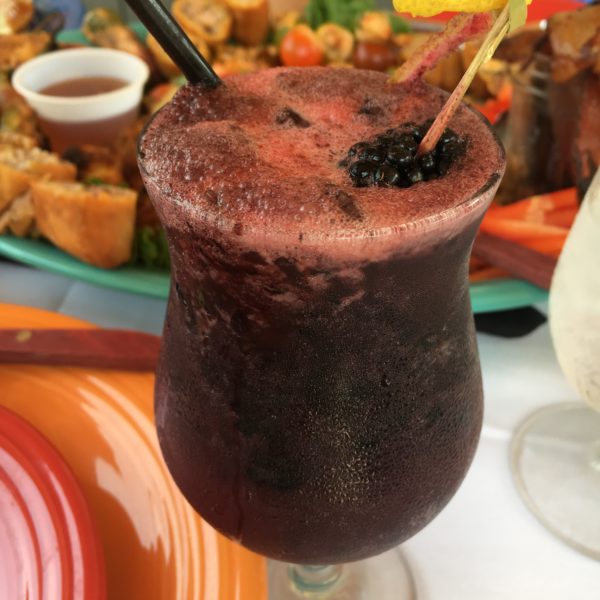 A refreshing Blue Raspberry Lemonade is served. It is sweet and goes down too easy (the Absolute Raspberry Vodka is so smooth). I learn that there will be lots of these drinks this afternoon, so I pace myself. But, it's difficult when Chef shows up with a platter of appetizers that showcase the variety that Base Camp offers.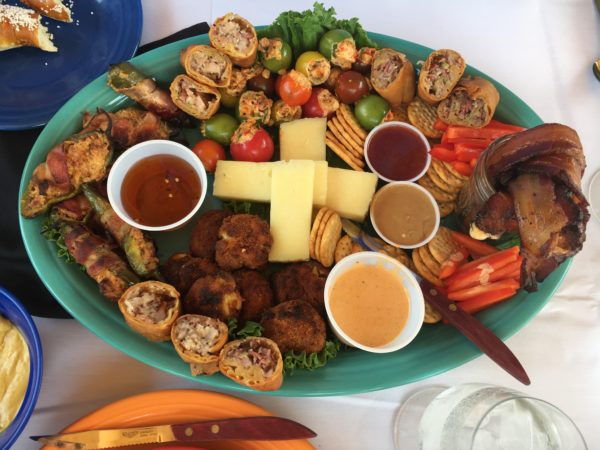 Fried mac 'n cheese balls, sausage stuffed Jalapeño Snake Bites stuffed with cheese and Italian sausage and wrapped in bacon (with a sweet dipping sauce), chicken salad stuffed peppers, and Shrimp & Grits Egg Roll all presented with a variety of dipping sauces (and a mason Jar-O-Bacon). Pace myself? There isn't a flavor that doesn't call me for seconds, pacing becomes a fleeting thought.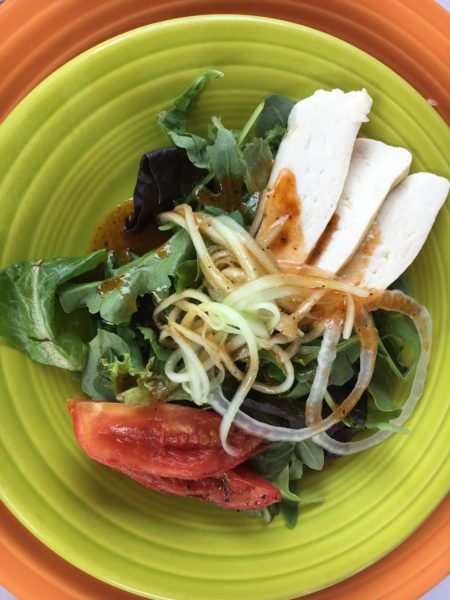 A salad with housemade dressing that's just right (I am grateful that it's not too sweet), and the homemade mozzerella and udon noodles add something special. It is getting hotter outside and along with the cool salad comes a smoked pineapple jalepeno margarita.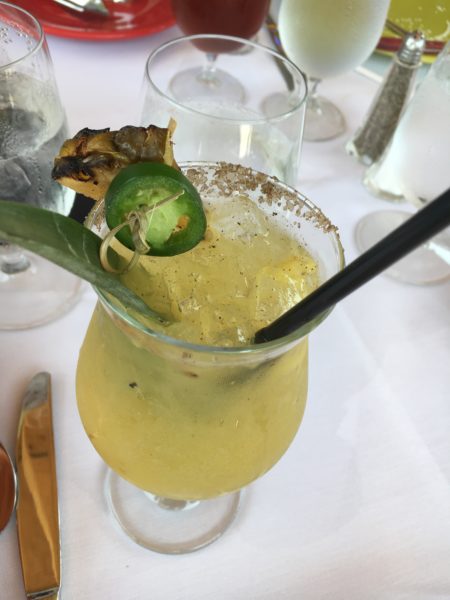 The sweet and hot combo in a glass rimmed with smoked salt keeps me cool with a kick. I am slowing down…there is so much food and drink. He brings a palate cleanser of Camp Stove Chili, made of chunks of sirloin and I dive in. I'm happy that I've worn a stretchy skort.
I don't think that I can eat anymore, until…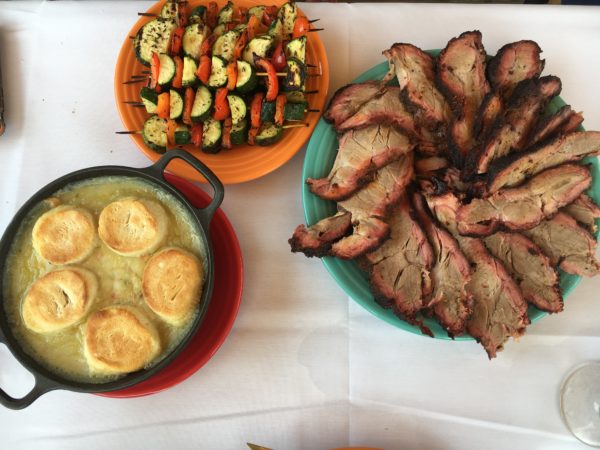 Chef sets his version of chicken and dumplings, veggies and more smoked meat on the table. Oh those chicken and bisquits. Yes, I said bisquits. In place of dumplings Chef has placed bisquits to soak up some of the gravy in the pan. I am taken back to my childhood. Even with this twist the traditional flavor comes through. A course of comfort food that I can't pass up.
Our bartender brings us his take on the Arnold Palmer. The Bayou Zinger is delish, but different. This is not your usual half iced tea/half lemonade. Not at all. This one is made with sweet tea and the juice of a lemon with Southern Comfort and a splash of Grand Marnier for balance. It goes down WAY too easily and is the perfect accompaniment to the heavier entree.
I am stuffed…and buzzed. I can't….WAIT, is that Creme Brulee?
Thankfully, the last drink is not alcoholic. I am in a food coma…and it was worth every bite.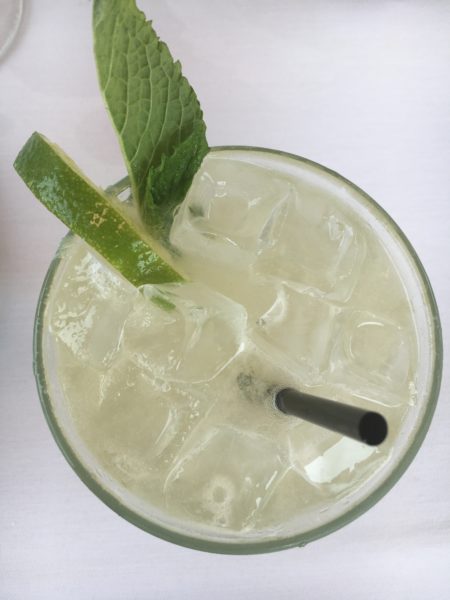 and to think, this was only a small TASTE of what awaits you at Massanutten Resort.
I'll be back next week with a tour of the beautiful condos, a look into the spa, and a trip up to the mountain peak at Massanutten. In the meantime, check out their website for information about how you can book your next vacation.


To learn more and book your vacation visit MassResort.com
I'll be bringing you more Massanutten adventures next week.
Coming soon: Recipes that I was able to get from Chef and the bartenders.