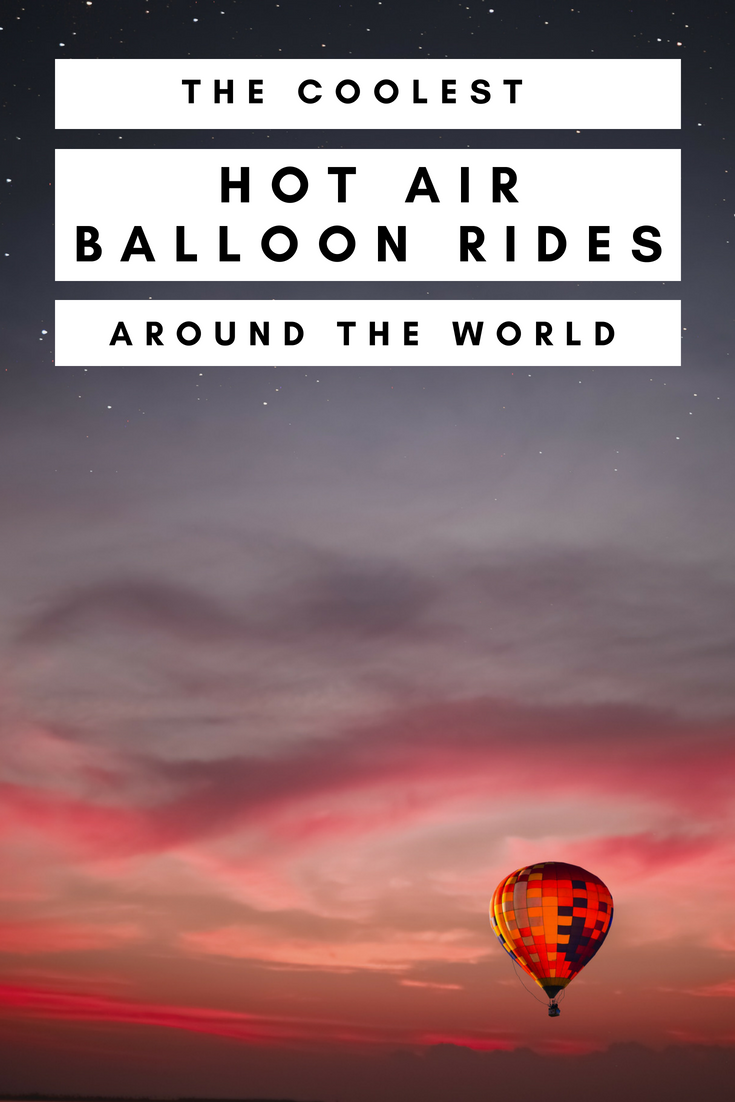 A hot air balloon ride gives you a different and unparalleled perspective of a place. While discovering destinations the regular way is fantastic, there is nothing like gazing down and realizing the magnitude of some of the most renowned locations in the world.
Imagine drifting along with the wind high above some of the world's most astounding landmarks (while sipping on a glass of wine or two, of course). If you're tempted to give hot air ballooning a go, here is our pick of the most stunning places to explore from above.
Atacama Desert, Chile
Soar over the driest desert in the world and one of the most dramatic-looking locations of South America.
Filled with vivid salt lakes and a terrain that looks almost supernatural, backdropped by salt-capped mountains (yup! it looks like snow up there, but it's actually salt!), this remote desert in Chile resembles the surface of Mars.
The Atacama Desert is void of light pollution, making it the best spot in the world for space observatories. Ever dreamed of sleeping under a billion stars while getting an unparalleled clear view of the Milky Way? Here's your chance!
Masai Mara, Kenya
Imagine floating high above rolling grasslands as a pride of lions walks by right below your feet.
Home to the world-renowned Wildebeest migration and the dwelling of Africa's big five, Masai Mara is one of the most popular destinations for an African safari. It's hard to deny that there isn't a better way to do some wildlife viewing than while tucked in a basket sipping sparkling wine?
Cappadocia, Turkey
Tucked in the Anatolian plains in Turkey, Cappadocia is a geological wonder that almost looks otherworldly. Cappadocia's unyielding vistas of rugged canyons, peculiar rock formations, and lava-topped plains are even more mesmerizing when seen from above.
Bagan, Myanmar
Poised on the banks of the Irrawaddy River sits Bagan. Over three thousand ruins of temples and stupas dot the valley of this once powerful kingdom.
As the hot air balloon begins rising from the ground, you'll be able to stare down at this archeological eye candy that is rapidly becoming a rival to the likes of Angkor Wat and Petra.
Napa Valley, California, United States
While the main activity in Napa is wine-tasting, you can also do that while soaring high over the valley's acclaimed vineyards.
Hot air ballooners can enjoy incredible vistas of the Sierras and Emerald Bay as well as the lyrical countryside scene that all its visitors fall head over heels for. On a clear day, you can also see Yosemite!
Red Rock Canyon Park, Arizona, United States
Experience a magical sunrise while flying high above one of Arizona's most stunning natural wonders. As you gaze below, you'll be able to see a unique geological wonderland and take in the beauty of the this red sandstone canyon that was formed more than 65 million years ago.
While Red Rock Canyon is one of the most visited landmarks in the United States due to its incredible hiking opportunities, the chance to see it from a birds-eye view perspective while tucked into a basket is an experience visitors never get enough of.
Tuscany, Italy
Rolling hills carpeted by the immortal Florentine cathedral, never-ending olive groves, and quaint medieval villages are just some of the things the spellbounding Tuscan region has to offer. There is no better way to explore this timeless place in Italy than from a birds-eye point of view.
Loire Valley, France
Throughout history, royals established lavish castles and opulent palaces in the Loire Valley. Today, these spelding châteaux line the landscape of this sleepy river valley that has charmed visitors for centuries on end.