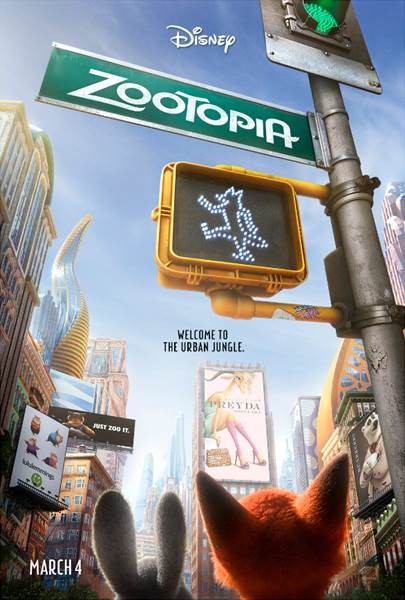 In 6 weeks I will be old enough to legally apply for social security. I've got NO little ones at the mansion (aside from a bull-terrier), there is not a half gallon of milk in the fridge, I don't trip over toys as I walk through the living room, and I am not awakened by a crying baby in the middle of the night wakened by Mr. S asking me where the (fill in the blank) is in the middle of the night.
Which brings me to the question. What is an OLD LADY like me doing writing about an animated movie like Zootopia?
It could be that I'm a fan of Shakira, whose voice not only graces the song "Try Everything," but is also cast as (most appropriately) Zootopia's biggest pop star – Gazelle.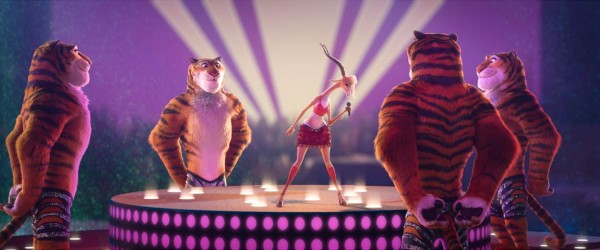 It could be the reference to some of my all-time favorite movies
Or it might be that Zootopia is an insightful study into the human experience….only with animals.
I recently sat down with Zootopia directors Rich Moore and Byron Howard, and producer Clark Spencer for the 411 on this bright look at this fun for the ENTIRE FAMILY flick to learn a little bit about how this came to be.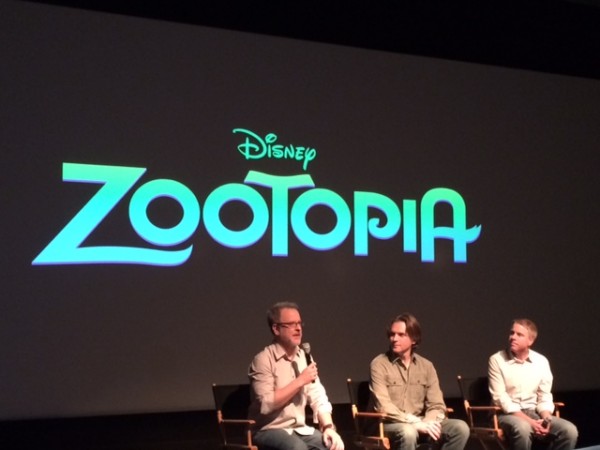 WHO?
The directors!
According to Clark Spencer, Byron started at Disney as a Tour Guide at Walt Disney World.  He always dreamed that one day being part of Disney Animation, and he finally got his chance on the film "Pocahantas" where he was a clean up artist.  He was an animator on "Lilo & Stitch" and went right into the story artist ranks. He eventually made his directorial debut on the Oscar nominated film "Bolt" and on the worldwide hit "Tangled."
We also have Rich Moore.  Rich came to Disney in 2008. Rich has an incredible and long story past in TV animation, creating some of the best and most iconic episodes of "The Simpsons" and "Futurama." His directorial debut here at Disney Animation was on  the Oscar nominated film "Wreck It Ralph."  
WHAT?
One of the coolest things about the city is how it's designed.  Zootopia has different neighborhoods that celebrate different climates and cultures. For the desert animals, there's Sahara Square which is huge and hot and dry.  It's just this beautiful, beautiful area.  It's  kind of an upscale area like Dubai or Monte Carlo, all rolled into one.  You've got these really high end shots, these beautiful hotels, very sunny. Then there is the beautiful and chilly Tiger Town where the cold weather animals live like Polar Bears, Moose, and Arctic Shrews.  In Tiger Town, they have coolers under the sidewalk to keep everything frozen and they've got what they call a 3:00 Blizzard every day.
We got to reuse a lot of that Snow left over from "Frozen."  There's the Rainforest District, and sometimes, it takes a long time to get from the top of the canopy to the 4th floor so sometimes we just put the blimp there.  The question was how do you get a desert and tundra in the city next to each other? We actually turned to research and we asked the experts and we talked to an air conditioning guy and said listen…if you had enough money and enough determination and these animals, you could build an enormous air conditioning and heating wall (which you see dividing Tundra Town at the top).
On one side was hot air and on the other side was cold air, and the run off from Tundra Town actually feeds the steam canyon that keeps the Rainforest nice and humid.
The best thing about having all these unique neighborhoods in this amazing city is that you get to go on this incredible International Tour all within one massive metropolis.  So at first glance, this all seems great.  Zootopia seems like a Utopia but like our own world, the city isn't perfect.  Under this beautiful exterior, Zootopia has its own problems.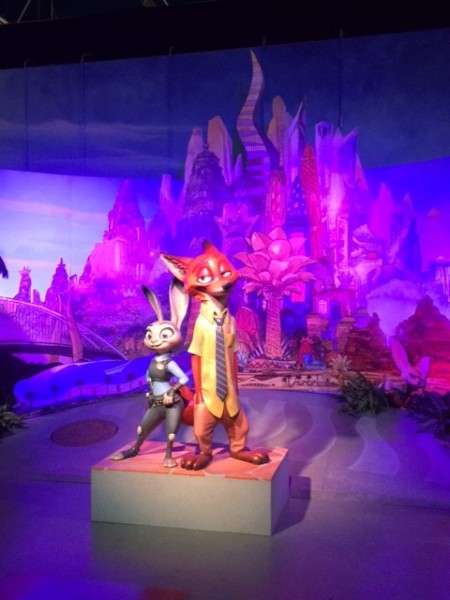 WHERE?
Our films always begin at the same place.  It begins with research and with Zootopia, the Director spent 15 months studying Animals.  Our research took us incredible places starting with our own Animal Kingdom down at Walt Disney World where they have a huge array of animals and some of the best animal experts in the world.  We were able to get right up to the animals and observe their behavior up close. The experts really taught us so very much about them.
But, once we'd seen the animals in a man made facility, we wanted to see them in the wild as well.  So, we went to Africa.  We went to Kenya to study animals on a Savannah, get a sense of their movement and their natural environment, and to find out what a real animal society is like, we needed to go  and see them all around us.  When we got out of that plane, we saw huge birds, giraffes and zebras way out in the distance.  As we got closer to the animals, the animals got closer to us.
When we left Africa, our lives did change.  They truly changed.  We were inspired by these trips to make our characters feel like the animals they are, and capture what makes them so amazing.  we wanted everything from the big City of Zootopia to the individual strains of fur, each animal character to feel believable.
HOW?
After finishing "Tangled" Byron was thinking about what kind of story he wanted to tell next, and he kept coming back to these great animal films, and kept drawing animals over and over again. We finally came up with this idea of an Animal City called "Zootopia" and John (Lassiter) loved the idea so much, he literally got fired up and he hugged him because John is also a huge fan of talking Animal Films. He charged everyone on the Team with creating an animal movie that no one has ever seen before.
WHEN?
ZOOTOPIA opens in theatres everywhere on March 4th!
For more about Zootopia: