You may have seen that recently a social media post went viral when a mother bemoaned all the childless millennial visiting the park. In fact, she was particularly annoyed because such people dared to be in the queue for one of those famous Disney pretzels, which meant her child would have to wait or go without! Of course, instead of waiting as any sane person would, she promptly ushered her toddler away and turned to social media to vent her rage! Obviously, the Internet had something to say about such comments. Especially as she was talking about a place that is designed for everyone to have fun no matter what their age. Of course, it is with that attitude that I have pieced together the post below. A place where you can find out about all the wonderful time and money-saving hacks Disneyland has to offer. Whether you are taking a group of 9-year-olds or a group of 90-year-olds! 
Planning and booking your trip 
Before you enjoy the wonders of the Magic Kingdom, you will need to plan and book your trip. Of course, this is the best time to look for cut priced deals that will save you a pretty penny on what can be a fairly expensive experience. 
The first way to do this is to find accommodation in the park. Then include a dining deal in with your purchase. Yes, this will be expensive no matter what way you look at it, but because you get your meals in with the price, it's kind of like an all-inclusive. Something that means you can save overall once you have added up all of the food and drink you eat. 
The other option is to go for a hotel that isn't actually located within the park. Which are often much cheaper. In fact, there are quite a few that are located right outside of the main Disneyland gates in LA with just a two or three-minute walk until you are there. Perfect for if you want to get in before the crowds start to build, or if you are with older or younger travelers that wish to return home in the day for a nap or rest before going back to watch the fireworks at night.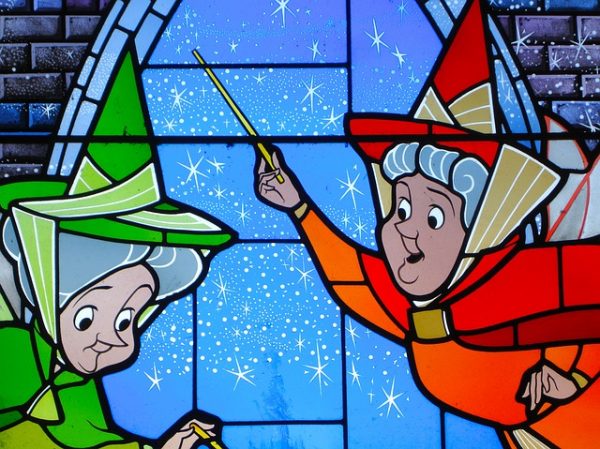 Disney isn't just for the young,  but the young at heart too!
Of course, if you choose a hotel that is not located within the park, you will have to purchase your entry tickets separately. Happily, this puts you in an excellent position to buy discounted tickets online before your arrival. This being something that can also save you a decent amount of money. 
The good news is that you can get multi-day tickets and even park hopper tickets this way too, meaning you won't be restricted on the place you choose to visit but still make a saving.
Rides

 
Once your trip begins, most people want to head straight for the biggest rides like Thunder Mountain and Star Tours to get them crossed offered their list. However, there are several strategies you can use to be smarter about your ride choices. One is paying the extra for
the FastPass system
, something that can now be accessed via your smartphone. The Fastpass will actually allow you to choose a ride time and so not have to queue at all, something that means you can sit down and rest, grab some food, or even meet some characters in that time. 
The next tactic to use is to download a Disneyland queue app for your phone, something that will be updated regularly. This will then allow you to find the rides with the shortest queues. Then you can go there first. Something that means you won't have to wait as long as can fit more in, overall. 
In fact, in this vein, when visiting Disneyland in LA, many people go first to the lands in the far end of the park such as Galaxies Edge or Mickey's ToonTown, simply because they fill up less fast than the ones that are closer to the main gate. Once again meaning you can maximize your time and experiences during your visit. 
Lastly, a tip for parents with younger children who cannot get onto all the ride is to use the rideshare function. What this does is allow one parent to queue and ride, and then when they are done, they can supervise the kids, and the other parent can get straight on without queuing! 
Souvenirs
Everyone that visits Disney will want at least some souvenirs. However, they can quite quickly end up costing well over your budgeted daily allowance. To that end, if you simply must have an item check to see if it's available in any of the supermarkets around Disney rather than in their official stores as it will often be much cheaper there. 
Also, where possible use low cost or free souvenirs to remember your trip. One of the best of these being collecting pressed coins from locations all over the park. You can even get a unique Disney coin album in which to store them too. Something that can help you keep the price of souvenirs as low as possible but still have something to remember your trip by.  
Food 
The food at Disney is one of the best attractions if you ask me. Sadly, there are so many yummy treats and fun restaurant that you can end up spending a lot of time and money eating in the park. 
Happily, there are a few hacks you can use to reduce the cost or the time it takes you to get your food. One is to pack your own drinks and snacks and bring them onto the park with you. Something totally acceptable to do as long as you don't have glass containers. 
Another is to use the new Disney
mobile order service
. This is an app that allows you to order your food and refreshments on your mobile phone and then let them know when you have arrived. You then get to sit down and chill out and will be told when your food is ready. Something that can make food breaks a lot less stressful and ensure you are refreshed enough to go and have plenty more adventures after as well, no matter what your age.