I have to be honest here…Valentine's Day is one of my LEAST favorite holidays. My expectations are always higher than the result, and I spend most of the day sulking. I have serious envy issues when it comes to my single friends who can just get up and go without having to think about what hubby will do while I'm away. For those of you who are single and for those of us who WISH we were single (at least on February 14), I say….run away with your gal-pals for Galentine's Day (February 13) and thank Leslie Knope (Amy Poehler) for inventing a day when gal-pals both married and single can celebrate.
From Parks and Recreation:
"Oh it's only the best day of the year. Every February 13th, my lady friends and I leave our husbands and our boyfriends at home, and we just come and kick it, breakfast-style. Ladies celebrating ladies. It's like Lilith Fair, minus the angst. Plus frittatas."
1. For The (Coachella) Valley Girls
This Galentine's Day, grab the girls and head to
Miramonte Indian Wells Resort & Spa
: a desert oasis in the heart of Coachella Valley. Beyond the festival scene, this adventurous retreat invites Galentine's to strap on their hiking shoes and hit the surrounding trails, or take a daring thrill ride on a door-to-door Jeep excursion of the San Andreas Fault line. Afterward, slow things back down to enjoy a 'treat yo self' moment with your girl squad at the resort's Well Spa.
Nothing says #friendgoals like a trip with the gals to a snowy retreat away from the gloom and grey of the city. Pack your weekend tote and selfie sticks and head 80 miles east of Seattle to Suncadia Resort on the sunny side of the Cascade Mountains, a perfect locale to celebrate Galentine's Day on
February 13th
. Cozy up with spiked hot chocolate and your best ladies at one of the many fire places or fire pits located throughout the property where you can roast marshmallows al fresco. Stay at the adults-only 18 room Inn for some grown-up fun or rent one of the large luxury homes and live it up like a local, both offer direct access to the more than 40 miles of exploratory trails that surround this sprawling property.
3. For Queens of the Jungle
Picture this… you and your girlfriends indulging in an eco-luxury retreat in the magnificent jungle of Peten, Guatemala. Just a short drive away from the magnificent Tikal, Uaxactún and Yaxhá ruins, check one off the bucket list at Las Lagunas Boutique Hotel, where a girl's getaway will start off settling into one of the hotel's 19 bungalow luxury suites, each boasting a private balcony with a large jacuzzi to dip in as a welcome celebration — delicious wine or crafted cocktails in hand. The next morning, embark on a boat ride to Monkey Island where you'll come face-to-face with wild (yet friendly) spider monkeys, or hike the top of the lesser known Yaxhá ruins to catch the most incredible sunset you've ever seen offering an experience of a lifetime for all to enjoy.
 4. For Thermal Spa Seekers
Destination: La Fortuna, Costa Rica
Where to Stay: Tabacón Thermal Resort & Spa
This Galentine's Day, opt for an off-the-grid escape with the girls at Tabacon Thermal Resort & Spa — a tropical paradise spread across 900 acres of lush rainforest near the base of Costa Rica's Arenal Volcano, with hot springs and cascading waterfalls naturally heated by the volcano's magma. After soaking in the award-winning thermal springs, grab the girls and venture off-property for a group experience horseback riding through Arenal Volcano National Park or embark on a Chocolate Rainforest Tour and discover the ancient secrets of the cacao tree and its importance to Costa Rican culture.
5. For Women Who Wine
Destination: Barga, Italy
Where to Stay: Renaissance Tuscany Il Ciocco Resort & Spa
Forget the romance, it's all about you and your gals this year. Nestled on the hill of an expansive two-mile estate in the heart of Italy's most beloved region, Tuscany, the Renaissance Tuscany Il Ciocco Resort & Spa is the ideal escape to celebrate Galentine's Day.  Whether it's a cooking class with resort's private chef, wine tasting with a local sommelier, relaxing at the property's spa, exploring the surrounding medieval villages, or just simply enjoying the property's stunning views of the mountainous Serchio Valley (one of the most unexplored areas of Italy), girlfriends will bond and enjoy some much needed R&R at this property.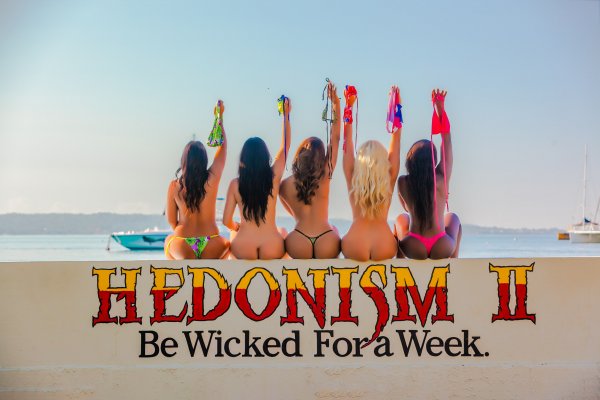 6. For All The Nasty Women
Destination: Negril, Jamaica
Where to Stay: Hedonism II
Grab your girls and head to Hedonism II this Galentine's Day! Found on the white sand beach of Negril, Jamaica, this adults-only, clothing optional, all-inclusive resort is perfect for both the mild and the wild ones in your squad. Hedonism allows each its female guests to create their own inhibited experience at their own speed while getting in touch with their bodies and feeling comfortable in their own skin. Famous for their strict judgement free zone, Hedo allows guests to feel free to let go and rediscover personal boundaries in a safe and welcoming environment, surrounded by the girls who have your back!
7. For The Glamour Girls
Destination: Fort Lauderdale, Florida
Where to Stay: W Fort Lauderdale
For a glamorous Galentines getaway with the girls, W Fort Lauderdale hotel has the essentials for the ultimate bash following a $55 million renovation last year. Free daily butt-busting beach bootcamp & sunrise yoga let the girls stay on their fitness regime, but must be followed by homemade Poptarts at onsite Stephen Starr restaurant, Steak 954 (also great for dinner – raw bar, short ribs, steaks & sides of all kinds, and photos with the resident 100+ purple jellyfish). VIP pool cabanas by the rooftop WET Deck are the must-do day activity, while carefully crafted cocktails in the Living Room start the night off right.
8. For Gal Groups of All Sizes
Destination: Key West, FL
Where to Stay: NYAH
Girlfriends can head to NYAH (pronounced NIE-yah), an acronym for "Not Your Average Hotel," for a unique tropical escape. Located just a few blocks from Key West's iconic Duval Street and historical seaport, NYAH allow besties to room together in one room with its versatile bedroom furniture, which can be configured to accommodate any group size up to six, without any added fees – perfect for a budget-friendly girls getaway! When the crew isn't bar hopping on Duval Street, the group can relax at the property and enjoy the hotel's unique amenities, including complimentary breakfast and Wi-Fi, lobby bar with daily happy hour, three pools, two Jacuzzis, and even sunbathe on the hotel's several wrap-around rooftop decks that overlook Key West's tropical paradise. Also, during Galentine's Day (Feb.13), the girls can take advantage of the hotel's complimentary 'survival kits,' which include NYAH-branded drawstring bags, complete with NYAH-branded sunglasses and earplugs, as well as Listerine strips, sunblock, granola bar, Red Bull, a blackout eye mask to nap, and chapstick to bring you back to life.