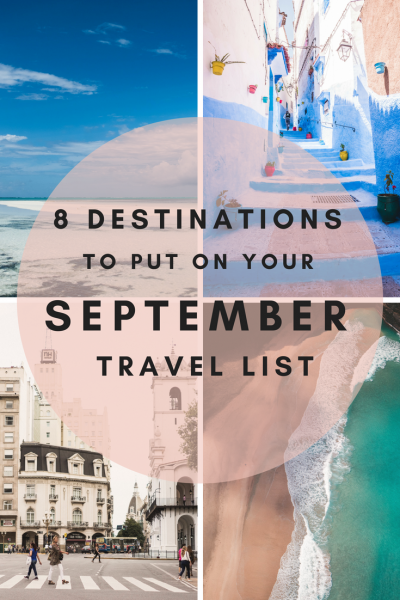 In need of an escape this fall? Whether you dream of adventuring in South America, exploring historical cities in Europe, or basking under the sun on white-sandy beaches, we've put together a list of the eight most incredible destinations that are beckoning you to visit this September.
1. Stone Town, Zanzibar, Tanzania
Set in the idyllic turquoise waters of the Indian Ocean, Zanzibar is fringed by perfect white sand beaches that hold stories of ancient trading venues. Stone Town, the island's capital, is a historic hub with a centuries-old medina where mosques and grand palaces collide with the tropical vibes of this tiny African island paradise.
2. Zadar, Croatia
Zadar is a fascinating destination for history buffs. While strolling through the winding alleys that make up the city center of this Dalmatian gem, visitors will stumble across ancient Roman ruins laid up as far back as the 9th century, dazzling medieval churches, and the ever-alluring seaside charm that makes Croatia's coast such a sought-after destination.
3. Buenos Aires, Argentina
Buenos Aires is the perfect blend of European ambiance with Latin spirit, and a visit to the Argentinian capital never disappoints. With its bohemian cafés, quirky art galleries, and endless opportunities to tango your way through the Paris of Latin America, Buenos Aires is so much more than a concrete jungle and a visit to the city never fails to weave itself deep into its visitor's hearts.
4. Holbox Island, Mexico
Set a few kilometers off the shore of the Mayan Riviera, Holbox is a small island that still retains its sleepy island charm. With a small city center where hotels are set and locals reside in, the rest of the island remains uncharted, and you'll spend your days walking through deserted beaches that will make you feel as though you've found yourself in Leo DiCaprio's The Island.
5. Maine, New England, United States
With rugged sea cliffs, glittering calm harbors, quaint historic fishing villages, and the spectacular Acadia National Park looming just around the corner, Maine is a nature-lovers dream. Its little secret? During the fall season, it turns itself into a wonderland of striking orange hues that enamor its visitors.
6. Nazca, Peru
Up for an adventure in the deserts of South America? The Peruvian desert of Nazca is home to a series of ancient geoglyphs carved in the sand. The story of how such massive figures were drawn, and how they have managed to remain intact centuries after their creation is still a mystery. Visitors in Nazca can get a glimpse of the geoglyphs by booking a plane ride that will have them soaring over one of the world's most mysterious wonders.
7. Mazunte, Mexico
If you're more on the lookout for a relaxing beachscape with yoga activities and the odd drink, then Mazunte in the Oaxacan Riviera will do the trick.
Chilled-out vibes are the norm here, and you'll likely be spending much of your holiday doing absolutely nothing other than strolling through the colorful buildings that make up Mazunte's town center, or chilling by the beach while taking in the tranquil sounds of waves approaching.
8. Chefchaouen, Morocco
Chefchaouen is a quaint town in northern Morocco that's tucked away amid the picture-perfect landscape of the Rif Mountains.
What makes Chefchaouen so special are the blue-colored walls that make up its medina. While wandering through the town's maze-like medina, you'll stumble across handwoven Moroccan rugs, hand painted ceramic tiles, and an endless array of paintings inspired by the city's striking beauty.
Being so close to the mountains, Chefchaouen is also host to some of Morocco's most incredible hiking opportunities. For those who love combining nature with culture, Chefchaouen is the perfect place to visit.