I received product to facilitate this post. All opinions are my own.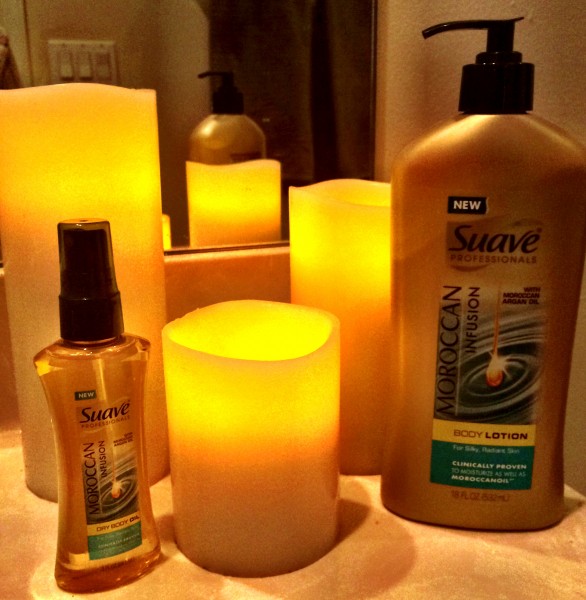 What woman doesn't LOVE going to the spa? I go EVERY chance that I get, but with a day at the spa costing as much as a weekend away, it's not as often as I like. So, I do what many of my friends do. I pamper myself at home. While the football game is playing in the living room (meaning Mr. S is occupied), I slip into the bathroom for a self-indulgent day. The experience isn't an expensive one and you don't need an arsenal of gadgets or equipment.
At the core….it's about allowing ourselves enjoy the time and also taking a break from the day to day world that can cause stress and anxiety.
So…brew your tea or uncork a bottle of wine, get comfortable, light some candles, move your music into the bathroom. and tell the family you are officially unavailable to sunset.
Here are my FAVORITE at-home spa day secrets that go beyond the usual.
1. Steam Facial and massage
On your stove top place chamomile, lavender or rose petals in a large pan of lightly boiling water.
Remove from the heat and place on the counter.
Place a towel over your head and tent it over the pan allowing the steam to collect around your face (as close as possible to the pot will be comfortable), and inhale the fumes.
Massage each facial area in a circular movement and let the tension disappear.
2. Body wash and hot bath
3.Dry brush and herbal steam shower
Scandinavians have the spa down to a science.
One thing they understand best is dry brushing the skin!
Not only can it gently exfoliate, but dry brushing enhances circulation to the skin and facilitates toxin release.
Use a wash cloth or a natural bristle brush designed for the skin.
Take a warm shower to open your pores, spray on some Suave Moroccan Infusion Dry Body Oil and relax.
Real Time in the water itself may be minimal. What you really looking for is the warm, moist air.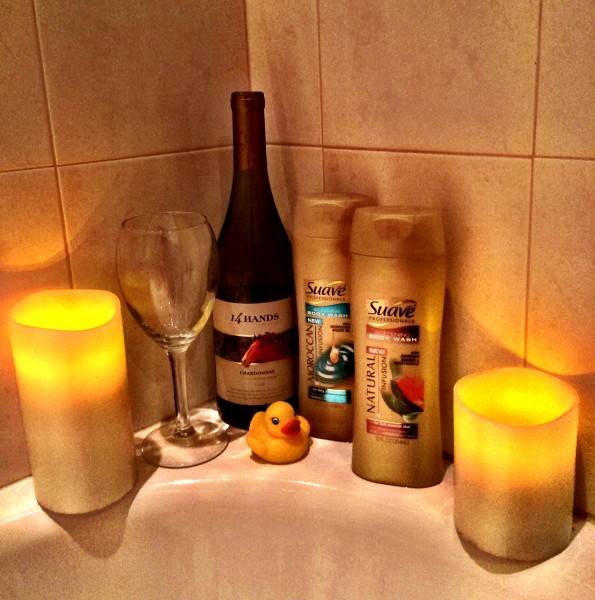 4. Hot Towel Wrap
This is great AFTER you've given yourself a spa treatment, or simply by itself.
The towels should be very warm and very wet but not completely humid.
Wrap towels around your head, hands, neck or feet for as long as comfortable.
Add cucumber slices over your eyes (refrigerate them first – they'll be so refreshing)
5. Foot Bath
This can be as simple as good bath salts and hot water in a large roasting pan or as high-tech as the last whirlpool foot bath.
Have you ever wondered why such a simple foot massage makes you feel almost as good as a full body rub-down?
Trigger points!!!
Little pampering points = great relaxation.
6. Scalp Massage
The head is full of trigger points, so take advantage!
I love using a shower head with a pleasant pulsation, you can also try one of those inexpensive scalp massagers.
The problems of the day will suddenly seem a million miles away
Add a warm facial massage and neck massage, and you will be in your happy place.
7. Soften
Once you've relaxed and are clean and feeling wonderful, keep that skin that you just pampered in it's best condition.
Slather on some Suave Moroccan Infusion Body Lotion with Moroccan Argan Oil for a silky experience with a luxurious Awapuhi Ginger scent that helps you relax.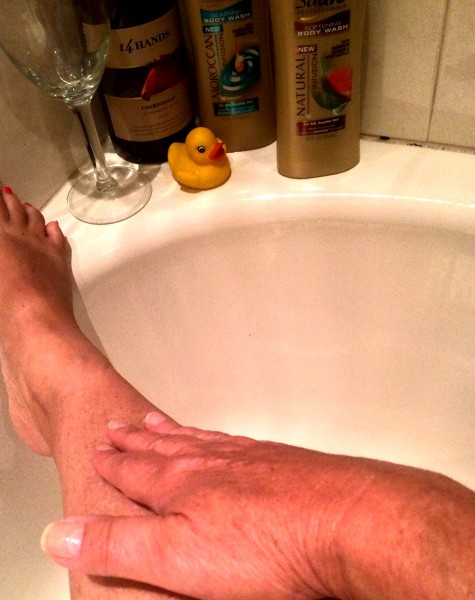 NOTE: Suave products can be picked up at CVS, Walgreens, WalMart, Target and a host of other places for a FRACTION of what the "other brands" cost.