This post brought to you by Atlantic Luggage. The content and opinions expressed below are that of Champagne Living.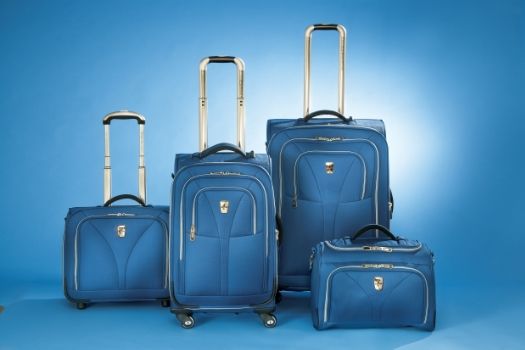 For those who've been following me on social media, you know that Mr. S was in the hospital all last week. He's home now, and while he's not at 100% yet, he still thinks that he's got nurses at his beck and call. Sorry Charlie….there's no buzzer next to your bed or room service menu (yes, the hospital had a 3 page room service menu). I'm SO HAPPY to have him home, but I'm also a little FED UP with how he's milking the situation.
My solution
Atlantic Luggage is having a FABULOUS sweepstakes and frankly, I'm ready to Enter to win a family trip to either New York or San Diego along with a FULL set of MATCHING luggage. 
The past few days I've felt like THIS….
Thankfully, my next press trip is right around the corner and Atlantic Luggage sent me this BEAUTIFUL carry-on that's just perfect for that 4-day cruise on the newest Princess ship. I know you've seen their signature logo before when shopping for your travel bags (I have).
With features like:
360 ball-bearing wheels for easy transporting through busy airports
A rubberized exterior that's lightweight yet sturdy
Dual-wheel spinners to weave in & out of the crowds when I'm running through those crazy airports like Atlanta or Dallas
TSA approved lock that's built in for extra security
Expandable for 2 extra inches (to stuff those souvenirs in on the return home)
The handle locks at both 38″ and 41″ (great for shorties like me)
Separate packing areas on BOTH sides – including an adjustable strap for those shirts & slacks and a zipper size for my shoes on the way there and dirty clothes on the way home
GREAT colors like Red, Blue and of course Black  – I like colors so that I can see it from a distance as it comes out on the baggage claim when I check
It is regulation carry-on sized at 20″ x 14.5″ x 9″ for most airlines
10 year limited warranty
This Atlantic Luggage has been pioneering great luggage since 1919, making family traveling easier with their versatile, lightweight and affordable luxury sets. With a range of varieties in color, style and features, Atlantic Luggage makes packing for family trips easier no matter where the destination.
Need more than just a carry-on? Atlantic Luggage makes ALL types and sizes of travel bags including their Link2Go™ system, which allows you to connect multiple pieces of luggage for easy one handed rolling. You'll glide through the airport as quickly as George Clooney in Up in the Air.
MY BEST PACKING TIPS
Make use of ALL of the available space.
Tuck socks, stockings & other small items INSIDE your shoes
Rolling dresses is a great way to reduce the space used AND keep them from wrinkling
Tuck your shoes in AFTER you've packed all of your clothes, tucking them in where there's space.
Double duty your outfits…lay them out so that your ENTIRE wardrobe works together – mix and match (like Garanimals for adults)
BEST NEWS EVER!
Atlantic Luggage is running an amazing sweepstakes where you have the opportunity to win a family trip for four to your choice of New York or San Diego! Because life is a trip®, Atlantic Luggage is sending you on the trip of a lifetime! So, register for your chance to win a trip for the whole family today!
How To Enter:
Go to: Enter to win a family trip and fill out the sweepstakes form.
Dates: Sweepstakes runs October 15 through November 15
Winner will be chosen within 7-10 days following the close of the sweepstakes.
Grand Prize trip must be booked by 9/30/15 and travel must be completed by 10/31/15.
Prizes:
Win a family trip for four to New York or San Diego, courtesy of Atlantic Luggage and Delta Vacations!
Grand Prize package trip certificate is valid for: (a) round-trip economy air transportation valued at up to $450 per ticket for the Grand Prize winner and three (3) guests from a major U.S. airport serviced by Delta Air Lines near to the Grand Prize winner's home (as determined by Sponsor), to a major U.S. airport serviced by Delta Air Lines near New York City or San Diego, CA (as chosen by winner and determined by Sponsor); (b) hotel accommodations at a participating Delta Vacations hotel in New York City or San Diego, C; (c) four (4) Atlantic® carry-on sized suitcases; and (d) $300 allowance to spend on their choice of Delta Vacations Tour or Activity packages.
Trip is to last three days and two nights
Total prize value of $3,700
There is a blogger hosted giveaway as well. Simply scroll down and click on the link and enter via the Rafflecopter below. Enter an additional time ONCE EACH DAY via twitter as well.
<<<< CLICK HERE TO ENTER FOR THE TRIP