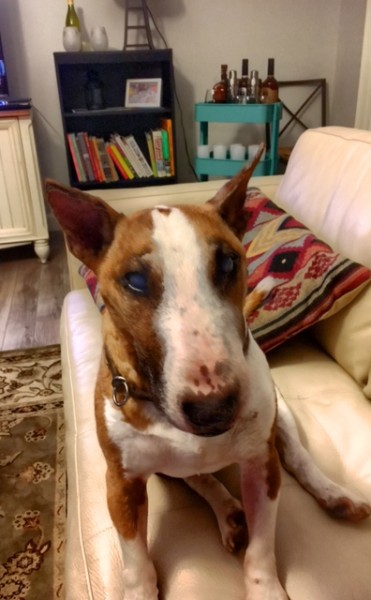 I swear Clem has Mr. S and I trained. He's got us BOTH wrapped around his paws and he knows exactly what to do to get us to give in. Sometimes I think that he practices when we're away…yes, that's it. LOTS and LOTS of practice, and I think I've got it figured out.
1. Practice that cute look in the mirror
When no one's looking, make the saddest eyes that you can and stare…as hard as you can and as sad as you can, so that when you want that steak, to go for a ride in the car, or for a walk you can do it on demand. They fall for it every time.
2. Learn how to make human sounds
Not barking or crying noises, but those whiny ones that your people THINK sound like words that they say. Like that dog that used to say LOVE YOU (when all he was doing was being whiny).
3. Knock-knock
Who's there? When you hit the door with your paw or wag your tail so hard that it sounds like someone is at the front door, it will make your human get up off of the sofa to look. Once up, just put on that "look" and that walk is pretty much guaranteed.
4. First one in – last one out
Going for a ride in a car (when it's NOT to the veterinarian) means that you've got to show a little restraint. They love knowing that you enjoy the scenery, wind out the window, and most of all the dog park, but don't be too aggressive. Wait until they call you out of the car when you arrive, that'll make them think they're doing YOU a favor.
5. It's all in the timing
You and I both know that a scratch behind the ears or a belly rub could happily last for days on end. Unfortunately, your human doesn't see the benefit in this exercise, so catching them at a weak moment is crucial for the LONG SCRATCH. The perfect time? Just after they've switched channels and are beginning to watch a new show…they are comfortable, distracted, and may not even realize just how long they've been patting.
6. Enjoy your food
You love Petcurean dog food and you want your owner to keep feeding it to you. Wagging the tail, waiting patiently by your bowl, etc. all show how much you love your Now Fresh or Go! They get a kick out of watching you lick the bowl clean. Let them think it's the fact that Petcurean has the highest quality and healthiest ingredients available, with no by-product meals, un-named meat meals or any ingredient from China. You know it's really about the flavor.