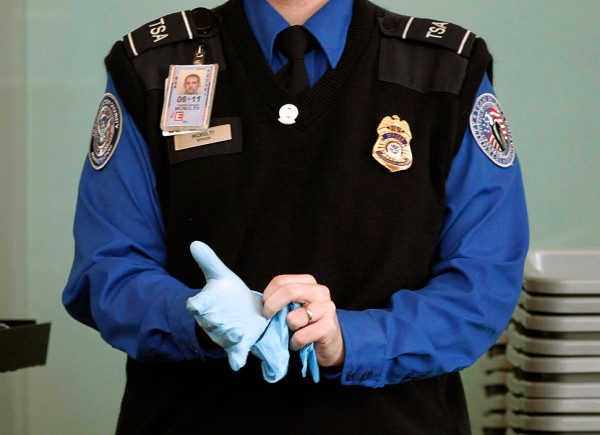 Once again this week, I seem to be fielding questions from friends who haven't flown in a while.  They are the usuals. What can or can't I bring in my carry-on, how many pair of shoes are you bringing (for a 2-day press trip), and will you help  me close my overstuffed suitcase by sitting on it?
The real issue for those who don't fly often is getting through the TSA checkpoints with ease. There are a few things to remember to make getting through with your dignity and nothing being tossed into the trash before boarding your flight.
Remember – you can take ONE 1-qt. ziploc bag filled with your liquids, gels, creams & lotions. ONE! That's IT. Each product can be NO MORE than 3 oz. This does NOT mean if you have ONE OUNCE left in a 6 oz container that it's okay. NOPE – each CONTAINER must be 3 oz. or less. Yes, toothpaste and hair gel are liquids, no your lipstick is not. If you can't live without that giant sized can of hairspray – check your luggage.
If your shoes have buckles – leave them home & wear slip-ons. I wear ballet flats. They slip on and off easily, look great with everything from a dress to jeans and I can wear them with just about everything on my trip. I don't have to tie & untie, unbuckle or *GASP* un-velcro to take them off and put them in the gray bin. Kids can leave their shoes on, as can people over the age of 75.
Toss the soda, water or vodka martini before going through the line. They're going to take it away from you anyway.
Your computer comes OUT of the case and goes into a separate bin. Your ipad, kindle or other smart device doesn't have to (you can leave them in your carry-on). I have NO IDEA WHY.
Don't wear jeans with glitter on the pockets. You'll get patted down (I'm speaking from experience – I don't learn easily, just ask the guy who had to pat me down on 3 trips in a row).
Scarves – off, sweaters & jackets – off,  keys & change – out of your pockets, superbowl rings – off (heavy jewelry), belts off, barettes & headbands with metal 0ff. Lately I've been able to keep my watch on, but then my underwire bra will set off the alarm – sorry Mr. TSA guy – that's NOT coming off!
The TSA folks DON'T have a sense of humor when it comes to bombs or terrorism. Just sayin…..forget the jokes (or you'll have more action than you've had in years).
Watch "Up in the Air" with George Clooney – he got it SO RIGHT.
As for the other two questions –
1. I bring two pair of shoes, or rather ONE pair of heels and the ballet flats I wear on the plane.
2. Take out just about everything and just put in a change of underwear, jammies, a casual top & pants (or skirt) and one dress.  I won't even be bringing my suitcase for a short trip like this. Instead I'll have my handy LL Bean Boat n Tote slung over my shoulder.