A couple of weeks ago I ditched the hybrid and hit the road with Mercedes. In true Champagne Living style, Mercedes flew out a number of bloggers and journalists to test drive their newest LUXURY SUV – the GL-Class through the back roads of New Mexico. As I flew to Albuquerque I had NO IDEA what to expect. I've driven my share of Mercedes (have owned a few of them in my day), but frankly I equate SUV's with TRUCKS – yet, this was MERCEDES!
They wasted no time getting me behind the wheel as they handed over a set of keys to me IN THE AIRPORT to drive from Albuquerque to the Four Season's NEWEST resort in Santa Fe – Rancho Encantado.  I'm not quite sure that was a great move on their part – since my day had begun at 3 am and it was WAY past my dinnertime when I got behind the wheel for the two hour drive across the Turquoise Trail. I did take a short detour in the former mining town of Madrid (now an artist colony) for a quick coffee and a little window shopping. The Mercedes GL-350 that I was driving was SO comfortable, and with the tunes playing on the Sirius radio (Channel 31 – The Coffee House – just the right VIBE for this scenic drive),  that the 2 hours flew by.
My goal is to tell you about the entire visit, however the hotel deserves a post all it's own, as does ANY Four Seasons Resort. Suffice to say that I had my own 1200 sq ft casita with an indoor and an outdoor fireplace, a kitchenette, living/dining room and a master suite that pales the mansion.
Driving from Rancho Encantado Santa Fe to Taos Ski Resort – and on to downtown Santa Fe
While there were 44 automotive journalists there were only 6 of us were bloggers of the mom and lifestyle variety, making it a fun cozy group. We requested 2 cars instead of 3 so we could get in some GIRL TALK while driving, but with Liza Corbo behind the wheel of our Mercedes GL350 there were a lot more LAUGHTER and SCREAMS as she raced us around hairpin turns going up the mountains (with no guardrails mind you), off-roading as we reached through the sunroof and got filthy with dust, and slammed into EVERY puddle of mud she could find.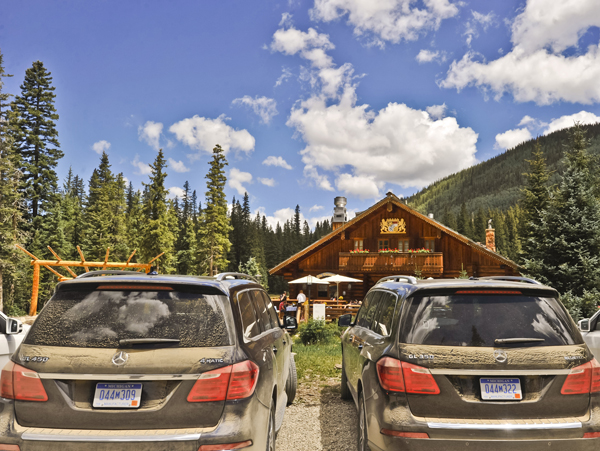 We put that car through it's paces, and it responded with the most comfortable, quiet, ride ever…easily hugging turns at 60  mph. I swear I could have poured a glass of perrier into a champagne flute as it flew over gravel and hills and not have spilled an drop.
FEATURES THAT I LOVE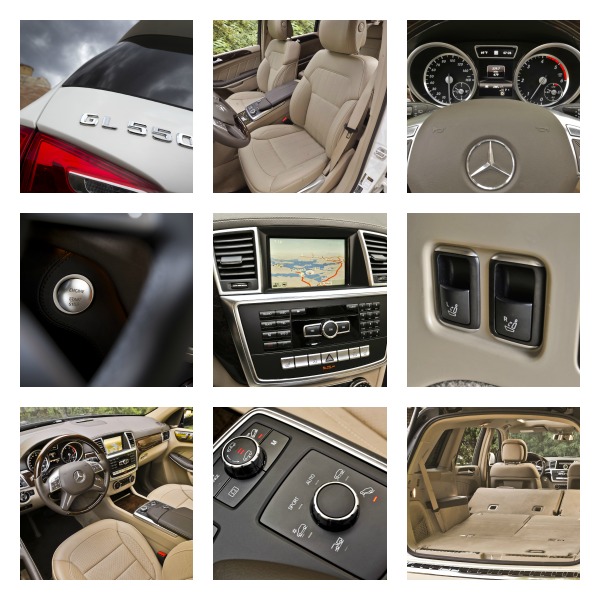 Safety 
It's got all-wheel drive with the Mercedes 4MATIC
Steer Control assistance – love that it helps you correct and it's ESPECIALLY good if you have to brake quickly to avoid an accident
Collision prevention assist – that little beep that goes off when I had my blinker on and a car was in the lane next to me let me know that it wasn't time to pull over.
Airbags,sidebags and even a KNEEbag (for the driver) as well as LARGE windowbags for all 3 rows of seats
ESP with crosswind assist – SUV's and a high wind (especially on a mountain road) scare the YOU KNOW WHAT out of me. I'm 5 ft tall & they're big cars. This is a MUST for me if I'm driving a car that's this high off of the ground.
Comfort
It's Mercedes! It's got all electric seats that are are more comfortable than my leather Natuzzi chair in the living room.
Push button start – it just NEVER gets old
Easy to set climate control. We were driving in some pretty hot weather and Emily said that the back seat was comfortable.
2 temperature cup holders – UM, I want these at home. You can keep your iced drinks cold and your hot ones warm.
AIRMATIC air suspension – YUP, no spilling my soda, even when we were driving off road.
Active Parking Assist with PARKTRONIC  (optional) – I don't need this. I actually LIKE parallel parking, I parallel park better than I drive. HOWEVER, I do have a lot of friends who don't have that knack. I'd suggest they get this – just sayin' (you know who you are).
Back up camera – I never thought I'd like this, but I got used to it quickly.
Web-enabled COMAND online multimedia system – we're bloggers, we want this, we can't get enough of the map pilot, the nav, etc.
Choice of Harman Kardon Logic 7 surround system or Bang & Olufsen BeoSound AMG high-end surround system – CRANK IT UP!!
Easy-pack tailgate with electric opening & closing function – as a height challenged person, I appreciate this feature MORE than you could know. As a mom, I remember very well trying to hold "B" in one hand and maneuver the trunk, groceries, or whatever with the other. THANK YOU MERCEDES for this one!
Design
This car is HOT LOOKING, and I'm NOT an SUV girl. I like my cars small, sporty and low to the ground. For an SUV this had a very LUXURY look with great lines, just the right amount of chrome and an interior that you could give an elegant party in. It's roomy, has this incredible sliding sunroof (and a panoramic roof in the back).
Then there's the dashboard.  You'd think that 3 women who can handle themselves with a cpanel and the back-end of a blog could figure out WHICH buttons to push, but alas this was not the case. The command center is a work of art, but for me it's a matter of reading the "how-to" guide. I'd be willing to do that!
I loved this car, and IF I were in the market for an SUV, the GL-class would be on my shortlist. It gave a great drive, as only Mercedes does and we had fun, felt safe, and had an absolute BLAST as we drove along, visiting Earthship, having lunch at The Bavarian (in Taos), and enjoying that magnificent New Mexico backdrop.
For full details, including where to check out the GL-class SUV, go to the Mercedes-Benz website
I was invited on an all-expense paid press trip to New Mexico to test drive the new GL-Class, all opinions are strictly my own.