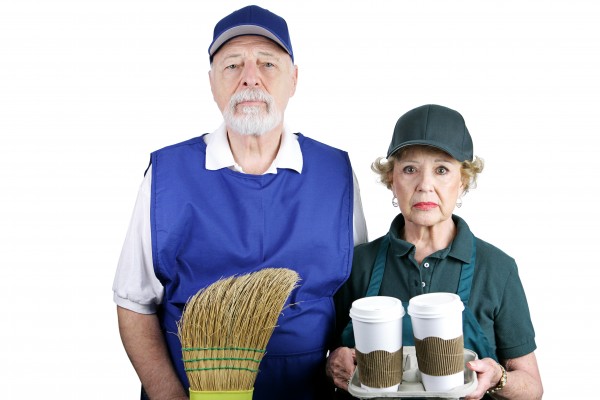 I need Mr. S to read this post. I'd LOVE it if he worked a few hours a week. It's not the money (although that would be nice), it's that he's HOME ALL DAY LONG!
What do school kids and retirees have in common during these dog days of summer? For many, it's having lots of time and not knowing what to do with it.
"But that comparison begins to breakdown almost immediately, because in a few short weeks, kids go back to school, but retirees have an indefinite amount of time to contend with," says financial advisor Jeff Bucher, president of Citizen Advisory Group, a firm that engages its community with education and charity efforts.

"Worse still for retirees, many don't know if they can afford the time they have left, which may not be yielding a satisfying lifestyle. After all the technical details I review with clients and their finances, such as protecting and growing their money, I sometimes offer a bit of unexpected advice: consider your employment options."
Many people who take his advice often do so more for overall happiness than money, he says. Work gives us structure, purpose and a social network. Bucher reviews many fun options that retirees often find appealing.
1. Golf course
This is a popular option since so many retirees love golf. And, if you are a morning person, work at a golf course is perfectly suited for you. Some popular jobs available at a golf course for retirees include golf shop staff, ranger, starters and golf course maintenance.
2. Retail
A smiling face and a pleasant disposition has earned many retirees positions as greeters at places like Wal-Mart, but there are other stores that may better fit your personality. That may include cosmetics at Macy's or the shoe department at Dick's Sporting Goods. Think about where you like to shop.
3.Sporting venue
If you love sports, consider being an usher at a venue. Ushers assist fans to their seats and help answer any questions the fans may have.  You might have to walk up and down steps, so if that's difficult for you to do find out beforehand whether the job involves steps. The job may have perks, such as free tickets.
4.Tour guide
A tour guide's job is to introduce people to places that they are unfamiliar with, which may include wineries, museums and a city's historical locations.
5. Theme park / zoo
If you want to brag about your job to your grandkids, look into the local zoo or theme park. Some of the most popular jobs for retirees at these parks include ticket takers, working at a merchandise stand or helping assist guests at an information booth.
6. Your current or former job
This one may throw you for a loop, but it could be perfect. You'll likely maintain the same salary as the rest of your earning years; it's something you already know and are good at; and, many people derived much satisfaction from their profession. You may find new freedom in knowing that this job is more optional than before, which may engender a sense of freedom and, perhaps, an outside-the-box mentality.
Guest post by : Jeff Bucher