I participated in an Ambassador Program on behalf of Influence Central for Vanity Fair. I received product samples to facilitate my review and compensation to thank me for my participation.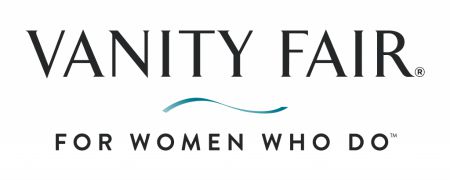 Pack – drive – fly – hotel – event – explore – eat – sleep – pack – fly – drive – unpack – laundry – pack….
That's what my life sometimes feels like. The truth is that I LOVE IT, and while I occasionally find myself trying to remember where I'm headed to next, I have made it so that everything works in order.
My small suitcase holds enough for a week
My clothes all work together like garanimals (mix & match)
My phone has apps for translating languages, converting money, and getting around
My shoes are comfortable
EXCEPT that MY BRA
had been poking me (or should I say BRAS). I've gained quite a bit of weight, and while it was easy to just go pick up the next size jeans or dress, I was forcing myself into a bra that no longer fit.
When Vanity Fair invited me to the #WomenWhoDo Summit in New York City for a bra fitting, a little bra talk, and to learn about their initiatives and new line…I figured I HAD to go…I figured that there must be something better than yanking my bra down and trying to bend the underwire in my old bra…the one that somehow decided it didn't belong UNDER anything (except my armpit).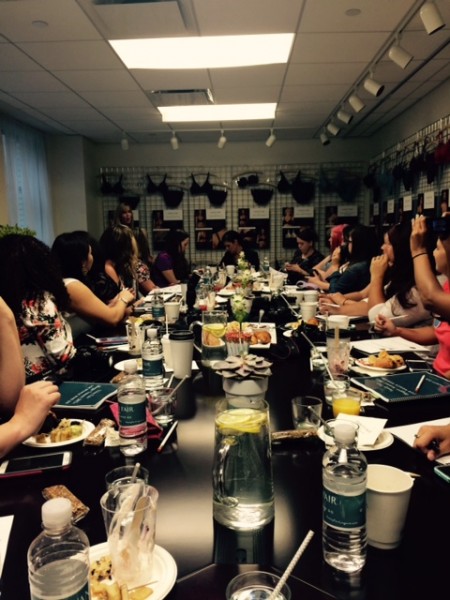 24 hours in New York
OK, so I have a New York routine. I check out the hotel (in this case The Refinery  in the Fashion District), toss my stuff on the floor and head straight to Le Pain Quotidien for a bite. Then it's usually off to go do some discount shopping, stop in at the Stage Deli, before meeting friends and family for dinner, drinks and staying up WAY too late. With only 24 hours in the city, and having the trip MUCH more focused, this was going to be a WHIRLWIND.
The Refinery Hotel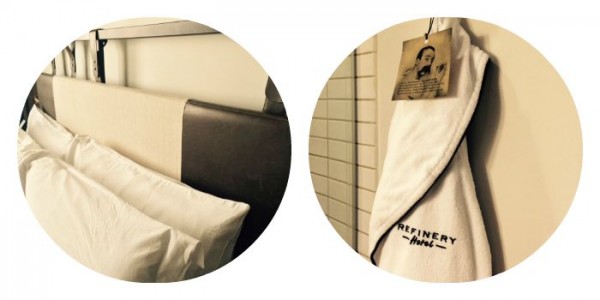 A grand dame of the fashion district, The Refinery Hotel's roots as a millinery shop has been revitalized with vintage touches and many original touches. The staff are outfitted in uniforms reminiscent of workers in the early 1900's and there is an industrial aesthetic that is both chic and welcoming at the same time. Rooms are quite large for New York City, making it easy to entertain friends who stop by to chat.
With one evening before a day of learning, fittings, and checking out the newest Vanity Fair lines we were treated to dinner at:
ABC Kitchen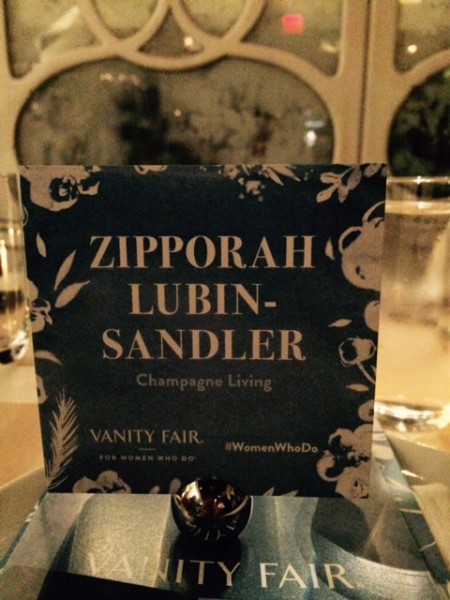 I don't know HOW they did it, but the Vanity Fair team was able to get us a private room at one of New York's HOTTEST restaurants for some of Michelin star Chef Jean-Georges Vongerichten culinary treats. Using only locally sourced foods in an ethereal setting of white art and antique (you'll feel like you're sitting in a French Bistro in Paris), it is a delight. While the store was closed when I visited, it IS attached to ABC Carpet & Home for a little home decor retail therapy. Good food, shopping and great dinner companions…the TRIFECTA of a perfect NY evening.
Bras, bras, and more bras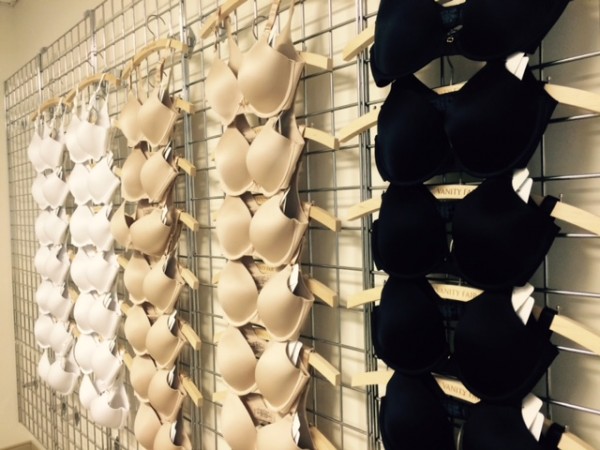 I walked into the Vanity Fair conference room and was surrounded! There were lace bras, smooth bras, even COOLING bras. I must have been living a VERY sheltered life. Black, Nude, Eggplant and Fuschia…but the real important issues are
Does your bra fit? – mine didn't
Does it enhance your figure? – mine didn't
Is it comfortable? – mine wasn't
Can I afford a WARDROBE of bras? – not at what I was spending
Does it fit my style? – don't even ask
I was like a kid in Kindergarten learning it all from scratch. At 61 I THOUGHT I knew about what undergarments I should be wearing, but I was WRONG…VERY, VERY WRONG. JoAnna Beddingfield, Vice President of Brand Management for Vanity Fair Brands, spoke about the past, present and future of Vanity Fair. It brought back a flood of memories of shopping for Vanity Fair bras and lingerie with my mom when I was young.
[bctt tweet="Let's talk bras! When was the last time you were professionally fitted? #womenwhodo"]
Let's start with the fit
It turns out that 80% of women are wearing the WRONG SIZE BRA. I fit SMACK into that demographic. I'll be telling you how YOU can get fit into the right size as soon as I get the list of Vanity Fair fittings in your area. ME? I was wearing a whole cup size too small, which made me spill over and look….well, FAT (there, I said it). It's true that the correct bra size can make you appear slimmer…just ask Mr. S. He asked if I'd lost weight when I came home.
While the choices seemed overwhelming
Beauty Back
Body Caress
Flattering Lift
Cooling Touch
Strapless
With Lace
Without Lace
and more
Finding the style and FIT are probably the most important issues of the day. With Vanity Fair you get to have both a GREAT fit and beautiful lingerie!
To Macy's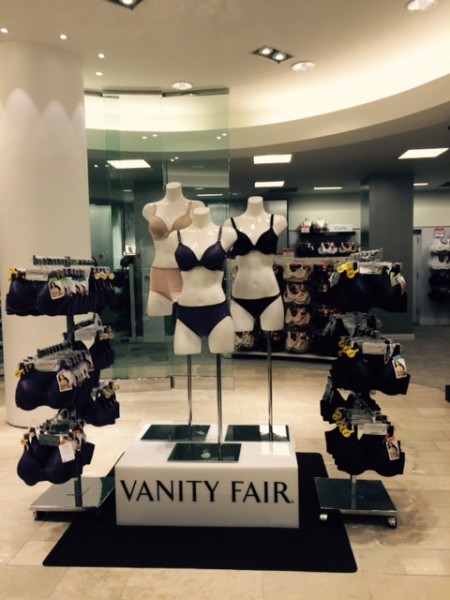 So, it was off to Macy's for a professional fit and some shopping. Armed with a $100 gift card and the CORRECT size and style for my body AND my lifestyle choices, I was off to shop. With most of Vanity Fair's bra's priced in the $38 dollar range and with a buy one/get one half off sale at Macy's, I walked out with FOUR new bras including a 2 Beauty Backs with lace, a full figured Beauty Back, a Strapless Beauty Back and a whole lot more body confidence.
Do a simple fit test at home
1. Are the straps snug enough but still loose enough to slip two fingers under?
2. Does the cup fit with no gaps or wrinkles?
3. Look sideways in a mirror – Do your breasts sit halfway between your elbow and shoulder?
4. Does the front center of your bra sit flat against your body with no gaps?
5. Do your breasts actually STAY in the cup without spilling out?
6. Can you put just 2 fingers between the band and your body?
7. Does the bra stay in place when you life your arms over your head?
8. Can you wear your bra on the MIDDLE hook comfortably?
9. Is it COMFORTABLE?
10. How do your clothes look on?
If you don't "PASS" the test…it may be that you're wearing the wrong size.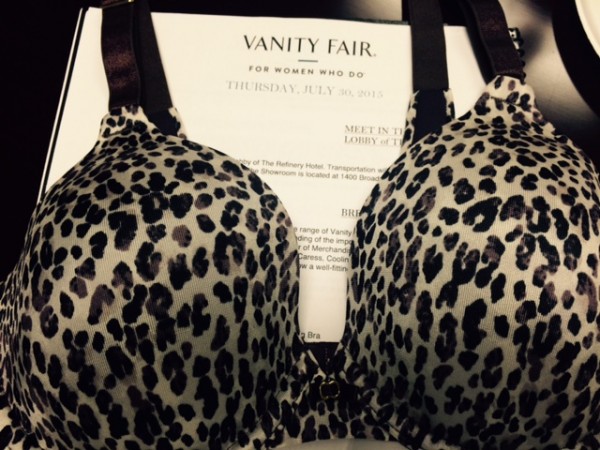 Don't worry though, I'll be helping you find WHERE to be fit, along with great promotions, sales and how your purchases can help others in the coming months. Just watch Champagne Living as I pass along my tidbits of info on bras, Vanity Fair and a Little Lift! I figure a lingerie company that has been the standard for nearly 100 years knows what looking good with great support is all about. That's why I decided to become part of the Vanity Fair Ambassador family.
For more about Vanity Fair visit them on: