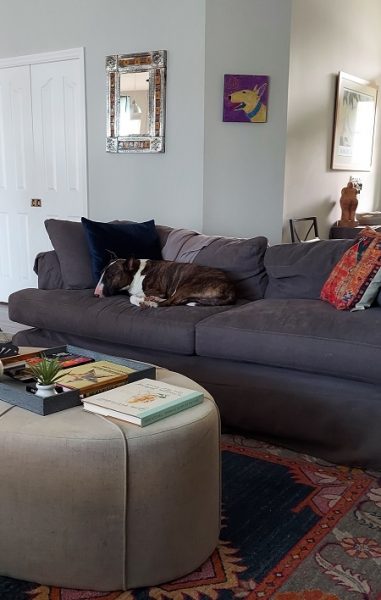 During the colder months, we often spend a lot more time indoors cozied up watching TV next to a roaring fire. Curling up with a good book or enjoying a marathon Netflix session becomes our plan for every other weekend, and we simply couldn't be happier.
There is just something so relaxing about staying in, where it's toasty warm, and enjoying the company of our favorite person or pooch. The most important part of this winter equation is an exceedingly comfortable living room. If your living room needs a revamp, follow these five ways below to make it your new favorite room:
Add Luxurious Texture
Instantly add a cozy vibe to your living room by adding luxurious textures with woven fabrics and smooth velvets. Texture can be added in various ways, like fluffy rugs, knitted throws, or richly textured scatter cushions.
Texture is vital for adding dimension and insulation into your design space, and it makes the room feel much warmer. Choose woven or knitted fabrics to inject a sense of heartiness into your most-used room.
Keep the Heat In
As the temperatures dip more and more, there are some simple ways for you to warm things up that won't cost you an arm and a leg. Firstly, make sure that your furniture isn't blocking the radiators because that will stop the heat from circulating in the room.
A visually pleasing way to keep the heat in is to use rugs in your living space; these will make your room warmer and so much more stylish.
Add a Leather Sofa
Leather sofas are always a classic choice for furnishing your living room, and that will never change. These designer-choice sofas exude luxury and opulence and are comfortable all year round in milder climates.
If you live in a cold climate, use a soft throw to cover your sofa so it stays cozy during the winter months. Browse online for the best selection of leather apartment sofas if you have a smaller living room.
Choose Deeper Hued Accessories
During the colder months, focus on deeper and more saturated hues when choosing your accessories. Have staple furniture pieces in neutral colors and wood tones, but choose accessories in navy blues, bottle greens, and deep reds.
To keep things consistent, choose the more saturated versions of your summer color palette during the winter months.
Embrace Oversized Ottomans
Ottomans are a great way to maximize seating space, replace old-fashioned coffee tables, or just act as super comfortable footrests – as they were originally intended. Most ottomans also double as a neat way to store anything from blankets to kids' toys.
Ottomans are visually appealing because they can be covered in a range of luxurious fabrics that are perfect for the winter season and beyond. They also have interesting shapes and configuration options that make them a dynamic and practical addition to any living room.
Winter may keep you indoors more but, by following the tips above, you can make sure that your living room is the pure embodiment of comfort.