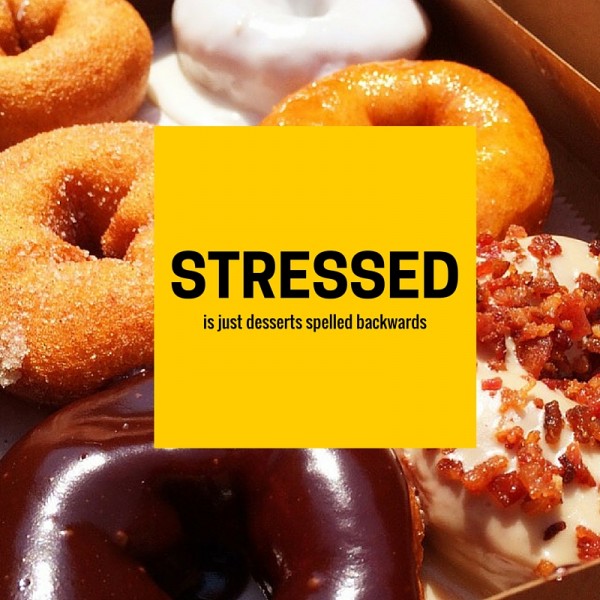 This week is Thanksgiving, which means we're only a few weeks from Christmas, Chanukah and Kwanza and BANG…the week after that it's the New Year. For many this is the most stress filled time of years. There's the shopping and cooking, family members that can be less than perfect, travel and the bills. There's the burden of resolutions for next year that when you look back on last, know that they'll go unfulfilled.
In the words of my grandmother…
OY VEY!
It's not easy, but there are things that you can do to help. I turned to  Dr. Donna L. Hamilton, author of "Wellness Your Way: The Short and Sweet Guide to Creating Your Custom Plan for a Happier, Healthier Life" for some help and here's what she said.
Connect with the spirit of gratitude that marks the season.  Research shows that expressing gratitude can help improve mood, increase energy levels, relieve stress and increase motivation, Dr. Hamilton says. So look for reasons to be grateful during the holidays, whether it's being thankful for good health, a rewarding career, a loving family or some other positive in your life.
Pause for a moment. Remember to take a few deep, relaxing breaths throughout the day no matter how you are feeling. Even positive emotions like excitement and enthusiasm can create stress in the body, just like typical stress emotions such as anger and frustration do, Dr. Hamilton says. That's why it's important to periodically do something that promotes relaxation during active times.
Make sure you get enough sleep. Your body needs its rest and a lack of sleep makes it more difficult to deal with the stressful situations you might face through the holidays. With parties to attend, travel schedules to plan and gifts to wrap, it's easy to trim back the amount of time you normally spend sleeping. Be careful not to let that happen, Dr. Hamilton says
Take a walk after you eat. This works two ways for you. It helps relax you and is good exercise. "A nice walk is a good way to separate yourself from the pressures you might be feeling," Dr. Hamilton says.
Dance and laugh often. They both burn calories and help lift your mood. "We probably can't do enough of either of these," Dr. Hamilton says.
Many people feel the need to do something for others during the holiday season, but Dr. Hamilton says it's important to remember as you bake pies, wrap gifts or hang decorations that you also must pay attention to your own physical and mental needs.
"You can't give from an empty cup," Dr. Hamilton says. "Self-care is a necessity, not a luxury."