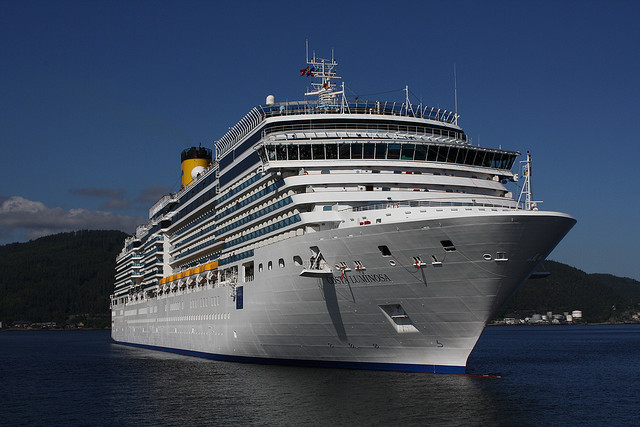 This coming Thursday I fly to Barcelona to board the beautiful Costa Luminosa. I'll be cruising the Mediterranean as I review Costa's 2- level Samsara Spa. Mr. S has ALWAYS loved cruising (I feel awful that I'm leaving him behind this time), and as a result we've cruised a few times. Living in South Florida, it's an easy and inexpensive vacation. While I'm an old pro at this, I do remember trying to figure out the ins and outs of cruising before we step foot on that Princess Ship so many years ago. For those who are first timers, here are some basics that you should know.
Check out the cruise line.
These past couple of years we've seen more cruise disasters than ever before. Between running aground, bankruptcies, and flu outbreaks, you need to know exactly what you're getting into before you set sail. Your search on Google may not be adequate, as you'll find a wealth of good reviews and press releases that are merely "damage control." Forums like those on Cruise Critic and Cruisemates are great places to interact with passengers who've been there, done that, and can give you the low down on what's great and what to stay away from.
Plan your packing to the cruise.
I found out rather quickly that each ship has its own dress code. While some still have formal nights (as the Costa Luminosa does), others are strictly casual. Note that although the work "FORMAL" is used, a simple dress or khaki's and a blazer for  men will be fine. If even THAT is too much effort for you, the buffet is ALWAYS casual (and room service is also available on most ships).  Call your travel agent or the cruise line directly if you have questions.
You carry-on bag is IMPORTANT
Why? Because they load SO many bags on board at the same time that I've had to wait 4 or 5 hours before seeing my bag. I slip my PJ's, a bathing suit, or anything else that I might need for the FULL first day on board. If you're traveling with the kids, make sure you've packed anything they might need (or want) before the next morning.
All-inclusive does not mean free.
And those "extra" charges add up quickly. Sure you know that you're paying for the cute jewelry in the gift shop and that facial and massage, but shore excursions, alcoholic beverages, internet and even SODA can cost a pretty penny. It seems like "play money" when you're swiping your room key, only to find out at the end of the trip that you've spent more than the cruise itself cost. I keep track in a notebook, so I'm not SHOCKED at the end.
Tips on tipping.
Don't forget that the cruiseline will automatically charge the credit card on file for tips. Generally they are $11 per day or so, per PERSON. When the whole family is traveling, that can really add up. A family of four on a 7-day cruise will cost an extra $320 for the week. Photo by:  Trondheim Havn