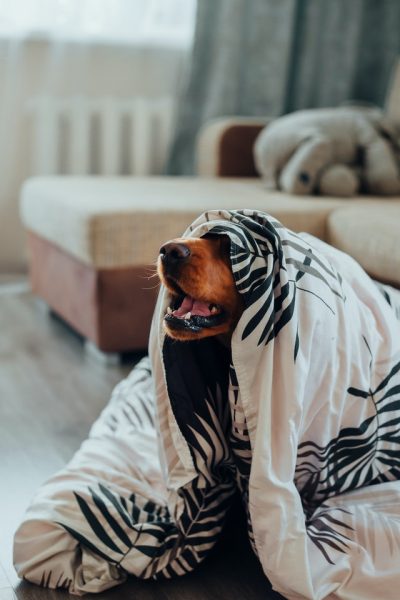 It's hard to imagine a more exciting time than those first few days in your new home. After weeks or even months of dreaming about what life will be like in your new property, it's not uncommon to need some time to adjust to your new environment. A move can be especially unsettling for young children, who thrive on routine and consistency.  Here are some ways to restore that happy home feeling after moving into a new house.
Get a Pet
One of the more delightful perks of homeownership is the freedom to adopt a pet of your choosing. Sharing your home with a four-legged, winged, or scaled friend has numerous benefits, including reduced feelings of anxiety, stress, and loneliness. 
If you have a fenced-in yard, now might be the right time to bring a new dog or cat to the family. Consider visiting your local shelter and see if any of their available animals would be a good fit for your home and lifestyle. If making a full time commitment to a pet is not feasible right now, temporarily fostering young puppies and kittens may be a better option. 
Low-maintenance pets like betta fish and guinea pigs can bring great joy to homeowners living in smaller spaces or have a lifestyle more suitable for a less dependent pet. 
Build Community
People often prioritize settling down over getting to know their neighbors. However, making neighborhood connections should be one of the first things newcomers do, as it can accelerate the settling processing. 
Before your move, do some research on your new community. Do they have block parties or traditions on certain holidays? If so, see how you can get involved. 
After moving in, pay attention to your neighbors as they come and go, and figure out if you have anything in common. If you have young children, look for signs of other families, such as playground equipment in the backyard. 
A few days after arriving, don't be afraid to knock on some doors and introduce yourself. You can ask your neighbors for information about the area, which is so helpful when you're new in town. 
While not every neighbor will become a friend, even acquaintances are an essential part of building a strong support network. Being able to give a friendly wave over the fence is a great way to spark a sense of belonging. 
Add Sensory Appeal
No matter how amazing your new home is, there will still be a part of you that is nostalgic for your previous residence. You can trick your brain into adapting to your new space by tying in familiar sensory elements.
Does the smell of apple pie remind you of your childhood? Placing a few apple-scented candles around the house can instantly evoke that cozy feeling you grew up with. You can also promote a relaxing atmosphere by diffusing calming essential oils like lavender and ylang-ylang.
Since we also associate soft textures with warmth and safety, indulge in some luxurious blankets and furry throw pillows or rugs. If you're living in a warmer climate, home accessories made from natural materials, like wicker baskets or jute rugs can also add a homey touch.
If you have any items that play nostalgic sounds, such as a grandfather clock that chimes on the hour, unpack those first. You can also make a Spotify list of your favorite songs and play those aloud as you unpack your boxes. Hearing those familiar tunes will make it easier for your brain to associate your new space with home.  
Decorate the Walls
Plain white walls can make your home look like a blank slate – which is the exact opposite of a unique lived-in space. Putting up a few family photos or meaningful art pieces brings in the personal touch and avoids that 'soulless' new home feeling. 
You can create a unique decorative element in your space by planning out a gallery wall using your most beloved prints and pictures. 
For a cohesive look, choose a single element that will tie each item together, such as the same frame color or material, visual theme, or size. From there, you can get creative with your arrangement. 
You can also install several floating shelves to show off your book collection, family photographs, or small trinkets you've collected during your travels.