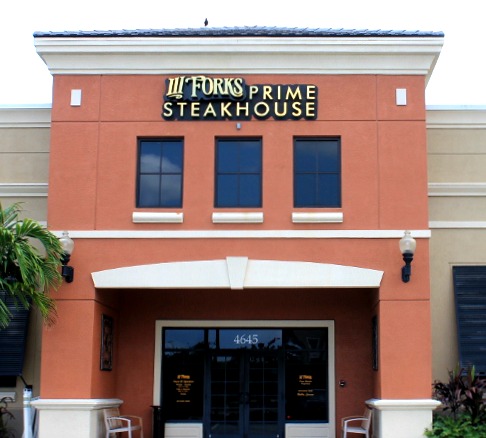 To think that I've never dined at this steakhouse located at Midtown in the Gardens is beyond me.  With  my favorite jeweler directly across the street, I must have driven by dozens of times, and while I noticed it as I drove by, I never gave a thought to making a reservation.
That all changed when I went to experience III Forks – Palm Beach Gardens' new menu additions this past week. What I was hoping for was a classic steak house (I'm done with over-the-top restaurants that look great, but disappoint).  The dark wood decor and walls peppered with black & white photos fulfilled my expectations of what a modern, warm, and classic steakhouse should not just LOOK like, but FEEL like. There's something about walking in to an establishment that sparks an emotion of "I belong here" and 3 Forks did just that.
III Forks Steakhouse offers Palm Beach Gardens a sophisticated club-like ambiance with an elegant bar and lounge. The inviting foyer greets you with an array of fine wines – over 300 labels – in the spectacular walk-in wine room. The luxurious mahogany trimmed with triple crown moldings and marble surroundings are uncomplicated and understated; a contemporary evolution of the classical steakhouse.
Chef Tommy Nevill has melded his talent for BBQ with tradition to create a menu that's distinctly his own….and I am a FAN! With new additions to the "bar bites" menu – we were presented with three of the selections including…
If this was a taste of what was to come – I couldn't WAIT for what else he has up his sleeve. As if we really needed another course before out entrée, Tommy brought out a beefsteak tomato salad that was as thick and dense as the steak I imagined they served.  This alone I could make a meal of!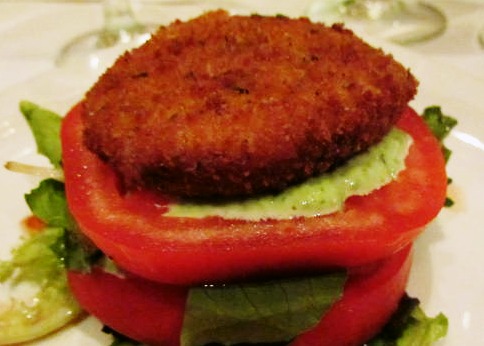 But, a steakhouse just isn't a steakhouse without a plate of BEEF in front of you. This is where Chef Nevill EXCELS! Bringing us back to his Southern roots, Tommy presented us with a plate containing both sliced Rib Eye steak that melted like a tenderloin on my tongue,  and an interesting Country Fried Prime Rib with buttermilk gravy over a sweet potato hash. This is one of those dishes that you keep eating and eating, even though your body is saying "I'M FULL – STOP!"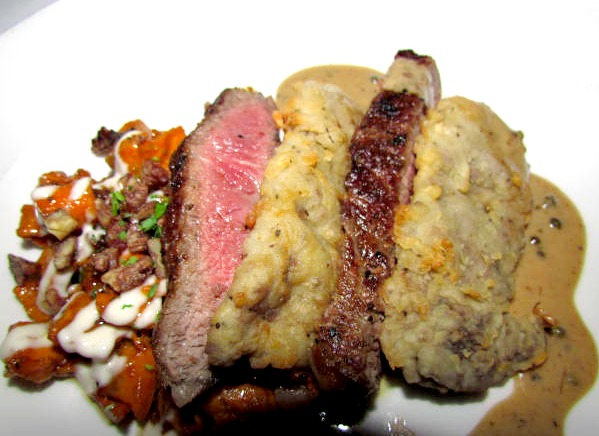 While each course was served with an accompanying wine, his Bootlegger (he would NOT divulge the magic potion – believe me I tried) was enough to turn this non-drinker into one who immediately asked what's doing at the bar for entertainment. I could just picture sipping on this delightful drink while listening to live music and dancing the night away.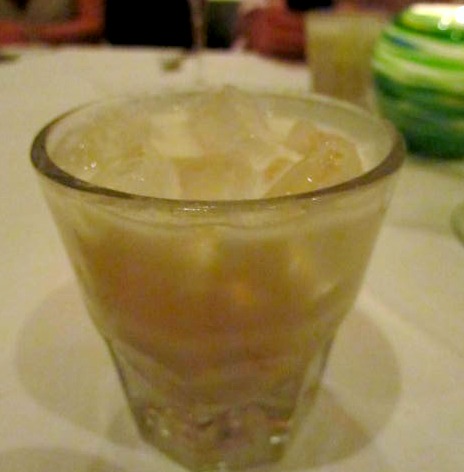 At this point I was DONE, COOKED, FULL, READY TO BURST, but Tommy must have this Jewish Mother gene…because after all of that food, he insisted on sending out platters…yes PLATTERS with an "S"  that included: Honey-Vanilla Cheesecake, Texas Pecan Cake, a Chocolate Mousse Cake and my FAVORITE  Bread Pudding with a bourbon pecan caramel glaze and ice cream & strawberries. OK, so I'll start the diet tomorrow (AGAIN).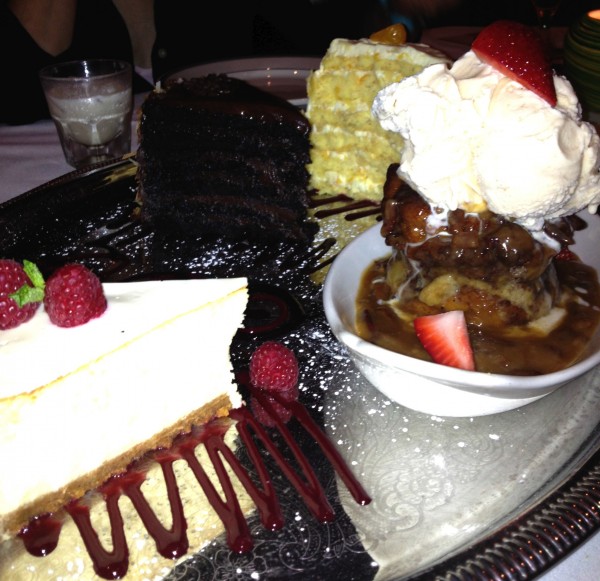 I love that this chef takes advantage of what's locally available, butchers his own cuts of beef, and has made a real INVESTMENT into what could have just been the usual steakhouse fare by infusing his own recipes. The bottom line? Come with an appetite, because you're going to want to experience as much of this wonderful menu as you can.
III Forks is offering some spectacular summertime specials including:
3 Course Summer Menu for One or Two
Wine Tastings the 1st Tuesday of every month (sommelier's pick only $5.00)
$5.00 Sure Thing Martinis on Wednesday
Thursday is Ladies Night – Ladies receive 20% off of food, $5.00 martinis & $5.000 sommelier's pick of the day
Check their Facebook page and Twitter feed for Social Friday DEALS!
Half-price bottles of wine under $100 on Saturdays
All You Can Eat Prime Rib dinner or Country Fried Prime Rib with a field green salad every Sunday only $38.95
Hours of operation:
Monday – Thursday 5 pm – 10 pm
Friday & Saturday 5 pm – 11 pm
Sunday 5 pm – 9 pm
III Forks is located at:
4645 PGA Boulevard
Palm Beach Gardens, Florida 33418
For reservations call: (561) 630-3660
I was a guest of III Forks for a media dinner. All opinions are strictly my own.