Have you been thinking about taking an Alaska cruise? Me too but it's really important to remember first and foremost that weather-wise this route will be the opposite of a Caribbean cruise. When you go on a cruise to Alaska you are dealing with Glacier sightseeing and whale watching, which is incredibly different from swimming with dolphins and sipping a rum punch on a beach.
You also need to remember that different areas of an Alaska cruise are going to have varying temperatures depending on where you are in Alaska and the time of the year. Make sure you have things you can layer and that does not mean your bathing suit, even though you can bring it for the hot tub! Yes, there are waterslides, pools and hot tubs on the deck, but from experience, I can tell you that it was a bit too cold to enjoy them (at least for this Florida gal). I did see kids jumping in and splashing around. When you take a Norwegian Cruise to Alaska great thing is you will get to see polar bears and get the chance to ride a sleigh driven by dogs.
Here is a list of activities, restaurants, shopping, spa experiences and so many more things that you can enjoy aboard a Norwegian Cruise to Alaska, plus you will find some excursions and the ports of call you'll get to visit.
Activities
For Kids
The Splash Academy is a place for the kiddos that have different activities for children from 6 months up to 12 years of age. Guppies are from 6 months to 3 years of age. Turtles are the kids 3 to 5. Seals is for the 6 to 9 year old and 10 to 12 are the Dolphins. Each age group is offered specific things for their age and stimulating their interests.
This is a place where you can drop off the very little ones for a fee and you can enjoy adulting out. It's great to have a supervised spot where your kids are taken care of and you can spend a little couples time.
For Everyone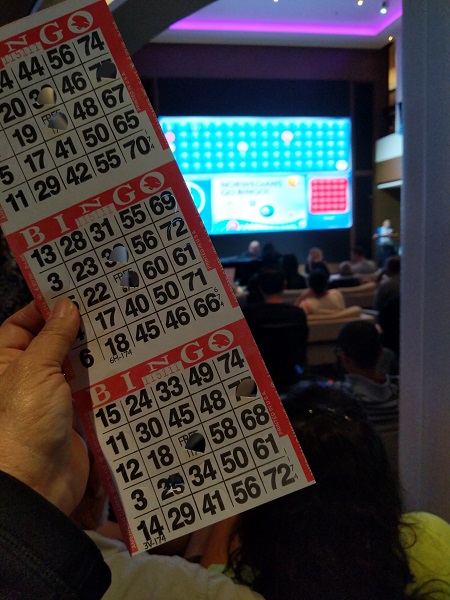 Join in the fun and maybe win a few prizes while you're at it!
This is a 5 hole course that is fun for everyone and all skill levels. Putt – putt – and putt some more.
This is the largest race track that is on a cruise. You get the chance to race your family around the track in the middle of the ocean. My daughter-in-law and I are OBSESSED with this track. It is exciting, with great banks around the curves and a thrilling ride. I just wish that my husband had tried it (he thought that he was too tall….he's not). – Price Per Person: $15 USD Adult | $15 USD Children
This is an interactive laser tag experience. – Price Per Person: $9.95 USD Adult | $9.95 USD Children
Two different Broadway musical productions are showing here. It will give you a chance to have a nice night out with the family. We saw Jersey Boys here, yes the same as the Broadway production. Also, there are other award-winning musicals like Six based on the wives of Henry VIII depending upon the day. Did I mention that ALL of these are complimentary?
This is the fitness center where you can take yoga or Pilates classes and get the chance to work on your workout routine while you are on your vacation.
This is a quarter-mile oceanfront promenade that you can walk along day or night to enjoy the amenities of the cruise or the passing scenery.
Go to the video arcade and get to play different video games, pinball or shoot some hoops. Beware though, not only will the kids love it, but I may have caught my hubby in there a time or two.
There are different nights with themes that are offered. You could get to enjoy a Latin, Cowboy or even an 80's theme party. Costumes encouraged, so check your trip before leaving so you can be prepared! I have experienced an era party (I think it was 70's or 80's) and a white party on my cruises.
For Teens
This is the place for all of the teens to go and interact with other teens without children or their parents being around. They can watch movies, they can dance, play video games and get the chance to be creative with art. I remember how difficult it was for Ben to travel with us when he was younger and having a space to hang out with people your own age when you're a teen can make or break their vacation.
For Adults
This is the Casino that has all sorts of Poker, Slot Machines, Blackjack and many other casino-type of games for you to enjoy. This is a smoke-free environment as well as a smoking one (you'll know as soon as you walk by) so you don't have to worry about that. I took revenge on the Panda Slot machine, but once again the panda won….not to worry though, I walked away from the Blackjack table a winner!
Happy Hour Prohibition – The Musical
This is a fun musical set during prohibition, it is not meant for anyone under 16. There are also 5 specialty drinks that are offered that have a prohibition spin to them. – Price Per Person: $29.99 USD Adult
Social Comedy and Night Club
Watch different comedians and when the show is over get a chance to dance the night away. They offer a silent disco and the entertainment changes often (sometimes they are the same headliners from the Bliss Theater).  – Price Per Person: Complimentary
This club is based on the legendary Liverpool club where the Beatles performed. You can get a drink and enjoy your night while the Beatles cover band plays. It was a lot of fun, and when the Liverpool Beatles aren't playing we were treated to Karaoke and lots of laughs. – Price Per Person: Complimentary
Shopping
Sandbar is a store where you can find clothes, alcohol, toiletries and even a piece of art designed by renowned environmental artist Wyland. I picked up a few trinkets as gifts.
This is the place to go to buy your favorite perfumes or beauty products at some great prices. They even offer 15-minute complimentary makeovers.
I may have walked through here a few too many times. They have beautiful and unique pieces of jewelry like diamonds, sapphires, emeralds or other colored gemstones. You can also find pieces from the exclusive Effy Hematian collection.
The Margaritaville Store/Alaska Store
I have been in this store on 2 different cruises on the Bliss. The first time I found laid-back fashion as imagined by Jimmy Buffet and find unique souvenirs to take back home. On my last journey it had turned into a great place to pick up Alaska themed merchandise. I got some GREAT bargains!
If you're anything like me, you'll have left SOMETHING behind at home. Not to worry though, this is the place to stop if you've forgotten something before you head out for the day, especially sunglasses or sunblock.
This store offers all sorts of high-end fashion watches, jewelry and sunglasses from everyone from Michael Kors to Swarovski.
This is the store you want to visit if you are looking for a Swiss timepiece. There are collections from Hublot, Tag Heuer, Longines, Tissot, Mont Blanc, Movado and more. Mr. S is a watch fanatic and thought that the prices were better than he's found in our local jewelry stores.
This is a boutique store that you just need to stop in to and see what goodies they are offering. You NEVER know!
Food
Complimentary Food
This restaurant is open 24-hours a day. They are offering all sorts of pub-style foods like Chicken Pot Pie and Fish n' Chips and all sorts of your favorite comfort foods. If you like a more intimate experience, it was our favorite hideaway for meals. – Price Per Person: Complimentary
This indoor restaurant buffet that serves up breakfast, lunch and dinner. They offer standard fare as well as International delights. I especially loved the NOODLE BAR! – Price Per Person: Complimentary
Room service is available in your cabin 24 hours a day, simply pick up the phone and order breakfast, lunch, dinner or late-night munchies. – Price Per Person: Convenience charge of $7.95 USD may apply.
This is one of the main dining rooms and will offer a unique menu of delicious foods. It is one of the things that I love about the Norwegian Bliss. It feels more like a restaurant than a huge dining room and never gets so loud that you can't have a great conversation over some amazing food. – Price Per Person: Complimentary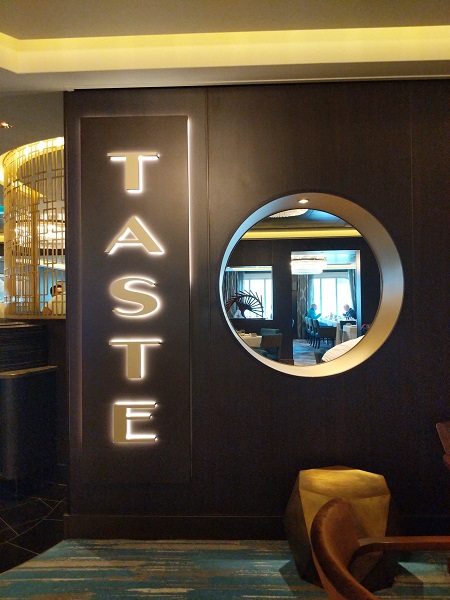 This dining room is located directly across from the Savor dining room and offers a similar menu. Once again, it is a great alternative to the huge Manhattan Room if you prefer a more restaurant-like atmosphere like you're used to at home. – Price Per Person: Complimentary
The Haven Restaurant (Private Access for Guests of The Haven)
This is a private restaurant for the people who have booked the VIP (The Haven) area. This is some of the finest cuisines that is being served here for breakfast, lunch, and dinner. One of these days I'll get to experience The Haven (fingers crossed) – Price Per Person: Complimentary for guests of The Haven
This is specially curated modern and classic dishes made with the freshest ingredients. It is the ship's main dining room. – Price Per Person: Complimentary
Specialty Dining
This is for seafood lovers! You'll get to enjoy fresh and locally-sourced seafood from freshly caught lobster to sea bass. – Price Per Person: À la carte or part of the free specialty dining in your free at sea program.
This premium Mexican restaurant serves up handcrafted margaritas, carne asada, and Ibarra chocolate ice cream topped with dulce de leche sauce. YUM! – Price Per Person: À la carte or part of the free specialty dining in your free at sea program.
Food Republic offers cuisine from all over the world. If you've ever wanted to enjoy certain dishes from other countries but haven't encountered a restaurant that offers those foods this is your opportunity to taste the world. I LOVE their sushi!!! – Price Per Person: À la carte or part of the free specialty dining in your free at sea program.
This is an authentic Japanese hibachi restaurant. This gives you not only the delicious veggies, shrimp and steak grilled dishes but also the fun of watching the chef cook it up in front of you. We celebrated Ben's birthday there and walked away FULL of great food and FUN! – Price Per Person: $39 USD Adult or part of the free specialty dining in your free at sea program.
This is an American-style steakhouse. They have crab cakes and truffle fries! If Mr. S had his way, we'd have eaten here EVERY night! – Price Per Person: À la carte or part of the free specialty dining in your free at sea program.
Seriously yummy! I would totally forgo dinner and indulge in their chocolate pralines, crepes, coffees and other types of chocolate treats….or maybe just stop in after dinner. – Price Per Person: À la carte
You'll enjoy some amazingly scrumptious gelato here! BEWARE….it can be addictive! – Price Per Person: À la carte
Jimmy Buffett's Margaritaville® at Sea
This is just like the Margaritaville that you can find in different cities around the U.S., just on a boat! Yes, you still get to enjoy the Cheeseburger in Paradise as well as our FAVORITE Volcano Nachos. ADMISSION: we ate there 3 times on our cruise. – Price Per Person: $14.95 USD Adult  or part of the free specialty dining in your free at sea program.
If it's Italian food and pasta that you're craving, like shrimp fettuccine and pasta carbonara, you're in luck. Twirl that spaghetti and MANGIA! – Price Per Person: À la carte or part of the free specialty dining in your free at sea program.
This is an elegant French restaurant that you don't want to miss. It is one of my favorites on board.  – Price Per Person: À la carte or part of the free specialty dining in your free at sea program.
For some good old authentic Texas BBQ, you have to visit Q. After you enjoy your brisket, ribs and other smoked meats you can dance to the music of a great Country and Western band. Make sure to ask for extra napkins! – Price Per Person: À la carte or part of the free specialty dining in your free at sea program.
For those with a sweet tooth. Enjoy French macaroons, chocolate pralines, and cupcakes. I passed on dessert at a restaurant or two to enjoy!  – Price Per Person: À la carte
Spa
You'll find all of the salon services like getting your hair done, manicures, pedicures and facials as you would at any high-end hair salon. – Prices based on services performed.
YOU CAUGHT ME! I can NOT spend time on the Bliss without a visit to the Thermal Suites which is a dry sauna or a dip in the Vitality Pool. Check out the Salt Room, like salt caves found in Eastern Europe and chill out in our Snow Room, like an ice-cold arctic place. If you are a spa-a-holic, it's worth investing in a cruise pass. Don't forget to try their hot-stone massage and many other types of pampering/relaxing treatments while you're there. – Prices based on services performed.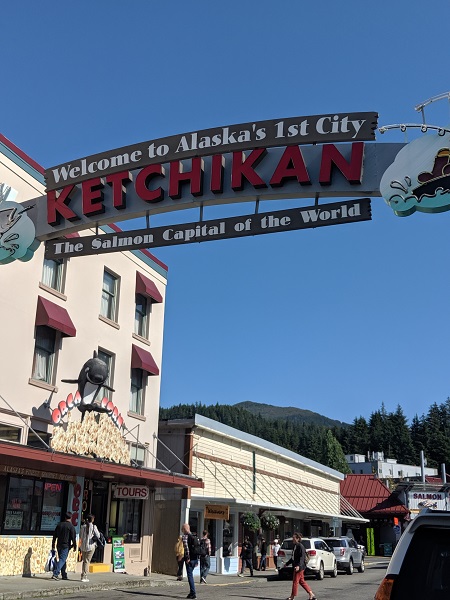 Things to do in Port
Some of our favorite excursions  
Mendenhall Glacier & Whale Quest – Port: Juneau, Alaska
Misty Fjords & Wilderness Explorer – Port: Ketchikan, Alaska
Saxman Native Village & Lumberjack Show – Port: Ketchikan, Alaska
Bering Sea Crab Fisherman's Tour – Port: Ketchikan, Alaska
Check out the various Norwegian Bliss Alaskan Cruises
7-Day Awe of Alaska
Seattle, Washington (EMBARK)
Juneau, Alaska
Skagway, Alaska
Glacier Bay (Cruising)
Ketchikan, Alaska
Victoria, British Columbia
Seattle, Washington (DISEMBARK)
7-Day Scenic Alaska
Seattle, Washington (EMBARK)
Ketchikan, Alaska
Juneau, Alaska
Endicott Arm & Dawes Glacier (Cruising)
Icy Strait Point, Alaska
Victoria, British Columbia
Seattle, Washington (DISEMBARK)
For more information and to book YOUR Norwegian Bliss Alaska vacation