I love Fall weather, but the fact that Winter is right around the corner sends chills up my spine. Yes, I do live in Florida – home of sunshine, flamingos, and beaches, but as a former New Englander, I remember what it was like to have to give up on warmth and know that I had 6 months (or more) of cool/cold/FREEZING air to deal with. So…I am dedicating this post to my former neighbors and friends who have already begun complaining that they miss summer and have put together a list of some great spots to visit to take the chill off this Fall and Winter with a few awesome travel destinations. Oh and even though I live in the warm climate, I'm always ready to experience it someplace else.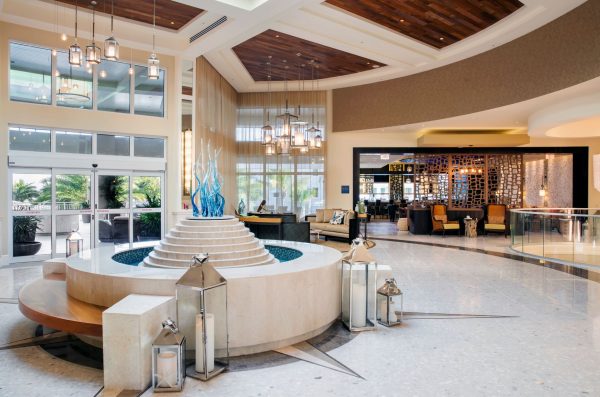 Playa Largo Resort & Spa in Key Largo 
Once the site of a booming pineapple plantation, Playa Largo Resort & Spa puts a luxurious twist on laid-back Keys' living with its vibrant two-story bungalows, palm tree-studded pool, private marina, and sea-to-table cuisine. Situated on 14 secluded beachfront acres in Key Largo, Playa Largo provides travelers the perfect Caribbean-Esque escape without having to leave the country.
The oceanfront resort features 177 luxury rooms and suites, an expansive waterfront pool, four culinary dining options, a coastal-inspired spa, fully-equipped fitness center, two tennis courts, a basketball court, complimentary bicycles, and a private beach and 15-slip marina with water sports rentals – travelers may never want to leave. As the sun sets each day, guests are signaled by the ringing of the Eventide Bell to follow the sound of live music and gather for Playa's Eventide, a daily sunset celebration of the transition from day into night. Guests can indulge in light bites and a round of complimentary signature cocktails served in halved pineapples and guests have the option of a complimentary kayak or paddleboard to watch the spectacular display from the water.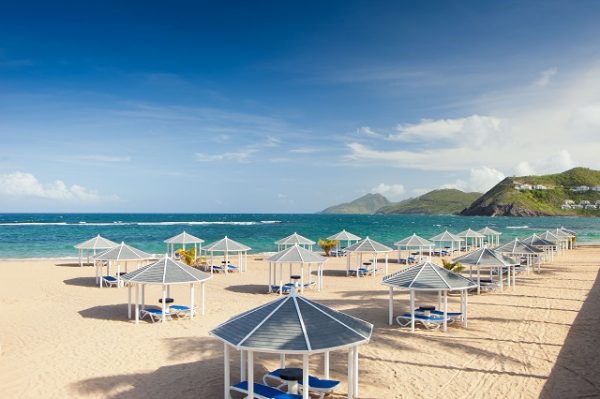 St. Kitts Marriott Resort in Frigate Bay
Escape the cold weather to the largest property on the island of St. Kitts this winter. St. Kitts Marriott Resort is home to the largest Vegas-style casino in the Caribbean, and when you need a break from rolling the dice, work on perfecting your golf swing with a tee time at the resort's Royal St. Kitts Golf Club – where you can aim for a hole-in-one between the Atlantic Ocean and the Caribbean Sea. Dine at St. Kitts Marriott's newest restaurant La Cucina for an authentic taste of Italy during your Caribbean escape or opt for one of eight other culinary outlets on property.
Since the property is within walking distance of the nearby Frigate Bay Strip, guests can experience authentic St. Kitts culture with bar-hopping by the beach and tastes of local island flavor at the resort's Friday Fish Fry and beach bonfire.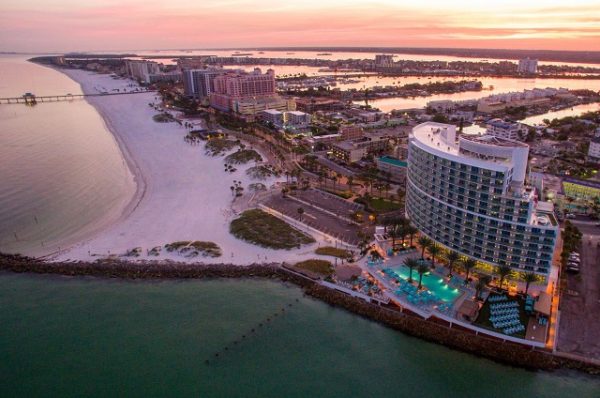 Opal Sands Resort in Clearwater Beach
The sun is always shining and the water is always sparkling on the best-ranked beach in the nation (by TripAdvisor). Wake up to the sparkling waters and powder-white sands of Clearwater Beach when staying at Opal Sands Resort this summer.
Located just steps from Clearwater Beach, Opal Sands Resort's unique curved exterior treats guests to panoramic views of the coastal destination thanks to the floor-to-ceiling windows and private balconies from every room. Visitors can top off their oceanfront escape by lounging by the zero-entry pool that overlooks the ocean, grabbing a frozen cocktail from SandBar and heading to the beach just steps away or taking the complimentary bikes available to guests to explore the local area. Take a pizza-making class at the Italian seafood restaurant Sea-Guini to learn something new or get pampered at the Opal Spa.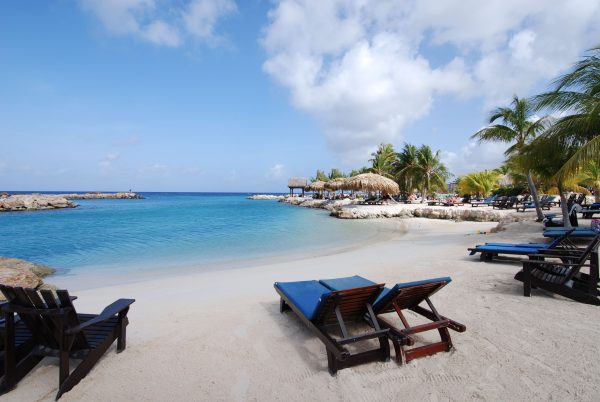 LionsDive Beach Resort in Curaçao 
Perched atop Curaçao's idyllic palm-studded beach, LionsDive & Beach Resort, known as the island's sportiest hotel, features lush grounds, spacious suites and a 50-meter infinity pool overlooking the resort's private beach and the Caribbean Sea. Just a five-minute walk from great selection of dining and shopping at the island's well-known, The BLVD, this resort is the perfect vacation spot.
After a long day of shopping and exploring, head down to the beach to enjoy some time at the Santai Spa – relax on a luxurious deckchair, under a palm tree, while enjoying a delicious blue, Curaçaoan cocktail with the sound of the Caribbean waves roaring in the background. Home to more than 35 captivating beaches, a diverse heritage spanning 55 different cultures (including Dutch, Spanish and Portuguese), fun family activities and unique European architecture, Curaçao remains an unrivaled tropical escape in the Southern Caribbean. Curaçao's natural beauty, world-class snorkeling sites, stunning beaches, and idyllic weather – due to its location on the outer fringes of the Hurricane Belt – have won it further accolade and recognition.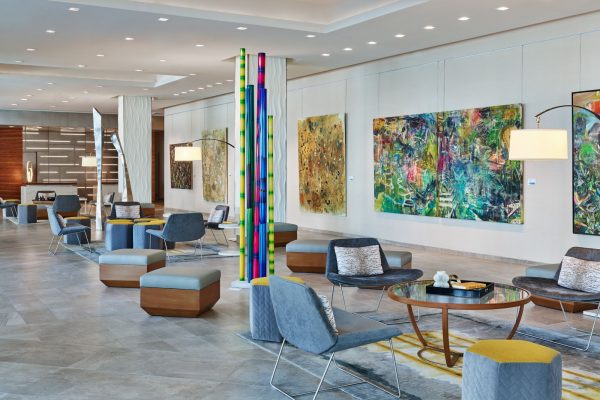 Art Ovation Hotel in Sarasota 
Art Ovation Hotel is the only hotel in the city to offer a full 360° experience into the city's thriving arts-scene — from theatrical arts, opera, music, art, tech and more. All 162 elegantly-appointed guest rooms and suites feature specially selected artwork, a dramatic juxtaposition of dark and light hues, floor-to-ceiling windows, state-of-the-art technology, and in-room ukuleles and leather-bound sketchbooks for guests to get creative with during their stay.
The property cultivates local partnerships to offer an array of artistic guest experiences including group music lessons, origami lessons, live performances, art demonstrations, tours of the curated art installations throughout the property and more.  Sarasota is a sophisticated coastal town, known as Florida's Cultural Coast, that's rich with the best of metropolitan art, music, media, performances, and galleries. Once the winter home of the Ringling Brothers Circus, Sarasota offers visitors an eclectic blend of arts, history, fine dining, and a wide array of cultural opportunities.
Where will YOU be heading to stay warm this Fall and Winter?