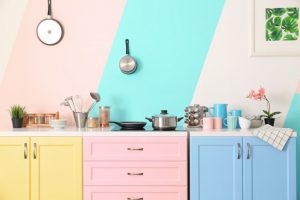 It's all well and good to design your kitchen to be on-trend in 2019 — but it's important to remember that 2019 won't last forever. In a few years, kitchen trends will be vastly different from what they are now. Just as you don't want your kitchen looking like it came from 2011, with blond wood cabinets, stainless steel countertops, and chocolate brown wall color, you probably won't want your kitchen to look distinctly 2019 by 2025.
That's why you need to look ahead to the up-and-coming affordable kitchens for sale from different designers and brands as well as the newest trends and plan your kitchen accordingly. If you are on the verge of a major remodel, here are some tips about approaching trends — and timeless kitchen design — to keep your kitchen looking fresh.
Better and Best Appliances
A kitchen isn't a kitchen without large appliances like a refrigerator, cooktop, oven, and dishwasher, and because these devices are so significant — both in size and in their impact on your kitchen's functionality — it is important to consider how they impact your kitchen's style and design. These days, you don't have to make do with white, black or stainless-steel appliances; you can acquire nearly any look, and if you wait for the best time to buy appliances, you can even get outstanding features at a reasonable price.
To ensure you find the best time to buy appliances, always conduct research. You don't have to set a specific time to research a new device online. You can do it as you scroll through your phone while seated on the couch or when planning your meals where you might come across a certain appliance.
You can also research online appliance spares such as fridge water filters. You don't have to wait for new advanced tools to come out to fix a certain issue in your kitchen. It would be best to be on the lookout for all appliances that can come in handy in your kitchen.
Compare costs and consider how practical a certain appliance will be. Find out if a specific appliance can be a better supplement rather than sticking with something that is not useful in the kitchen. There is always something better out there you might not know of, so ensure you explore more.
Top-of-the-line appliances are best for forward-thinking kitchens for a few reasons. First, they are newer and thus less likely to need excessive maintenance for many years. More importantly, cutting-edge features tend to become standard over time, so opting for appliances that are ahead of their time now will make them more or less future-proof, or useful for many years into the future. Some appliance features worth considering include:
Drying dishwashers. Dishwashers that use zeolite crystals can give you bone-dry dishes as soon as the load is done.
Refrigerator produce protection. Fridges with ethylene gas filters can slow the ripening of your fruit and vegetables, keeping them usable for longer.
Oven air fryers. Air frying is a healthier way to enjoy hot, crispy food, and if you get an oven with an air frying mode, you don't need to invest in a separate countertop appliance.
Sink dishwasher. If you don't often fill up your dishwasher, you can make use of a mini sink-based model, which cleans up to 10 items at once with minimal water use.
While stainless steel appliance finish seems to be timeless, you can add some personality to your kitchen by choosing colorful appliances. Dark finishes, in glossy or matte black, truffle brown or slate gray, are attractive now and should continue to be stylish considering their neutral bases. However, you should feel comfortable experimenting with brighter colors, like bright reds and true blues, which also are waxing in popularity.
Cabinets With Color
Painted kitchen cabinets have been growing in popularity for years now, with the result that you can have on-trend cabinets in nearly any hue. In 2019, moody colors tend to be the biggest hit — like dark teal, navy blue, olive green, charcoal gray and more — but in the coming years, experts expect the cabinet color palette to lighten up. Bright white remains a staple for upper cabinets, to make the kitchen feel more open and inviting, but down below, under your countertops, you should consider something a bit bolder, like lime green, coral or sky blue. Because cabinets are relatively easy to paint, the idea of making such a brave color choice shouldn't be intimidating; you can always change it if the style changes in a few years.
Textured Walls
Typically, kitchens don't have much empty wall space due to appliances and cabinets, which cover your walls. That means you have only minimal remaining wall space to experiment with. Recently, trends have moved more toward transforming walls from neutral backgrounds into decorative pieces in their own right, and because wall space is limited in kitchens, they offer a great place to try this new technique.
First, you should consider your kitchen backsplash. Traditionally, backsplashes only rise to the height of the base of the upper cabinets, leaving a good amount of wall space above them in areas that lack upper cabinets, like around the sink. You should consider applying backsplash tile all the way to the ceiling in these areas to give your walls more texture and visual interest.
If there are other small spaces of wall in your kitchen that are untouched by your backsplash, you might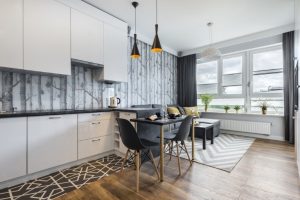 consider using a peel-and-stick wallpaper. This type of wallpaper is easier to install than traditional wallpaper, which requires plenty of glue and patience; you merely cut the wallpaper to the right size, peel off the backing to reveal the adhesive and smooth it onto the wall. You can choose textured wallpapers as well as wallpapers of nearly any print — you can even design your own. Plus, you can easily remove the wallpaper and replace it as styles or tastes change, keeping your kitchen en vogue.
There's no telling where fashion and style will take us in the next decade, but it's always safer to design your remodel looking forward, not behind. By paying attention to these crucial kitchen trends, you can keep your kitchen fresh for longer.