The reviewer has been compensated in the form of a Best Buy Gift Card and/or received the product/service at a reduced price or for free.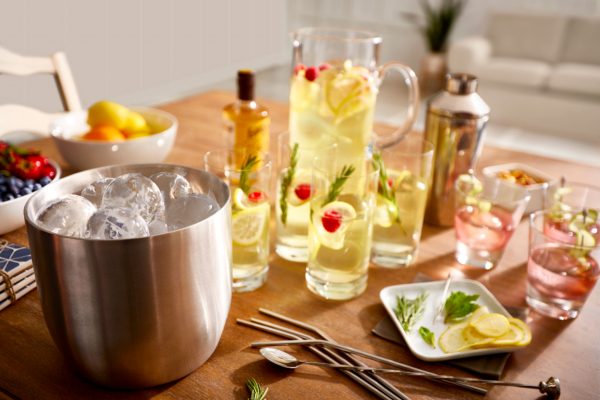 Tis the Season to Entertain
I love the holidays. The house smells of freshly baked breads, cookies, and pies. The table is set with holiday-themed tablescapes and the bar is open with everyone's favorite cocktails. Each year I try to take our gatherings to a totally new level.  This years spread includes new craft beers, craft rum, and bourbon and craft soda that I have picked up on my travels. I'd love to be able to create an upscale craft bar cart!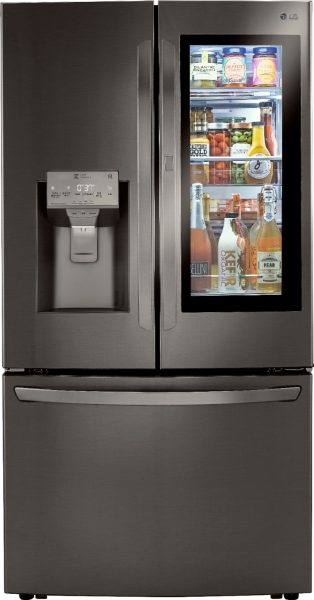 What I need is…
One of LG's newest InstaView™ Door-in-Door® refrigerators. What does a fridge have to do with my bar cart? LG now has everything that you and I need to become the ultimate home entertainer. With dual ice makers with Craft Ice™ it can automatically create crushed, cubed and LG's exclusive slow-melting round ice on demand, for upscale, craft drinks at home – helping beverages taste their best longer.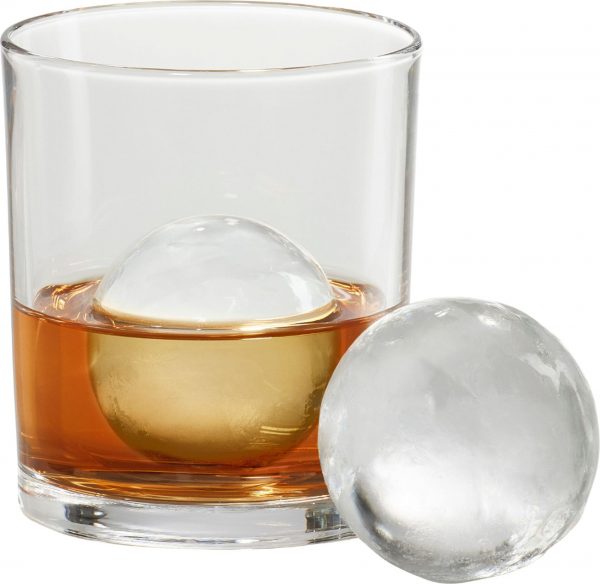 CRAFT ICE
Imagine having a Craft Ice™ maker that automatically makes batches of slow-melting round ice—without the work? There will be no more messing with expensive and time-consuming molds that only produce one or two at a time with LG's exclusive round, slow-melting Craft Ice™ – helping beverages taste their best longer. Of course, you can still gt traditional cubed or crushed ice for your cocktail shaker through an additional icemaker located on the door.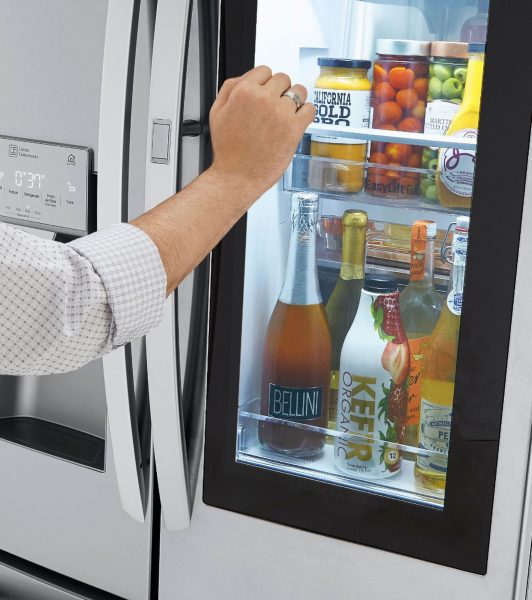 INSTAVIEW DOOR-IN-DOOR
My guests all know that my kitchen has an open door policy. They can easily come in and grab something that they need (or that I might have forgotten) from the refrigerator. The LG InstaView™ design lets you see inside your refrigerator without ever opening the door—simply knock twice on the unique glass panel and VOILA, they'll have quick and easy access to my cold stock and the popular Door-in-Door® design gets even better with an adjustable bin that fits snacks and drinks of all sizes
FRESH INNOVATIONS FOR THE FAMILY CHEF
One of my pet peeves with refrigerators I've had in the past is that they really don't keep my food as fresh as I'd like for as long as I'd like. The LG InstaView™ Door-in-Door® refrigerator really does keep produce fresh up to 2X LONGER*. With  3 innovative cooling technologies that work together to extend the life of fruits and vegetables and help keep all foods fresh and flavorful and the door cooling + delivers blasts of cool air that reach all areas of the refrigerator! I may not be the BEST cook around, but because everything that I prepare is so fresh, they'll never know about all of those shortcuts I took.
FEATURES INCLUDE
InstaView™ Door-in-Door®: See right through the glass panel door. Access on-the-go items, beverages, condiments, and more without having to open the whole fridge.
Electronic controls: Make operation simple.
Drawer divider: Makes it easy to organize frozen food.
Organize contents with ease: Includes 4 split shelves, 3 fixed shelves, cantilevered shelves and more to provide ample space for storing items.
Measured fill: For clean, fresh-tasting water.
Water dispenser uses LT1000P replacement filter: Delivers filtered water with one touch.
PREMIUM LED interior lighting: Bright lights to illuminate interior.
Door alarm: Alerts you when the refrigerator door is accidentally left open to save energy.
Dual Ice Maker and Slim SpacePlus ice maker: Provides a steady supply of ice without the mess of having to refill ice trays.
Want to step up YOUR entertaining game?
Visit BestBuy.com and check out the new LG Door in Door Refrigerators with Craft Ice