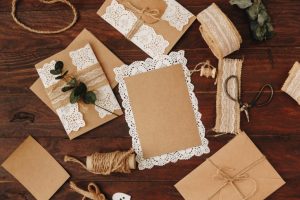 If there is one time in your life that you should take full advantage of paper goods, it's your wedding. Paper and cardstock are essential for communicating messages to your guests from the very beginning of the wedding planning process until well after the event is through — but if you aren't terribly familiar with wedding traditions, you might not know what kinds of paper goods you'll need to acquire before your Big Day. Without further ado, here are all the paper-related products you might need throughout your wedding planning adventure:
Invitations
Paper invitations are an absolute must — but if you are looking to scrimp and save, you don't have to make your invitations as dramatic and ostentatious as the rest. One 5×7 card that includes the important details of your event, to include your names, the date, the time and the location, is all you need. However, there are a few additional invitation-adjacent paper goods that you might want to consider acquiring, to ensure that you and your guests are on the same page, so to speak. These include: Save-the-dates. Not every guest needs a save-the-date, but it is common practice to send an early save-the-date card to anyone who lives out of town. This ensures that faraway guests can get transportation and accommodation without scrambling last-minute. RSVP response cards. These days, most couples manage their RSVPs online, but for a more traditional feel, you can include RSVP response cards with your mailed invitations. You will need return envelopes with your address and stamps, as well. Rehearsal dinner invitations. You can invite whomever you please to your rehearsal dinner, but traditionally the rehearsal includes the bridal party, family members and out-of-towners. You should send rehearsal dinner invites after formal invitations, and you will need to include a way to RSVP.
Signage
Because you won't be around to answer every guest's questions, you need to have plenty of signs around your wedding telling guests where to go and what to do. In truth, these signs can be made of almost anything; it's not uncommon to see wood, chalkboard and even metal signs. However, this kind of signage gets expensive fast, and since you probably won't use these signs after your Big Day, they aren't incredibly practical, either. It makes much more sense to opt for simple posters and paper signs, which can be easily discarded after the event. The number and type of signs you'll need will depend on your unique wedding, but you should probably have at least these three categories: Welcome poster. This will tell your guests that they are in the right place, helping them channel into your venue and relax before the ceremony starts. Directions to ceremony and reception spaces. If your spaces aren't close to where guests enter — i.e. if they need to wind through hallways or gardens to reach your designated areas — signs can be useful in pointing the way and preventing your guests from getting lost. You can also have signs telling guests where they should sit (or stand) during different periods of the event. Decorative signs. It can be useful to have signs pointing toward food and drink, perhaps even explaining what is in special items if there aren't servers on hand to explain.
Reception Stationery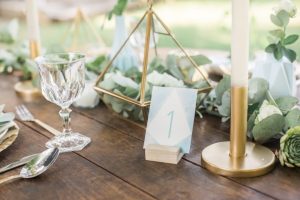 Though you don't need separate invitations for your reception, you probably do need a bevy of other paper goods to keep guests in line. If you intend your reception to be relatively formal, you should consider acquiring the following wedding reception cards: Menus. Served, sit-down meals are by far the most formal of wedding reception meal styles, but they can be some of the least expensive to cater. Still, you will need to print menus for your guests to order from. Menus should include a description of each option, so guests with dietary restrictions can make informed choices. Table settings. If you are assigning seating — which you should if only to avoid unnecessary drama — you need to create place cards for each guest, which they will use to find their seat within your reception space.
Thank Yous
Finally, you need to acquire stationary to thank your guests after your Big Day ends. Most if not all of your guests will bring presents, and it is imperative that you show gratitude for their generosity, both in helping you build a new married life and in celebrating your shared love. It is common for thank you cards to match your invitations in style, but you can choose smaller cards, even postcards if you are on a tight budget. There's a reason your first anniversary is themed with paper: to remind you of all the stationery you used to throw a sophisticated and elegant wedding. By knowing what paper goods your wedding will need, you will enjoy less stress and more fun on your Big Day.