Have you ever felt like you were living a fantasy?
That's just how I felt when I flew out to Portland, Oregon for the women's driving event of the year – Heels & Wheels. It was my first invite to this annual event that offers the best in driving experiences exclusively to women drivers. Word about town was that in past years the event paired one carmaker with an incredible group of women who blog about cars. This year I lucked out, as we had a bevy of beautiful automobiles to get behind the wheel of, and while Rachel and I couldn't get behind ALL of them, we chose our dream cars to hit the road in.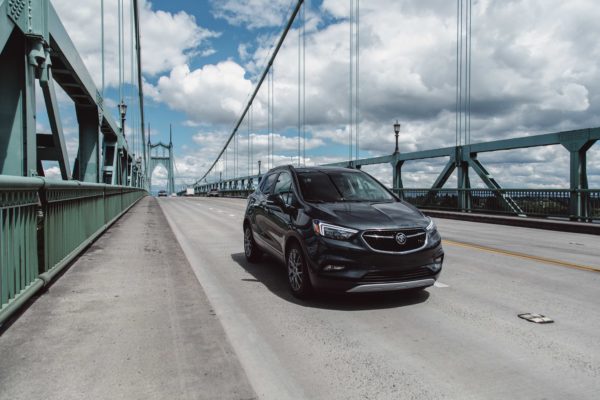 2017 Buick Encore Sport Touring
How shocked was I to fall in love with a Buick? I called Mr. S that day and said "I think I found my next car."  I'm like Goldilocks. A car is either too big, too small, or just right and this Encore fit my day to day driving needs to a "T." My desire for a second sportscar went right out that window after experiencing the comfort, ease of driving, and the Goldilocks size (usually cross-overs are too large for me) of this cross-over vehicle. But…it was the PRICE that had me do a double take. In this car I'd have luxury, space for my Ikea trips (the back seats lay flat), and all of the toys that I'm missing on my current car (including a 4G Wifi hotspot).
Transmission: Hydra-Matic 6T40 6-speed automatic
Engine: Ecotec 1.4L turbo DOHC VVT I-4
EPA: 28 city / 34 Hwy
Fun fact:  OnStar with 4G LTE connectivity with a built-in Wi-Fi hotspot, plus six months of Guidance service and five years of the OnStar Basic Plan at no additional cost.
MSRP Starting at: $23,915 (I know…that's what I THOUGHT)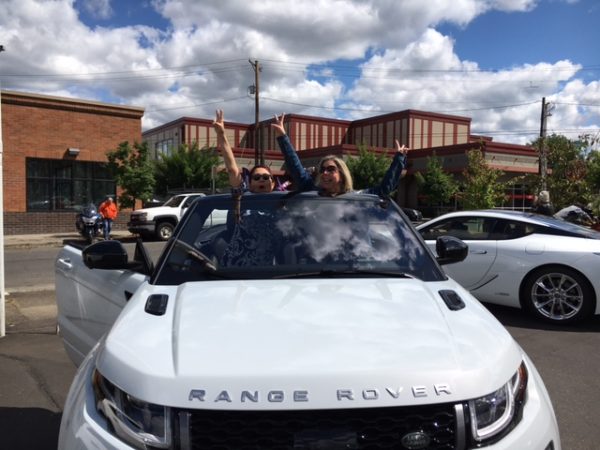 2017 Range Rover Evoque Convertible HSE Dyn
Who DOESN'T like a convertible? Especially when the sun is shining and you're headed to the beach, shopping, out with hubby or for a little joy ride. I used to think of Range Rover as just another stuffy SUV, but the Evoque changed all that with its 9-speed automatic and roomy interior. This SUV turned sporty convertible gives you the ride of Range Rover with the fun of the wind in your hair.
Transmission: 9-Speed Automatic
Engine: 2.0L 4-cylinder turbocharged gasoline, 4 Wheel Drive (4WD)
EPA: 20 city/28 hwy/23 comb
Fun fact: Configurable Ambient Interior Lighting lets you choose from ten different colors and a 'stealth' setting.
MSRP as driven:  $69,685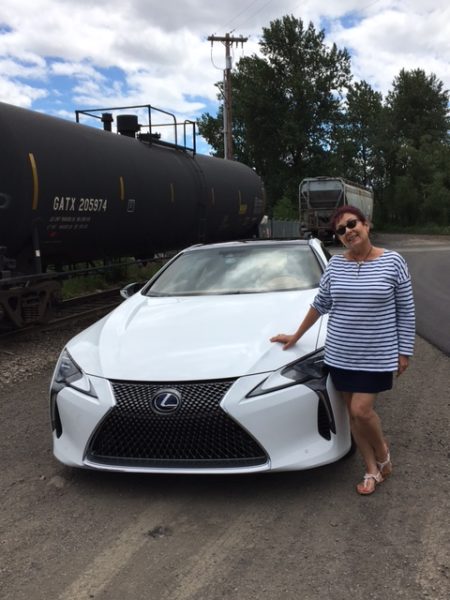 2018 Lexus LC 500
OMG, OMG, OMG…THIS is the car of  my dreams. The only thing it was missing was a hot male model driving me around. Of ALL of the cars driven (including the "to die for" Aston Martin that I'll be highlighting in a separate post) this car had the most classically elegant interior and lines. It performed like an absolute dream and at the same time hugged your body in all of the right places….in retrospect, I don't need that hot male model.
Transmission: 10-speed Sport Direct Shift automatic with paddle shift and manual mode
Engine: V8, aluminum block and cylinder heads
EPA: 16 city/25 hwy/19 comb
Fun fact: 0-60 mph Acceleration (mfr. results) 4.4 sec.
MSRP: $92,000+