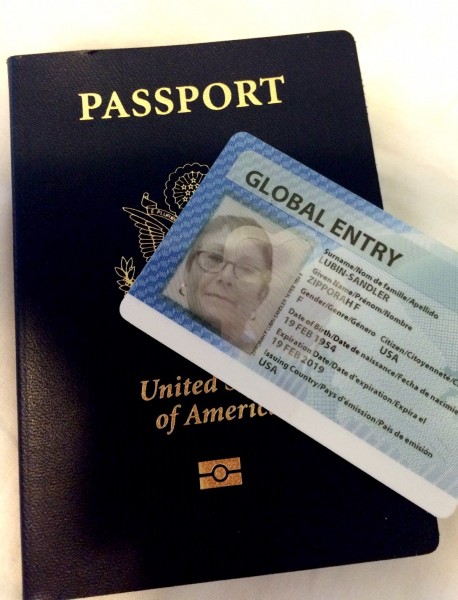 I'm at the airport almost as much as I'm in the office….at least it FEELS that way. Along the way I've learned a few tricks to help me deal with the long lines. There are times I feel like George Clooney in "Up in the Air" as I watch others struggle and hold up the line (that is until I'm pulled out for a random check and the joke's on me).
I always love reading what others have to say and how they find their way through the x-ray and scanners before heading off to their departure gate. Today we've got a little travel inspiration from, DreamPlanGo's on the best ways to reduce your wait time and reclaim your sanity:
1. TSA PRE-Check.
Ten popular airlines participate in TSA Pre-Check. Last year I decided that I no longer wanted to "guess" whether I'd be one of the chosen ones, so I enrolled in Global Entry which includes PRE-check lines. If you don't fly globally, there's no need to spend the extra money. Simply pay the non-refundable $85 application fee and submit your personal information and fingerprints for quick access. You used to have to go to one of a FEW major airports, but I'm seeing the centers to apply at more and more airports these days. Providing you haven't committed a felony and aren't on a terrorist watch list, you will receive a Known Traveler Number. Enroll this number on your frequent flier accounts or add them when you purchase tickets with participating airlines.
2. Trusted Traveler Program.
Since I also have to deal with the headache of long immigration and customs line, this is what I did. If you participate in Global Entry, NEXUS or SENTRI, you can qualify for TSA PRE-check lines in addition to expedited North American border crossing lines. Unfortunately this doesn't include cruise ships as I recently found out.
3. Airline Loyalty Programs.
Most of the airlines today can either help you waive the cost of PRE-check, or if you're traveling 1st or business class will automatically pull you through a special line (that's even BETTER than the regular TSA PRE-check).
4. CLEAR.
I've got to be honest, this is a brand new program and I haven't really seen it in action, but CLEAR subscribers pay about $15 per month, which seems like a lot of money when you compare it to the $85 for 5 years with the government TSA Pre-check. I suppose it will benefit frequent business traveler, but I've yet to see the lines at any of the airports I've visited lately. Just like with Global Entry you also have to hand over your fingerprints, iris image and multiple forms of identification. Once you have your CLEARCARD you can leave from the few that offer this new program
Don't want to spend the money? Here are some hints:
Pick the fastest security agent. If you are a pro at picking the fastest checkout line at the grocery store, now is the time to use your skills. Sometimes it isn't about the shortest line, but the most efficient agent. Eyeball just how quickly people are making it through.
Don't push the 3-1-1 rule. You don't want to be pulled out of line because you forgot to pack your hairspray in your checked luggage. Don't forget gels, pastes & lotions are ALL considered liquids (even lipstick can be considered).
Keep gifts unwrapped. I learned the hard way that if they're not sure what's in the box, they'll unwrap it. Wait til you get home to wrap holiday gifts, or better yet…use a gift bag.
Be a neat packer. Carefully packed suitcases are frequently easier to scan with the X-ray machine. One of these days I'll tell you the story of my undies that exploded from the bag like a spring when the TSA officer checked my luggage coming home from Jamaica.
Organize carry-ons. Once you get to the X-ray machine, it's best if you are ready to go. Stow your laptop in an easy-to-reach space and have your 3-1-1 bag ready. A few moments of planning beforehand can save you hold-ups and stress while you're in line
Plan a sensible outfit. That means no bedazzled jeans or Alex + Ani bracelets (they have lead in them that sets off the machine even if you have TSA PRE-check). If the weather is warm, I wear my flip-flops, no belt, hold my sweater or jacket til I'm through and dont wear too much jewelry.
Have your documents ready. Get out your drivers' license, passport and boarding pass before you reach the agent. This keeps you from having to fish in your fashionable, but cavernous handbag searching.
Are you passing through customs as well as security? Read up on their The Smart Traveler's Guide to Crossing the Border.