Exploring new destinations are an invitation for your senses. The smells of the cities, the flavors of food that you're tasting for the first time, the cacophony of street noise or the rushing of a stream, and then there are the views. While I'm ALL about taking in the sights, there's nothing quite like a hotel that brings the view to YOU. Check out these six hotels where EVERY room has a view
Rovinj, Croatia
With 113 rooms, Rovinj's Hotel Monte Mulini rooms each have a view of either Lone Bay, the Golden Cape Forest or the Adriatic Sea. Imagine waking to the views of the old town of Rovinj, in the Croatian region of Istria each morning as you peer out at the tranquil bay near the picturesque old town.  Monte Mulini is renowned as one of Croatia's most elegant and refined properties, with a dramatic, contemporary building that is set in the hillside of the Golden Cape and surrounded by the centuries-old Golden Cape Forest. Featuring sea views in from the 113 rooms, a magnificent pool, an opulent spa, and two gourmet restaurants. You can dine at one of Croatia's top fine dining restaurants while there at Restaurant Mediterraneo (offering Mediterranean fusion cuisine) as you choose your favorite vintage from their Wine Vault (offering over 600 Croatian and international wines). This is ONE experience that you'll NEVER forget!
Phuket, Thailand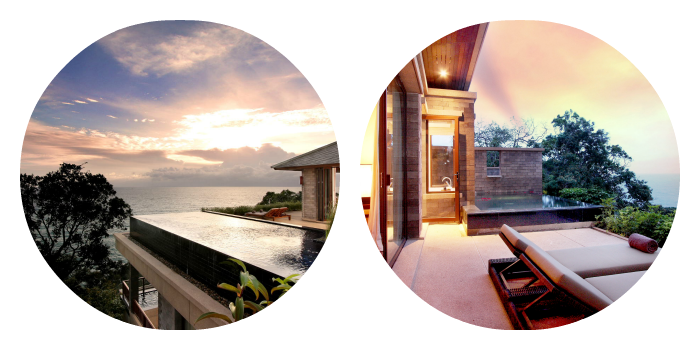 Paresa Resort's 49 villas and suites have their own infinity pool for it's guests enjoyment and an unparalleled view of the Andaman sea. Sculptured into the cliff tops of Kamala and extending out dramatically. overlooking the spectacular azure waters of the Andaman Sea and surrounded by lush tropical forests and gardens, this resort truly embraces the exclusivity of its natural surroundings to create an oasis of tranquility and unrivaled luxury. Ahhhh….
St. Lucia
For those who seek a smaller resort, Ladera in St. Lucia has a mere 37 suites and villas. The open wall concept (where walls are left completely open), each room boasts exquisite views of the Piton Mountains and the Caribbean Sea. This romantic paradise is set 1,100 feet above sea level offering some of the best views on the island. Situated on Soufriere's oldest and most famous cocoa plantation, Ladera and was transformed into the unique resort it is today in 1982. This is truly a St. Lucian holiday, as Ladera employs an all St. Lucian staff, locally sourced St. Lucian cuisine and all hand crafted furniture made with St. Lucian hardwoods by Ladera's very own onsite craftsman.
Dubai, UAE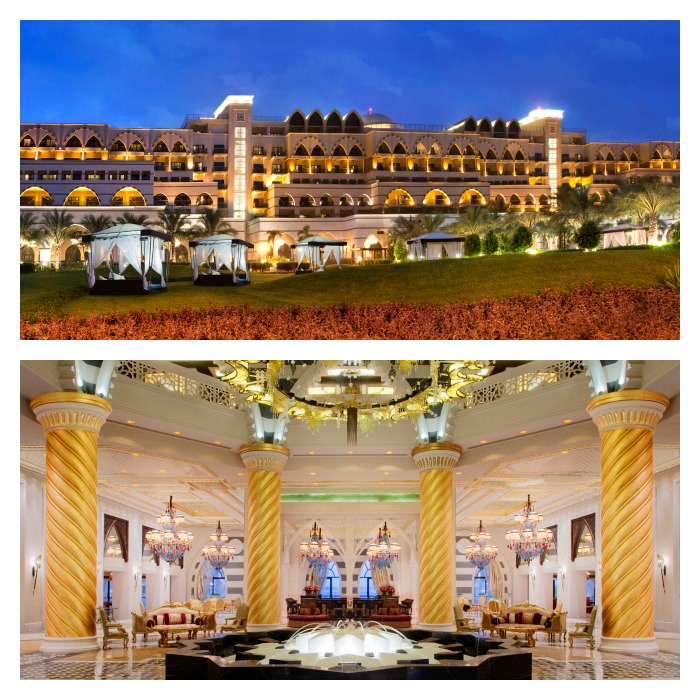 Dubai has been on my bucket list for some time, and so has the Jumeirah Zabeel Saray.  With each room having a water view on both sides of the resort, guests can look out over the entry and back which open to the beach and pool area, and enjoy expansive Gulf views. On the back side, rooms look out onto the rest of the Palm. The Jumeirah Zabeel Saray is located on the western wing of The Palm Jumeirah, boasting stunning views of the Arabian Gulf and Dubai's skyline. Don't miss the Talise Ottoman Spa, the largest and most luxurious in the Middle East!!
San Diego, CA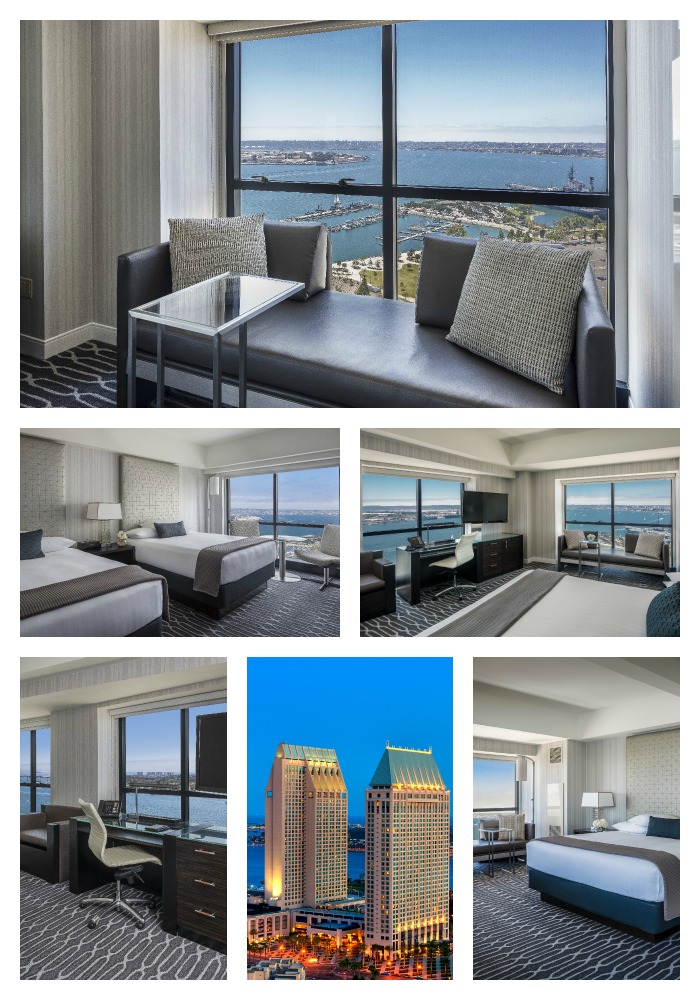 I adore San Diego, it's such a beautiful city, and the Manchester Grand Hyatt takes advantage of the wonderful views of this incredible city. Every room at the hotel offers either a view of the San Diego bay and Embarcadero Marina Park North or a view of Downtown San Diego. The hotel is located on the Gaslamp Quarter's waterfront (my choice for where to stay in the city). You can choose between tha view of San Diego Bay or the Pacific Ocean. This urban resort defines San Diego's skyline and consists of two beautiful towers, the 33-story Seaport Tower and the 40-story Harbor Tower. Harbor Tower is the TALLEST building on this side of the waterfront looming 497-feet tall. The stylish Hyatt includes 76 newly renovated one-and-two-bedroom suites, spa with a full-service salon and an adults-only pool, tennis courts, bay-view pool and deck, a fitness center and several award-winning restaurants and lounges – most all overlooking the bay.
Breckenridge, CO
It's SKI SEASON, and Breckenridge is one of our choices for shushing down the slopes. At Crystal Peak Lodge all rooms face one of two directions; either toward the mountain/ Breckenridge ski resort, or they face east for additional views of the Rocky Mountains. Situated right at the base of Breckenridge Ski Resort's Peak 7, Crystal Peak Lodge you only need to grab your skis, put on your mittens and hat access the convenient ski-in/ski-out that is literally steps to the BreckConnect Gondola and Independence Superchair. Offering one to four bedroom condominium suites with full kitchens and living rooms with fireplaces, guests enjoy the quiet elegance of Crystal Peak's mountainside location surrounding by beautiful Lodgepole Pine Trees.