10 things I hate about getting old
Wrinkles
Forgetfulness
Insomnia
Losing my "sexy"
Gaining Weight
No energy
I can live in a 55+ community
My body doesn't rebound quickly
Having to color my hair
Sex? What the heck is that?
AARP card in hand, I've got no choice but to move forward and do the best that I can. Thankfully, there is SOME help out there, and while I'm toying with having everything "lifted" – for the moment I'll take care of the easiest issues.
Women of a certain age, do find it more difficult and it's not all in their heads. While on one hand I embrace my age, the other hand is just tired of feeling like this. A few days ago, Estroven sent me their newest supplements to help me get a handle on some of that list, and I've been taking their newest defense against weight gain.
I expected to take a pill and feel…revved up and out of control (being extremely sensitive to caffeine and other supplements, I approached with caution), but the opposite happened.  A calm came over me. Now…HOW does calm help me stop eating? At least for MOI, when I'm satisfied, I don't go on the hunt for my stress self-medication…FOOD. While it's only been a few days, I've noticed a remarkable difference in how I feel, and I'm not reaching for food when I'm not hungry. The full effect is supposed to take 8 – 10 weeks, so if I feel it NOW, I'm EXTREMELY hopeful to get my body back to where I want it.
On top of that, all of the Estroven formulations help you with those awful night sweats and hot flashes (thankfully those are LONG gone for me), and are a NATURALLY sourced.
Estroven's portfolio of products has been developed with many ingredients that reside in nature or are naturally-sourced
The two major active ingredients in Estroven to reduce hot flashes and night sweats are black cohosh, a native North American perennial plant and isoflavones from soy beans and kudzu
Soy isoflavones, a phytoestrogen or plant estrogen, are among the most extensively-studied alternatives to estrogen therapy and are considered to be a safer choice
A statistical analysis of 17 studies found that isoflavones reduced the frequency and severity of hot flashes by more than 50%
Each Estroven product contains a proprietary herbal blend with plant extracts, like magnolia bark, to provide relief from additional menopause symptoms including mood swings, occasional sleeplessness, fatigue, memory lapses and weight management issues
Estroven does not contain synthetic estrogen, and therefore is considered a safe alternative to Hormone Replacement Therapy (HRT), which has been known to have significant side effects
The Estroven Weight Management formula is created from their proprietary Synetrim CQ, which is a natural serotonin booster (THAT'S why I feel so good)! It also means that I don't have to worry about my nightly pill interfering with sleep (or lack of it).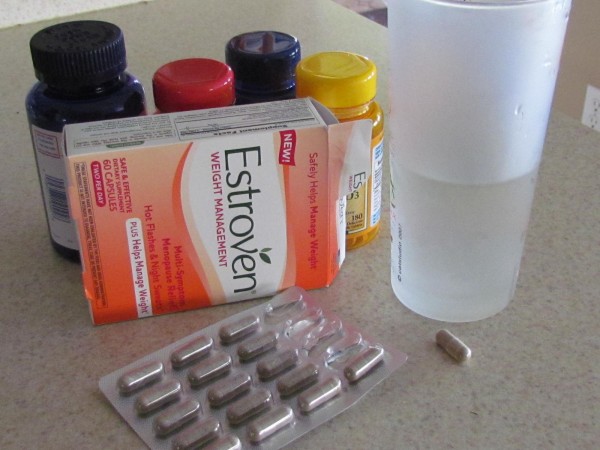 Once I get a handle on my weight (which may help bring my sexy back), I'm going to switch over to the Nighttime formula to see if that helps my sleep!
If you're suffering with menopause symptoms like I am, you can learn more at:
This is a sponsored conversation written by me on behalf of Estroven. The opinions and text are all mine.