As a blogger and travel writer, I read a LOT of blogs (yes, I probably read yours), and I notice that the majority of posts that I read about travel, always either include hubby, or hubby and the family. My question for you is…
Don't you EVER just need to go away ALL BY YOURSELF? 
I'm beginning to think that I'm the ONLY ONE who loves nothing more than getting away all by myself. I'll check in to a fabulous hotel, order room service, and have TOTAL command of the remote control. I can spend HOURS at the spa or just lay by the beach or the pool, without being asked: when are we going to (fill in the blank)? I can actually go shopping in resort stores, and TRY THINGS ON, buying what I want without getting the evil eye.
MAYBE I'm crazy
But, I love to take a few days alone and reflect on my life. I always bring along a notebook and find I'm much more creative when I have some uninterrupted time.
Starwood Hotels offered me a night away at the Westin Cape Coral Resort at Marina Village and I didn't even take a BREATH before saying YES! I had planned on Mr. S and Clem coming along (they are VERY dog friendly), but Mr. S caught a nasty cold and started whining, and well…I knew this would be a PERFECT me time escape. This particular hotel is a little over three hours from the mansion, on the Gulf Coast of Florida, and living on the East Coast of the state, I'm embarrassed to say that I've only been on that side of the state once before. So, I put the pedal to the metal, and drove past sugar cane field and cows, 'til I hit the BEAUTIFUL aqua waters of Cape Coral.
3 Hours later….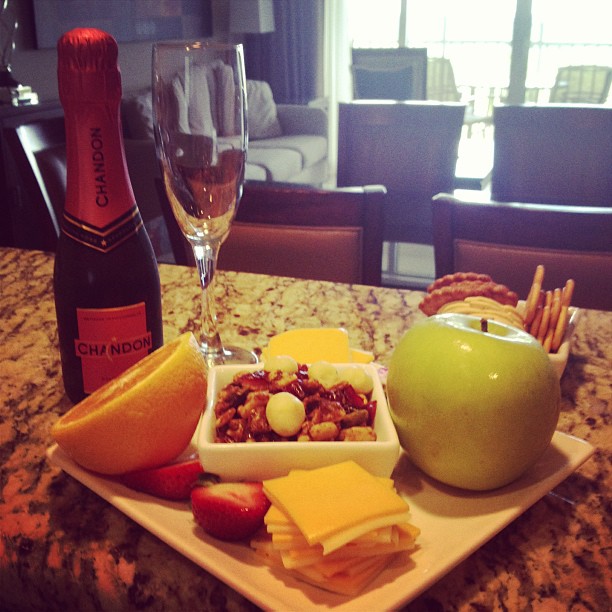 I was ready for some Zippy time. So I cracked open that bottle of Chandon, before donning my bathing suit and
It's odd, but I have a pool and I live near the beach, but GETTING away seems to change my entire state of mind, even if it's a quick 3 hour drive.
It's just not summer without a vacation
Think about it. I know that when I think of summer, VACATIONS, RELAXING, BEACHES, and FUN all flood my memories. Just because I'm an adult doesn't mean that I don't deserve a summer vacation to write about (thankfully there's no teacher with a red pen taking points off for bad grammar). I know it's September, but I always want to grab those LAST FEW DAYS or WEEKENDS of summer bliss by getting away.
There is still time to make some 2013 summer memories.
The Westin Cape Coral Resort on the Gulf Coast of Florida has
1-, 2- and 3-bedroom suites that are perfect for families (or feel like you've got the WHOLE place to yourself like I did).
All rooms have a private screened in balcony with stunning water views.
The suites feature a spacious bathroom with adjoining vanity, walk-in closet, fully appointed kitchen with  granite counter tops and stainless steel appliances, and an open floor plan including living room and dining room.
The resort is located on its own 175 slip deep-water marina and  offers kayak rentals, boating lessons, fishing charters and more.
The resort is connected to Marina Village, which features a full-service spa and several local boutiques and galleries.
Pick up a brochure that includes the weekly resort activities including a complimentary water taxi to Fort Myers Beach, Dolphin Sunset Tours and poolside activities and games for kids.
Leave the property to explore Sun Splash Family Water Park, Fort Myers Beach, Sanibel Island (known for shelling and wildlife refuges), Captiva Island, the Edison & Ford Winter Estates, and great outlet shopping.
OR…you can come to MY neighborhood
There is a Starwood Resort RIGHT IN MY COMMUNITY of PGA Village in Port St Lucie.
If you PLAY GOLF…PGA Village is like a theme park for golfers. We've got the INCREDIBLE PGA LEARNING Center, three world class golf courses, plus a fun short course.
Not a golfer? Hit Rte. 95 and drive 20 miles to the Vero Beach Outlet Mall, with outlets ranging from Crocs and The Gap, to Restoration Hardware.
Head east to Hutchinson Island for beautiful serene beaches that are tucked away, or join the masses at FUN Jensen Beach.
There's always something going on in Tradition, where there's great shopping, farmer's markets, concerts, and more….and it's only 3 miles away from the Sheraton PGA Vacation Resort.
From seafood at Lola's to steaks at Sam Snead's (a quick walk across the street), there's great food and plenty of watering holes nearby.
Catch a game at the Met's Spring training facility, located less than 5 minutes away (you might even be treated to post-game fireworks).
My favorite? Riding horses on the beach in nearby Fort Pierce.
Plus, you'll have ME as your neighbor while you're vacationing (I promise not to bother you).
Do you want to getaway and make your OWN summer story (or fall or winter story)?
Enter below and you could be going on your very OWN getaway.
INSTRUCTIONS:
Click on:  Tweet About the Giveaway in the Rafflecopter below. Your tweet will pop up – you MUST ADD where YOU'D go for your Starwood Getaway to the tweet!!!!
I received a vacation & Starwood points to facilitate this post. All opinions are strictly my own.