This weekend I spent a couple of days at the fabulous Jupiter Beach Resort getting pampered and relaxing. While getting my nails done (a spur of the moment booking after looking at my fingers that looked like I had just gotten off of a construction site) my manicurist and I began chatting. We were talking about doing yoga on the beach, and it turns out that she was also a yoga instructor and traveled to some of the different resorts to lead sunrise and flow classes. That got me thinking that, since September is Yoga Month, that it would be a great time to getaway to a resort that features my favorite way to stretch my body and still watch and listen to the waves rolling in.
If like me, you love to do yoga on the beach, or just want to try it as part of a great getaway, here are 10 resorts where you'll be able to "go with the flow" as you practice your asanas.
1. Casa Palopo – Lake Atitlan, Guatemala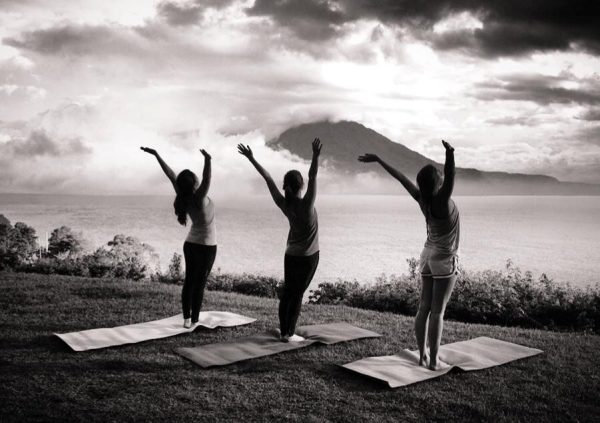 Guests of
Casa Palopó
can enjoy a moment of zen with yoga lessons held on the hotel's helipad — located on the cliff between the main hotel and its VIP two-story villa (the villa being 150 steps above the main hotel). The helipad overlooks majestic views of Guatemala's Lake Atitlan and three volcanoes, adorned with misty clouds floating at the their tips — a gorgeous scene to inhale and exhale to! The luxury boutique hotel even has a package that caters to the relaxing workout that includes airport transfer to and from La Aurora International Airport, accommodations at the boutique hotel, daily breakfast, one spa treatment per person, and daily yoga sessions.
2. The Resort at Longboat Key Club | Sarasota, Florida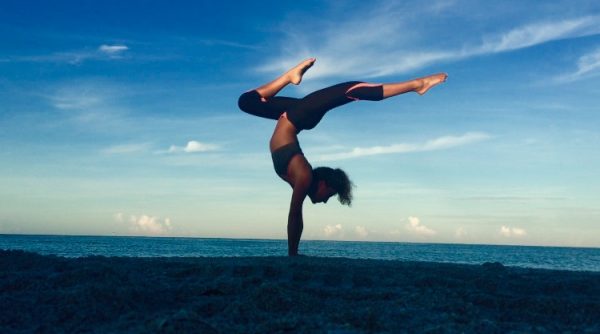 Situated on the stunning Gulf of Mexico beaches along Florida's west coast,
The Resort at Longboat Key Club
is a luxurious active/wellness retreat and the only AAA Four-
Diamond
resort in Sarasota. With a large wellness focus, guests staying at the resort can enjoy healthy farm-to-table meals at eight restaurants, holistic treatments at The Spa and more than 30 fitness classes. Beach Yoga is also held every morning complimentary for guests and led by experts. Yogis of all levels love the peaceful morning classes in the sparkling, soft white sands – it's quite the picturesque spot to declutter the mind while taking in stunning Gulf coast views (dolphin spotting is common here too!). For more information, visit: 
www.longboatkeyclub.com
.
3. Las Lagunas Boutique Hotel – Flores, Guatemala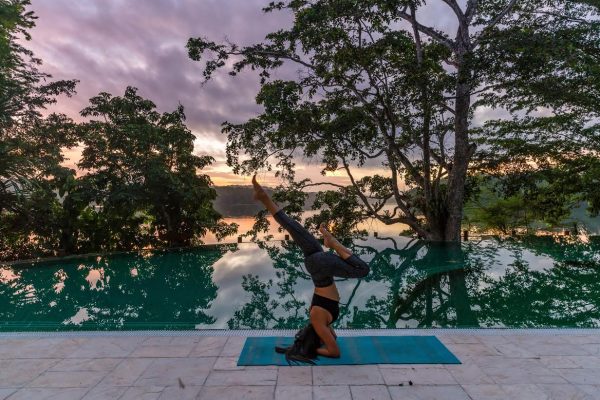 Located just a short drive away from the magnificent ruins of Tikal, Uaxactún and Yaxhá in Northern Guatemala,
Las Lagunas Boutique Hotel
is spread across more than 300 acres of lush, private reserve. The property offers the perfect blend of luxury and eco- tourism, with 19 spacious bungalow suites hovered over Quexil Lagoon. What better location to practice yoga than in the middle of the jungle, with a relaxing sounds of nature and its inhabitants to get you into a zenful state? With a plethora of activities to inspire a health & wellness lifestyle, guests can reserve personal or group yoga sessions anywhere on property from on your private balcony in your spacious suite or better yet, by the hotel's infinity edge pool surrounded by the lush foliage of the jungle — where yogis will gather around the large pucte tree used as a focal point to practice holding the most difficult of poses!
4. Stanton South Beach – Miami Beach, Florida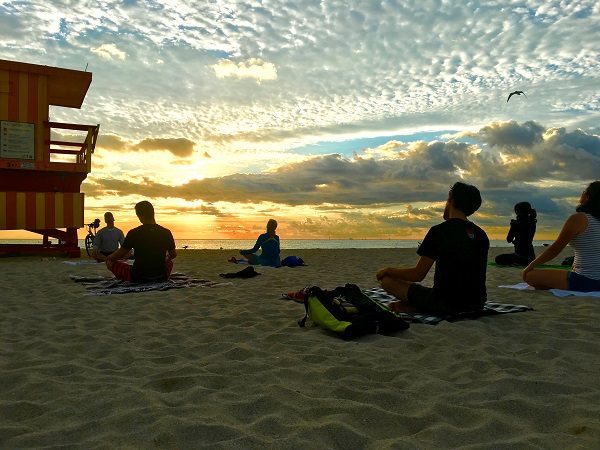 One of the only hotels along Ocean Drive with direct beach access, the
Marriott Stanton South Beach
is situated in the exclusive South of Fifth district of Miami Beach and edged by a lush green park. The upscale neighborhood provides a quieter side to the typical South Beach scene, complete with daily sunrise beach yoga on 3rd St. Beach, a local perk offered to beach goers and yogis, just steps from the property. With only the sounds and views of the ocean around you, guests enjoy this serene spot to quiet the mind during a morning meditation. Volunteer instructors offer yoga from the heart and do not get paid, so donations are always welcome. Afterwards, yogis retreat back to the Stanton for some R&R in the 224 peaceful, renovated guest rooms or at the hotel's chic pools, or new Stanton Spa, offering ocean-inspired treatments. For more information, visit
www.StantonSobe.com
.
5. W Punta de Mita – Nayarit, Mexico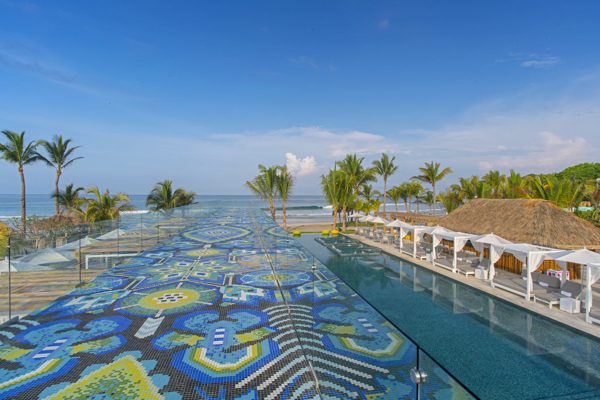 A chic beach resort located on Mexico's coveted Riviera Nayarit,
W Punta de Mita
offers a wellness-inspired escape for yogis and surfers who want to get some zen while perfecting their hang-ten. The property is situated on one of Mexico's best surf breaks, edged with lush rainforest that unfolds in winding, tree-lined paths. Nestled in the heart of this jungle paradise, guests can practice yoga on a relaxation deck surrounded by ancient papelillo trees. Following yoga, guests can head to the resort's brand new meditation labyrinth for a complimentary guided meditation session to help them further unwind before hitting the waves. After all, yoga and surfing go together like sand and saltwater!
6. Suncadia Resort, A Destination Hotel – Cle Elum, Washington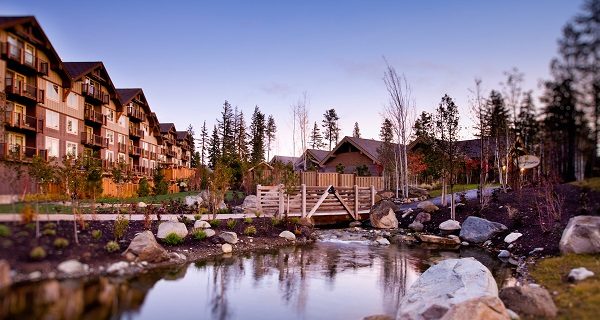 Nestled in the heart of the lush Cascade Mountains,
Suncadia Resort
sets the scene for the perfect yoga getaway. Sitting atop 6,400 acres of some of the greenest forest land, visitors can enjoy a scenic hike through the 40+ miles of trails or opt for a calming yoga session. What better way to let go and set intentions than on a serene lake, Suncadia will be offering SUP (stand up paddle board) Yoga on the lake – every
Wednesday
and Saturday at
4:00 p.m.
In addition, guests can unwind further at the world-class Glade Spring Spa with one of their Yoga Month specials- the perfect way to reach nirvana. When guests don't want to namastay in bed, they can visit the resort's onsite winery for a private tasting or finish off their days admiring the panoramic views of the sprawling mountains over a cozy fire and s'mores.
7. Tabacon Thermal Resort & Spa – Arenal, Costa Rica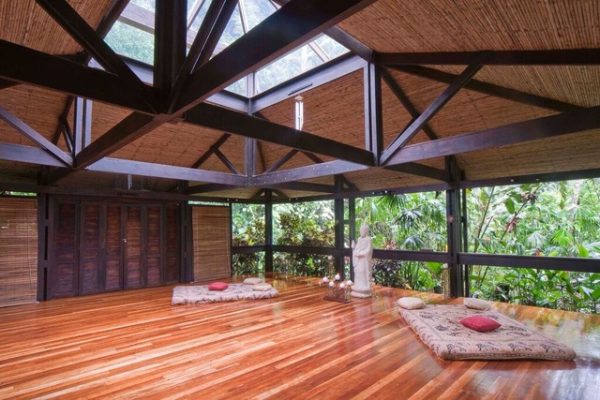 Enveloped in lush green dotted with colorful, exotic flora, and spread across 900 acres of lush rainforest near Costa Rica's Arenal Volcano, Tabacón Thermal Resort & Spa offers guests a rainforest escape unlike any other. The first thing guests will want to do is slip into their plush bathrobes and head straight to the thermal mineral springs, where they can soak in the natural pools with temps that reach 105°F. The heating properties of the spring also comes with health benefits as the natural waters are rich in minerals such as silica, calcium and lithium that are known to promote overall health and rejuvenation. Yogis will be able to practice among pristine nature in a secluded rainforest bungalow for an ultimate connection to Mother Nature. With hundreds of species of local wildlife right on property, guests are likely to spot toucans, tree frogs, and howler monkeys while practicing their downward dog. Come savasana, guests will relax to the soothing sounds of nature as the soundtrack.
8. Sandpearl Resort – Clearwater Beach, FL
Located along the best named beach in the nation,
 Sandpearl Resort
is a coastal oasis that sits on a 700-foot stretch of white sand beach. Guests looking to start their day feeling calm and centered can find their zen at Sandpearl's morning meditation station on the Gulf Lawn overlooking the powder white sands and sparkling waters of Clearwater Beach. Each morning, guests are invited to release tension and connect with their breath as yoga mats, crashing waves and the resort's yoga instructor are waiting to guide guests through morning meditation. For more information, visit
https://www.sandpearl.com
.
9. JW Marriott El Convento Cusco – Cusco, Peru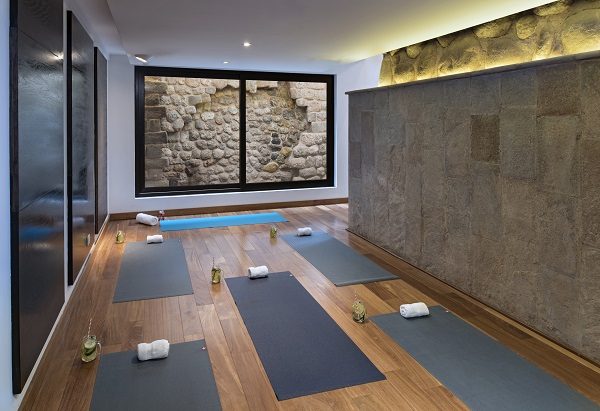 Find bliss and reach your ultimate point of relaxation by practicing your favorite yoga poses next to original Inca ruins at the JW Marriott El Convento Cusco. Built on the site of the 16th century San Agustin convent, in a historically protected area within the city of Cusco, the five-star hotel preserves an amazing amount of the site's history with highlights that include original colonial arches, exposed pre-Inca walls in some of the guest rooms and suites, and archeological exhibition areas. The Health Spa Club, located in the subterranean level of the property, offers yoga classes twice a week allowing you to peacefully unwind and find tranquility during your stay in Cusco. With a large window to the side of the room, yogis can embrace the prehistoric walls as they perfect their poses and become one with their mind, body and soul. Retreat to your happy place with naturally-flavored beverages, authentic local elements, and ancient culture. For more information, please visit
www.jwmarriottcusco.com
.
10 . Miramonte Indian Wells Resort & Spa – Indian Wells, California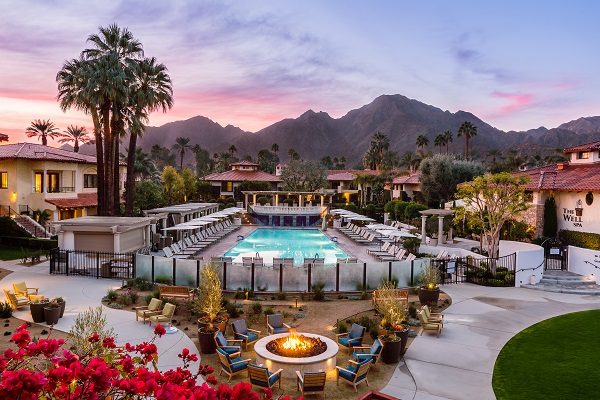 Renew and relax under the desert sky with a Full Moon Yoga practice at
Miramonte Indian Wells Resort & Spa
, located in the heart of California's Coachella Valley. This inspiring and rejuvenating practice allows guests to set their intentions in the warm Palm Desert air under the light of a gorgeous full moon. Surrounded by a view of the stunning Santa Rosa Mountains, Miramonte is an oasis and the perfect setting to unwind a recenter. To further your practice, the resort also offers cleansing sage burning blessings, Himalayan salt massages and singing bowl ceremonies. Please call the Well Spa at Miramonte for available dates and times at 760.837.1652.