Have you ever considered going scuba diving? It sounds a tad absurd right? Why spend days training, and forking over a lot of money when you can just snorkel whenever you please? While there are a lot of questions about scuba diving and why people do it, let's start off with this Sebastian from the Little Mermaid said "It's better down where it's wetter, under the sea", and you know what, he's right! It's a lot of fun, it's one of the best ways to make lifetime memories that you're never ever going to forget! So, here are ten reasons why you just may want to give scuba diving a try during your next vacation!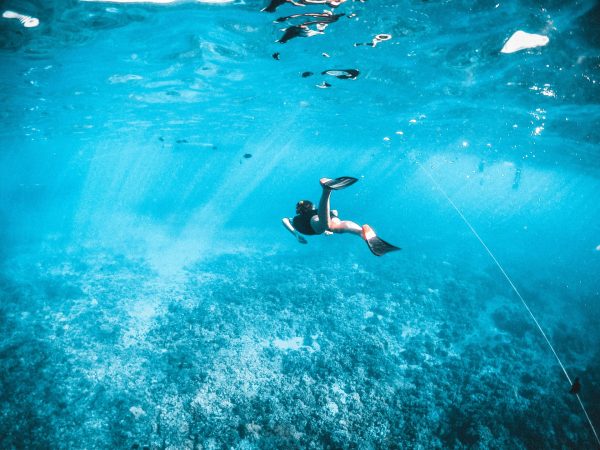 1. You can see beautiful coral reefs that are home to hundreds of different species of fish, crabs, and other sea creatures
Coral reefs are important because they provide a home to hundreds of different species of fish, crabs, and other sea creatures. Coral reefs are also the habitat for many marine species that depend on the corals for food and shelter. They also have a major impact on the people living in coastal areas because they provide income in many ways such as through fishing and tourism. A lot of coral reefs are going away due to a number of reasons such as pollution and climate change.
While there are plenty of questions about when some may go away and where it's important to just enjoy it when scuba diving. The beautiful natural wonders of today could potentially be gone tomorrow (as dark as that may sound). There are other interesting sights to see other than just the coral reef and that includes the Okinawa shipwreck as well.
2. You can see the ocean's beauty up close and personal without ever having to get wet!
Scuba diving may be a tad similar to snorkeling but there are some major differences. With scuba diving, you're almost always not in your bathing suit and instead, you're wearing a wet suit. This suit will usually cover you from head to toe, so you can count on your hair not even getting wet. So, if you're someone who isn't a major fan of getting wet then these wet suits can help out a lot with that. So, go ahead and dive right in and see all the beauty the ocean has to offer!
3. Scuba diving is a great way to explore an underwater world that you never knew existed.
It gives you the chance to not only see marine life in their natural habitats but also interact with them. There are many different levels of scuba diving, ranging from basic snorkeling all the way up to deep-sea scuba diving. Just keep in mind, that for deep-sea exploring, you'll need extensive training for that.
4. Diving in the ocean is a great way to experience an underwater environment that is vastly different from what we see on land
There could be shipwrecks, caves, and incredible treasure that was swept into the ocean! If you check YouTube or other places with content, you won't entirely see a lot that involves getting deep in the sea. What happens underwater is obviously different than what is on land, but who knows what you may spot under the sea!
5. Diving in the ocean allows you to experience life at its most primal level – where plants and animals have adapted to survive in a hostile environment
Whenever you go out in the wild, it gives you the chance to truly see what mother nature is all about, something that you won't be experiencing at a zoo! Getting to see nature act like, well, nature in the ocean is not something that many get to see. But, if you're going to scuba dive, it will be your chance to witness it!
6. Scuba diving lets you explore an underwater world that is largely untouched by human hands
Scuba diving is a very popular activity that many people enjoy. It can be a great way to experience the ocean and to explore underwater life. But it's actually something that not too many people get to experience. Unlike snorkeling, you are having to get proper training with scuba diving. It can be fairly pricey, and the training is serious. So, with that said, not many people will afford or will even have the patience to do it. That can be a good advantage, however!
 How so? Well, it means that you get to see something that millions, no, billions of other humans will not ever get to see. Thinking of it from that perspective sounds pretty incredible, right? While a lot of parts of the ocean and filled with people doing something with them at the surface, under the sea just makes things entirely different.
7) Scuba diving is an exciting physical activity that requires mental strength and endurance
If you're looking into reaching your fitness goals then why not consider this? Like swimming, scuba diving is an adventurous way to get active. You are technically swimming when you're scuba diving. Plus the pressure from the water will make you move your muscles a bit more. This is a great activity to try if you're trying to get yourself active.
8) When you're in the water, it feels like you're weightless
Unless you're planning to go into space sometime soon, it may be better to opt-in the sea. Swimming is just so fun, it's a great way to just float around and see where the water takes you. But, you'll need to keep in mind, that the further down you go into the sea, the more pressure that there is. So, it could get a bit more difficult to move around. Scuba diving training classes will help out with this.
9) You're not harming animals
When it comes to traveling, it's important to always stay ethical. This means ethics towards people, the animals, and nature itself. Fortunately, with scuba diving, you're not touching any of the animals. So, this is definitely an activity where you get to enjoy seeing mother nature in action while ensuring that you personally (and others) are not touching wildlife.
 A part of the training that everyone receives is about not messing with the wildlife down there. For the most part, the animals there will leave you alone as long as you leave them alone. While movies and shows may depict scuba diving as dangerous, such as a shark trying to eat you, you don't have to worry about that. Most dangers that happen involve oxygen tanks.
10) Scuba diving can be a great way to spend time with friends or family members
Scuba diving is a great way to spend time with your friends or family members. It's a fun experience that will bring you closer. It can also be used as an effective team-building exercise for work. Scuba diving is an activity that can be taken up by nearly anyone of any age. It's a great way to spend time with friends or family members. It's also a great way to get your heart pumping and clear your mind. 
Scuba diving can be done on a day dive or overnight dive. Day-diving is usually during the day and an overnight dive usually goes from dusk to dawn. Dives are usually three hours long, but there are of course exceptions. Doing something unique will always get people together, so why not give it a go with your loved ones?