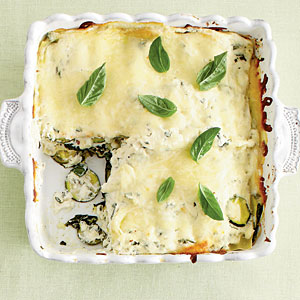 One of the things I LOVE about living in the South  is that I can justify buying Southern Living magazine 🙂 I'm also honored to be a Southern Living Source member and because of this, I'm privé to some great recipes, home decor, and more (I'm also able to contribute to Southern Living as a member).
This wonderful recipe for Zucchini and Spinach Lasagna is a great way to use all of those beautiful vegetables that you pick up at the farmer's market or farmstand this time of year. It is a nice light meatless dish, but you could certainly add in some cooked turkey or chicken to the layers if you like.
Yield: Makes 4 servings
Total: 55 Minutes
Ingredients
1 (8-oz.) container whipped chive-and-onion cream cheese
1 (15-oz.) container ricotta cheese
1/3 cup chopped fresh basil
1 teaspoon salt
5 medium zucchini, thinly sliced (about 2 1/2 lb.)
2 tablespoons olive oil
1 (10-oz.) package fresh spinach
2 garlic cloves, pressed
6 no-boil lasagna noodles
1 (7-oz.) package shredded mozzarella cheese
Garnish: fresh basil leaves
Preparation
1. Preheat oven to 425°. Stir together first 4 ingredients in a bowl.
2. Sauté zucchini in hot oil in a large skillet over medium-high heat 3 to 4 minutes or until lightly browned. Add spinach; gently toss until wilted. Add garlic; cook 1 minute.
3. Spoon one-third of vegetables into a lightly greased 9-inch square baking dish; top with 2 noodles and one-third of ricotta mixture. Repeat twice. Sprinkle with mozzarella.
4. Bake, covered with lightly greased aluminum foil, at 425° for 25 to 30 minutes or until bubbly and noodles are tender. Uncover and bake 5 to 10 minutes or until golden. Let stand 10 minutes. Garnish, if desire
Thank you to Southern Living Source for allowing me to share this recipe with my readers.