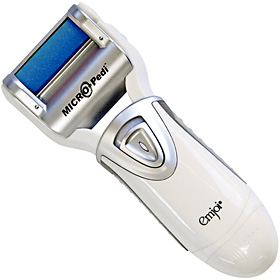 I've got to tell you that I HATE MY FEET! Maybe it's the fact that I went to school for dance (my major was dance therapy), maybe it's the fact that my toes are ugly (getting back to the whole dance thing), maybe its the fact that they're a LONG way down when I have to give myself a pedicure.
So, I try to make them as PRETTY as possible by keeping my toes well pedicured and the bottoms smooth. Unfortunately, because of the third option above (the long way down to my piggies) it meant spending on a pedicure every 2 weeks. Add to that the fact that I'm always on the run, and it becomes an issue trying to fit in an appointment. To top is all off…my last pedi cost me $70 plus a tip (spa/hotel). REALLY?
What's a girl to do?
Well, while I've always been able to slap a bit of shellac on my nails, but the whole cheese grater to the bottom of my feet thing has eluded me. First of all…WHERE DO I BUY a CHEESE GRATER FOR MY FEET? Secondly, I don't even have one for CHEESE (don't even let your mind go there…please).
Enter Emjoi's new Micro-Pedi Foot Buffer. What looks like an electric razor acts more like a sander for those calloused areas of your feet.  Even I, Miss-it's-a-long-way-to-my-feet-dear can make the "trip" to smoother un-calloused heels. With two different grades of spinning rollers I was quickly and easily able to buff away my rough callouses, plus at $39.95 it's almost 1/2 of what I paid for that last pedi – talk about a savings!
Even if you do touch-ups BETWEEN professional pedicures, this is a great tool to have.
On the downside…Mr. "S" saw me using it and ASKED ME TO "do his feet." UGH! Sorry, but I have standards you know….think I'll just change it to the course roller and let him use it himself.
For more information on the Emjoi Foot Buffer go to the Emjoi Website
I received product to facilitate this review. All opinions are all my own.