Here's the news: you can holiday in Africa in luxury. And if you're going to head anywhere, Zambia is the place that should be top of your list. With the awe-inspiring Victoria Falls (the world's widest waterfall), the elegant Zambezi River, and miles of pristine bush for safaris, this is a tourist destination that's – amazingly – yet to be truly discovered.
Still, its resorts and hotels are world-class, offering luxury and style against the background of a wildly exciting, exotic and colourful culture and environment. Here are our votes for Zambia's best luxury hotels and lodges.
1. The Royal Livingstone, Victoria Falls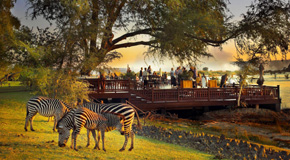 The quintessential colonial-era hotel, The Royal Livingstone is as elegant and luxurious as you'd expect. The hotel wins style points for its seamless mix of Victorian features and African influence. With beauty salon, swimming pool, magnificent dining room and butler service, you'll be glad you chose this as your Zambian base. Plus, you're so close to Victoria Falls here that the hotel boasts you can see the spray.
2. Sindabezi Island Lodge, Victoria Falls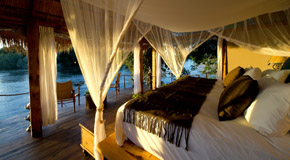 Location, location, location: Sindabezi is a winner. Situated on its own private island in the middle of the Zambezi River, this lodge is ideally located for visiting Victoria Falls and making the most of the numerous activities in the area. With just five chalets available, this is a quiet, relaxed retreat and a fantastic spot for admiring river wildlife such as kingfishers and hippos.
3. Mfuwe Lodge, South Luangwa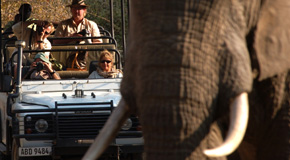 This fantastic destination is one of the oldest lodges in the area. But this certainly doesn't mean its facilities are outdated, simply that it has the prime location in the South Luangwa National Park. It's the temptation of an onsite spa and stunning swimming pool that draws many visitors here and a massage here is an experience in itself. The eighteen separate chalets each look out over the bush from private verandas and the public areas have the cosy elegance of a five star city hotel. Three family rooms makes this lodge a fantastic option for families or groups of friends.
4. Robin Pope Safaris Luangwa River Camp, South Luangwa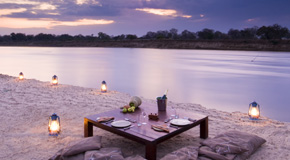 A top choice for wide-eyed honeymooners, the Luangwa River Camp is one of this safari group's plushest resorts. Discreet and contemporary, this is a great destination if you prefer luxury to rustic. With just five spacious suites, this is a romantic place to spend time with your other half, soak up the sounds of the bush, douse yourself in relaxation and stargaze after an afternoon tracking game. Each gorgeous suite boasts a four poster bed, private veranda and huge sunken bath.
5. Sausage Tree Camp, Lower Zambezi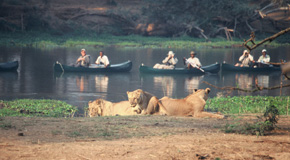 This quirkily-named lodge boasts top style credentials for its classy accommodation, crisp white safari tents and candlelit restaurant in the Lower Zambezi National Park. The tented rooms lie alongside the river for top wildlife-spotting opportunities and are fitted out with local hardwood furniture and high quality soft furnishings. Relax in the pool and dine by candlelight in the camp's open air dining tent or in the privacy of your own private veranda.