What is it that drives you crazy about makeup? I tend to not wear foundation (although I need it). The reasons are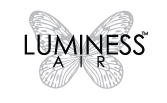 It's so difficult to find the "perfect" shade
Coverage is always an issue – either it's too light and doesn't cover, or it cakes up and looks fake.
I HATE when it gets into the creases and crevices
Living in South Florida, I always feel like it's melting
As a result, I tend to toss on some concealer, swipe bronzer on my cheeks, put on a coat or two of mascara, finish with lipstick and I'm out the door. I WANT to be one of those women who looks like they have flawless skin, but frankly it's difficult to get all of the above JUST RIGHT.
Over the years I've probably spent hundreds and hundreds of dollars on makeup that I've thrown away. At first glance,  Luminess Air "seems" to be fairly expensive, HOWEVER when you realize that you'll have the airbrush for MANY years and you can easily mix airbrush makeup to create the perfect color, you'll NEVER be left with creasing and will be left with a flawless look, I think it's worth it. When I add in the fact that I pay $30 for a spray tan every time I go somewhere "nice" and it will have paid for itself in no time. Units begin at $169 and they come complete with makeup (makeup runs from $27 and up depending upon the size – less than department store foundation). Foundations come in both satin and matte finish (depending upon your preference) and as I go over  in the video, blush, bronzer and eyes hadows are all available as well
Not sure if it's for you? For under $30 you can have a 30 day trial of the iLuminess Air airbrush cosmetics system.
Luminess Air systems are available for purchase online.
I received a Luminess Air system to facilitate this review. All opinions are strictly my own.