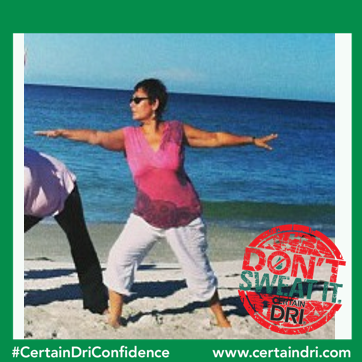 Rings
Place one on my finger and I'm a happy woman, when I find one that stains the armpit of my favorite shirt, I get a little flustered. I like making an impact on those that I meet, and sweat stains are classic DON'TS when it comes to Champagne Living. Looking the part is an important part of confidence, and you only get ONE chance at a first impression.
Don't Sweat the Small Stuff
I don't even sweat the big stuff anymore, because I've got help to keep me keep my cool, even when I'm out meeting with brands down here in South Florida.
Let me give you an example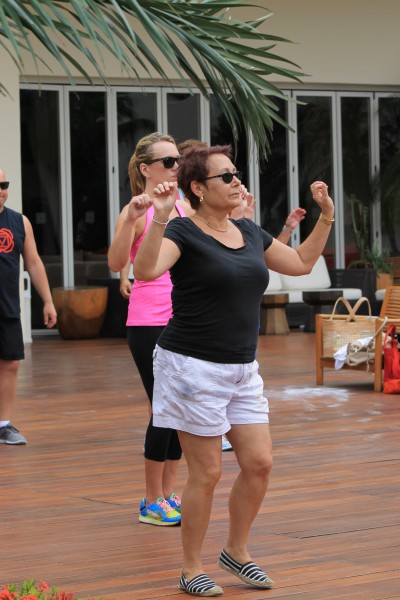 Last week I was in Playa del Carmen. That's right…Mexico in the summer. It's HOT and I had an interview set up with Louis van Amstel of Dancing with the Stars…AFTER taking a dance/exercise class with the man himself outdoors. I don't usually like being drenched in sweat, but this was an hour and a half class (cough, cough…I only lasted 20 minutes). Still, who wants to go up to a TV personality smelling like you haven't bathed in a month?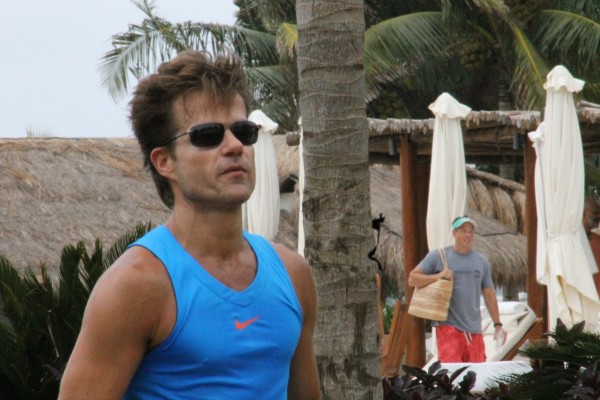 Sweat on my forehead I don't mind, sweat marks on my clothes, that's a different story.
Silly Me, Confident Me
OK, so I stole a peak under my arms (and a sniff) before sticking out my hand to introduce myself (and I popped a mint in my mouth as well for the coffee breath). No stains, no odor…that was a GREAT start. Normally, I would have RUN back to my hotel room, showered and changed (or jumped into the pool with my clothes on like many of the others in the class did), but the opportunity was THERE for me, so I grabbed it. I'd been using the Certain Dri 3-part Protection System for over a week before this incident, and my test of the products went BETTER than expected. Unfortunately, Mr. Van Amstel was supposed to stick around for photos and interviews, but he had other plans. Still, I felt good about my first impression knowing that even though I had just been in his class that I didn't smell like a locker room.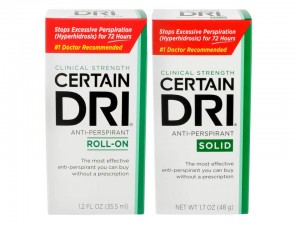 Honestly, I don't usually THINK about my pits
My shoes and accessories – yes, my pits, not so much. Doing this experiment with the Certain Dri system made me more conscious of the little things that give me that sense of BOLD (especially since I'm NOT a gal who tries to cover with perfumes). Personally, I never liked roll-on anti-perspirants because they felt MESSY, but their new formula is thicker, drip free and gentle on my skin.
The 3-Part System
I'd used Certain Dri Clinical Clinical Strength Roll-On in the past, but now I'm using the night time element of the Certain Dri Clinical Strength Anti-Perspirant Solid at night and the Everyday Strength Certain Dri AM in the mornings. I feel good knowing that even in the South Florida summer sun, I can walk Clem when it's 95 degrees and still feel good about stopping to talk to my neighbors with the 72-hours of sweat and odor protection I get each time that I use it. With 12% aluminum chloride (the strongest available without a prescription), I get that just showered morning fresh feeling ALL DAY LONG.
Best of All
I can pick the products up at ALL of my regular shopping stops – CVS, Target, Walmart, Rite Aid, Duane Reed and even ONLINE at www.certaindri.com.
Certain Dri Closet Full of Confidence Giveaway
To celebrate how Certain Dri protects even your most DELICATE clothes they are offering their facebook fans the opportunity to win a $1,000 gift card to Easy Closets to put towards a custom designed closet to hand the new clothes that they NOW have the confidence to wear. Of course the winner will also receive Certain Dri Clinical Strength Roll-On, Certain Dri Clinical Strength Solid and Everyday Strength Certain Dri AM. You can enter through June 26, 2014 at: facebook.com/certaindri This is a sponsored conversation written by me on behalf of CERTAIN DRI®. The opinions and text are all mine.