The items in this post were sent to us by the brand. We do not charge them for consideration or placement as we prefer to retain the right to not place an item that we don't truly love. We may however include affiliate links so that we get credit when you shop.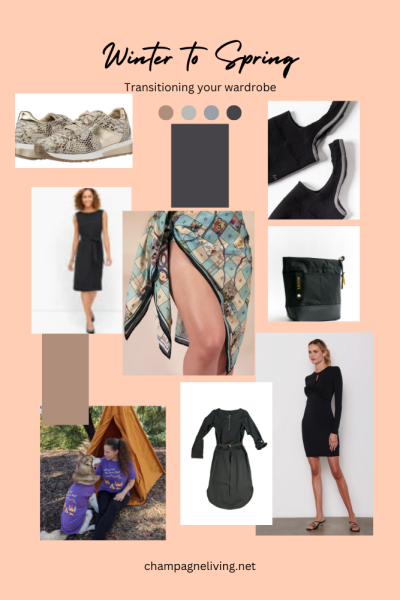 If you're looking to spruce up your winter wardrobe and transition into spring feeling fashionable and fresh, it might be time to start thinking about creating a mid-season transitional wardrobe. Not only can this provide the perfect balance between cold weather utilitarian pieces paired with lighter fabric options for when the temps start rising, but it also allows you to switch from one season's style to another without disrupting your natural flow of fashion. Whether you're looking for cozy sweaters or light blouses that offer an airy look, we have included some of our favorite essential items as well as those fun POP pieces that are needed for your stylish wardrobe overhaul.
Read on as we discuss how to create a winter-to-spring transitional wardrobe fit for the modern-day woman!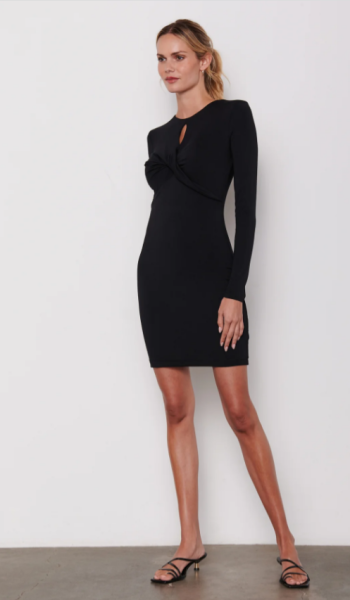 I love to shop Bailey/44 for my core wardrobe pieces and when it comes to a great dress that will take you through at least 3 seasons, the Julieta Mini Dress in black is one of the basics in my wardrobe. From out to dinner with Mr. S to a night out with my besties, it's an easy go-to piece that is not only comfortable but incredibly flattering.
Effortless yet statement-making, this surplice wrap long-sleeve dress beautifully contours ​​the body with stretch knit jersey. Complete with keyhole detail and a hemline that hits above the knee.
Sizes: XS – XL
Available at: Bailey44
Price: $178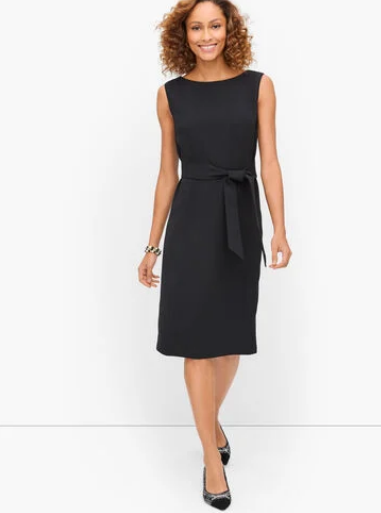 When you want to look put together and just need to grab and go, there's nothing better than this Easy Travel Dress. No, you don't HAVE to be traveling to wear it…but, why turn down a trip? You'll be ready to go ANYWHERE in this feminine, effortless dress with a chic tie waist and flattering jewel neckline.
With classic styling, this piece works year-round. Just toss on a sweater or blazer in cooler weather and when summer comes calling, you'll be pulling this dress out of your closet every time someone asks "Hey, do you want to go to…?" Also available in Indigo Blue.
Sizes: 2 – 18
Available at your local Talbots and Talbots.com
Price: $189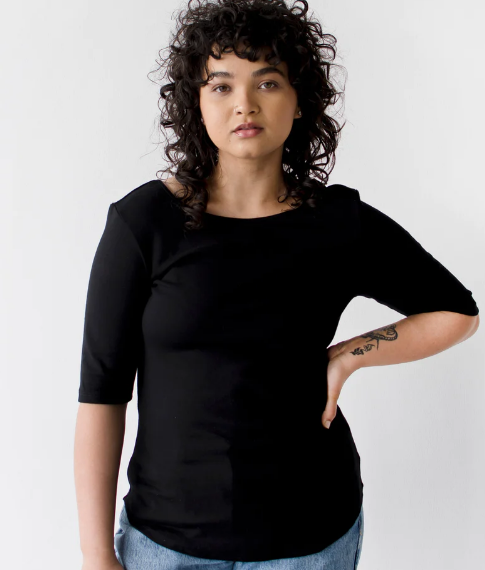 I just can't resist a good ballet tee! Made for those who maybe once had a dream about ballet. This effortless baby ribbed tee with a scooped back and mid-length sleeves if the perfect solution for looking all elevated and pulled together while staying full-on comfortable year round. It's all about those elbow-length sleeves that transition from season to season with ease. Turn around and to show a beautiful scooped back for that graceful look of a ballerina.
Sizes: XS – 3XL
Available at: Franc.com
Price: ON SALE for $55 while the sale lasts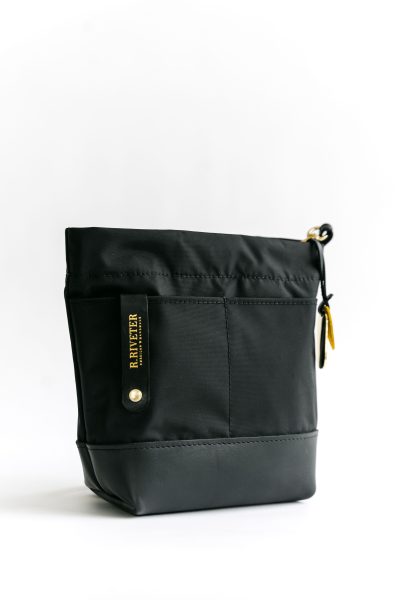 Grab your bag and GO with The Betsy. A petite-bucket bag with a lightweight but durable approach to your new everyday handsfree crossbody. In the spirit of performance – this premium nylon fabrication will go where a handbag has not gone before. Inspired by the iconic bomber jacket, this American-made bag is travel ready. The durability and light hand of the nylon means you can blaze trails, AND look chic. Water, snow, and worries – roll right off!
Best of all, every R.Riveter handbag takes a journey across the country before arriving at your doorstep. Components are crafted by independent military spouses in their homes around the nation and shipped to R.Riveter's FabShop to be assembled into a one-of-a-kind product.
Size: Base Width 6.5″ x Base Depth 3.25″ x Height 8.5″ x Opening Width 10″
Available at: R. Riveter
Price: $178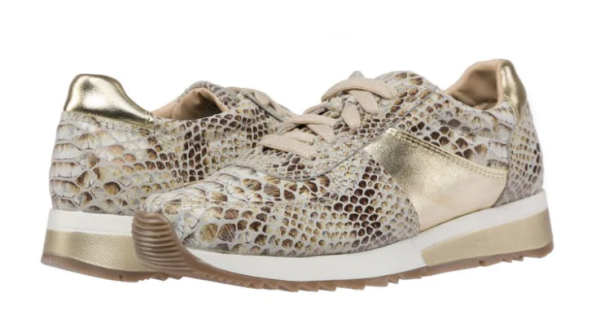 I may not be a Boca Babe, but I still love to shake things up a bit with a pair of unexpected-looking reptile patterns on my feet. The CoFi Holly sneakers are dependable, enduring, and hot, hot, hot, whether the weather outside is just as hot or it's a cool day. With a European-inspired flair and comfortable, removable insoles, these fashion sneakers will elevate your everyday style while providing cushioned comfort. In lieu of painfully tight high heels, slip on these sleek sneakers for your next date night, sightseeing in the city, or running errands around town. You'll easily be able to be dressed up or down, and the Holly will soon become your favorite go-to shoes and you won't be able to just have one pair.
Plus, they are available in various snake patterns, camouflage, anaconda, leopard, and MORE!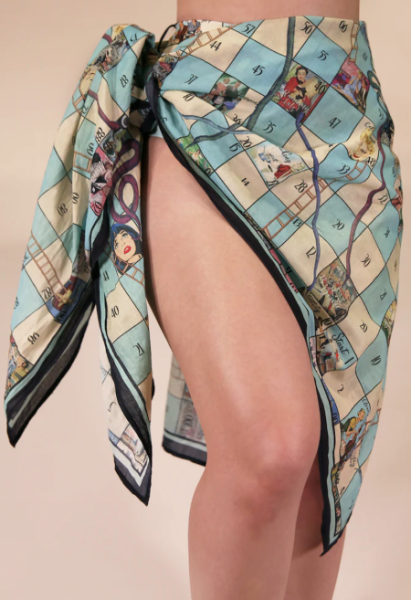 Kitten D'Amour introduces their first ever 'Sarong'. Designed with the stunning limited edition 'Snakes and Ladders' print and featuring a black border the 'Snakes and Ladders Sarong' is the perfect poolside or beachside accessory! Why am I including it in my winter-to-spring transition wardrobe? Because while it's created as a sarong, it is easily used as a shawl over that favorite dress on a night that's a little too cool or wrapped French-style as a scarf on a cold, cold night.
This versatile design can be worn as a stylish cover-up and is the perfect finishing touch for year-round accessorizing.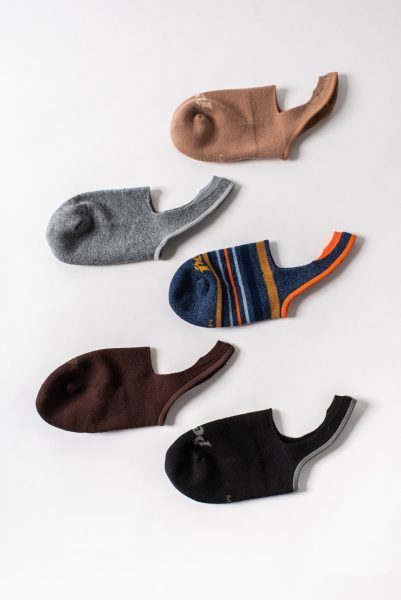 Do you know that feeling of being 20 seconds into your journey from point A to B, and your sock starts sliding down into the abyss of your shoe? At OnePear, they're hitting the reset button. As a solution-oriented business, their driving force is improvement.
These premium-crafted, one-of-a-kind no-show socks are designed to go the distance, and function as a no-show sock should. In other words, they've created wearable socks that won't let you down or interfere with your ability to tackle your never-ending to-do list. With comfort, functionality, and purpose leading the charge, they're bringing you a sock so premium, you'll forget you're wearing it.
At the end of the day, OnePear socks just make sense (oh, and you've GOT TO LOVE the play on words).
Size: S/M, M/L & L/XL
Available at: OnePear
Price: $14.59 +up
Weather getting nicer?
The sun is shining and you're running for cover to get away from those UV rays. NOPE, not anymore because you're wearing AmberNoon, a contemporary line as a way of providing sun protection for people who are not adequately protecting themselves from the sun's harmful UV rays.
Developed by Dr. Erum Ilyas who spent the past decade studying and evaluating fabrics and textures to create wearable clothing for sun protection. Based on her passion to provide safer and more effective solutions for sun protection, Dr. Ilyas founded her own sun-protective clothing line called AmberNoon.
Sun protective.
Thoughtfully designed.
Classic style.
Stay healthy. Stay beautiful.
This clothing line is an extension of her experience as a dermatologist and textile expert. From tops to pants, dresses, and coverups, you'll find everything from workout wear (because we all love to run in the sunlight) and swimwear to daily essentials.
With the incidence of skin cancer still rising, it is her hope that more people will recognize and understand the need for daily sun protection. AmebrNoon launched online in late 2017 and rapidly grew to open a flagship store in Wayne, PA, and was also featured at the Market @ Macy's in Fort Lauderdale and Atlanta.
Size: XS – XL
Available at:

AmberNoon

Price: VARIES
and then there's the REST of the family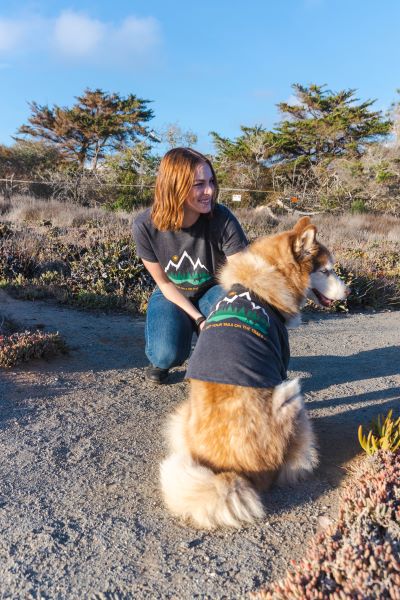 As a dog lover lifestyle brand, Fetch the Sun focuses on making dog clothes that match their owner's clothes. This way, you and your pup can coordinate outfits and look great together! But don't worry, if coordinating isn't your thing, their clothes also look great on their own. T-shirts, especially when they are FUN like these are great for year-round with a pair of jeans or shorts. You pup loves showing off that you are the best of friends when they wear a shirt just like yours.
Their human clothes are designed with comfort and adventure in mind, perfect for everyday wear. And these dog clothes are not only fashionable but functional as well. They're made from soft material that's perfect for mimicking a hug, keeping your pup warm, or minimizing shedding. So whether you're looking for a stylish new outfit for you and your Dog or just some functional dog clothes, Fetch the Sun has got you covered! Through their monthly animal shelter donation program, Fetch the Sun donates 10% of all sales to these wonderful organizations helping animals.
Sizes: Men – S-2XL ~ Women – XS-XL ~ Dog – S-3XL
Available at: Fetch the Sun
Price: Dog – $30 ~ Human – $45