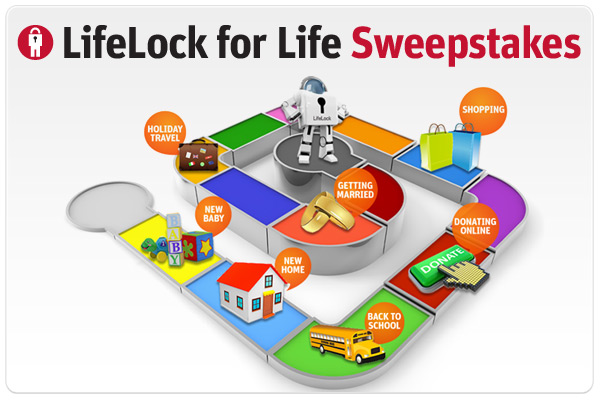 Winner, winner, chicken dinner!
Did you know that I LOVE entering sweepstakes and giveaways? Even better than ENTERING, I LOVE WINNING and I'm a gambling woman, so I'm betting that you do to. Today I have the inside scoop on a BRAND NEW SWEEPSTAKES on facebook that's being hosted by none other than LIFELOCK (the people who seem to take better care of MY identity than I do).
It's SO easy to play, simple head to the LifeLock Facebook Page and  "Like" LifeLock on Facebook, next, visit the LifeLock for Life tab, and CLICK to start playing to learn more about how these life events affect the security of your identity. You'll be asked a series of 10 multiple choice questions (remember these from school?) per week. Each of the questions is related to helping protect your identity. EVERY correct answer equals an entry into the contest.
Each month will bring a new theme of specific life events like –
purchasing a new  home
donating online
protecting yourself while shopping online
Prizes will include Visa gift cards, LifeLock memberships, and family vacations.
The first topic for September will  include key questions relating to back to school.  Keep coming back each month because this sweepstakes will continue throughout 2013 for multiple chances to win!
Head over to > LifeLock Facebook Page NOW and enter to win YOUR share of these fabulous prizes.
This is a compensated program, all opinions are strictly my own.