Now when your girl is gone and you're broke in two
You need a little bit o' soul to see you through
And when you raise the roof with your rock'n'roll
You'll get a lot more kicks with a little bit o' soul
Who DOESN'T love hamsters? I know that both Clem and I do, and when he saw the Kia Soul pull up in the driveway for me to review I'm sure that the first thing that popped into that furry head of his was H-A-M-S-T-E-R-S, because he ran right to the door and stared at his leash.
The REAL REASON I wanted to review the new Kia Soul? It looked like a car geared to high school & college kids, yet so  many of my friends are now driving them. I wanted to know why they'd ditch their grannie cars for this beat-box on wheels. I was SOON to find out.
HIP
This is what is at the heart of the Soul. It's young, it's vibrant, it has a sound system that kicks BUTT and then there's the whole DISCO look. Yes, DISCO look. The model that I road tested had a HOT Infinity Audio System, with subwoofer, a center speaker, AM/FM/CD/MP3 audio system, Sirius satellite radio and these dance club lights speaker lights on the door that pulse with the music and change colors. Add your iPod via the USB and auxillary input jacks, as well as the ability to DOWNLOAD your music straight to the car's UVO hard drive with 700 MB of storage and you've got UNLIMITED possibilities with the jukebox feature.
The "SOUL" branding on the seat covers is definitely geared to the crowd who love wearing labels.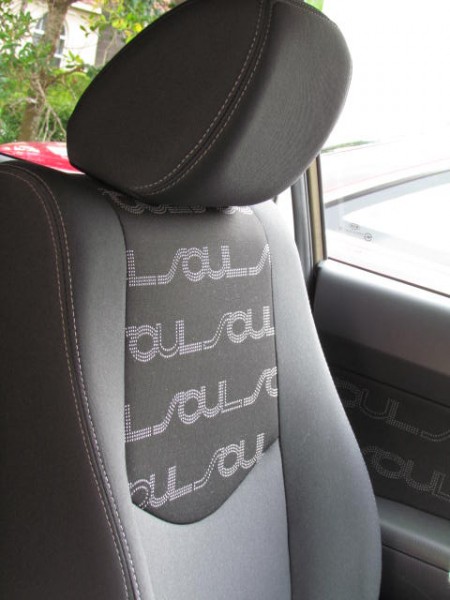 SAFETY
Whether it be your 18 year old's first car, or grannie's last, you want it to be SAFE and Kia has filled the bill here by airbags ALL OVER the place
Dual front advanced airbags
Front seat mounted side airbags
Full-length side curtain airbags
Luckily I didn't have to test these out. In the name of safety I DID check out the
LATCH system with hooks and tethers for the kids
The 3-point seatbelts – CLICK IT OR TICKET!
Headrests that are actually comfortable
A Traction control system that allowed me to maneuver even in those awful summer rains down here
and lots of other features with initials like: HAC (help with starting your car on hills), VSM (more stability), ESC (electronic stability), and of course an anti-lock breaking system (ABS) that a driver like ME can't live without
EXTERIOR
The boxy low to the ground look is not MY favorite, but I understand that a style like this makes GREAT use of interior space in a small car.  Here's a tour of the exterior…
THE GOODS
The truth is that I don't spend my time on the OUTSIDE of a car, so I'm all about the interior and what it can do for me. There were lots of nooks and crannies to store my phone, sunglasses, iPod, and diet soda, as well as spots to stash the candy for later. I would have liked a remote keyless entry, as I can just leave the key in my handbag and get it and push the button, but it had that COOL switchblade key styling.
I found it to be GREAT on gas averaging in the low 30's overall for me
 MY OPINION
It's a cute car that's a LOT of fun to play with. I'm not sure that I'm ready to give up the comfort of a luxury car or the mileage that I get in my hybrid, PLUS  I like something that's higher off the ground (at 5'1″). It's the PERFECT car for someone in their 20's and I understand my friends who LOVE the pricing and FUN that the Kia Soul offers.
At under $20,000 for the PLUS model, it's affordable and fun.
I had the use of this car to test drive for a week. All opinions are strictly my own.