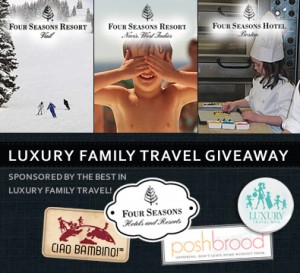 One of my KEYS to living the good life Champagne Living style is being able to travel for FREE or at a discount and have experiences and opportunities that will enhance your life. When I saw this amazing giveaway to one of the FABULOUS Four Seasons Resorts in either beautiful Vail, my old stomping grounds of Boston  or  OMG  Nevis, I thought – my readers HAVE to know about this.
If you've never experienced the luxury of a Four Seasons, you're in for a REAL TREAT.  Combining elegance with family friendly amenities, these resorts are experiences that you won't soon forget.
So…what are you waiting for? Visit  Luxury Travel Mom, Ciao Bambino,or PoshBrood to enter, and check out the Four Seasons to plan your trip!