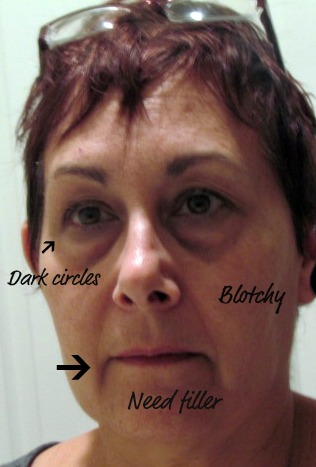 I've been here before! One of my least favorite things to do, is look in the mirror upon waking. While some of you wake to porcelain skin with a rosy complexion, I wake to over 57 years of too little too late. Back in the 70's the closest thing that came to sunscreen was baby oil and iodine, and my skin shows it. Add to that the hereditary dark circles, bags from having way too much fun, and a dire need for some plumping and it's downright depressing.
That doesn't mean that I've given up. As you know, I no longer leave the mansion without dipping into a vat of spf, and I'm doing everything that I can to start taking care of my skin now (Dr. Pozner removed quite a few sun spots the last time I visited him).
This month I'll be using the Meaningful Beauty collection by Cindy Crawford and Dr. Sebagh (oh, to have her skin, oh, to have her body, oh, to have her…). I've used their Crème de Serum before. With one simple pump the glear gel, orange swirl and white swirl in each bottle are instantly blended together to provide the benefit of all three products in one:
Orange Swirl – formulated to help provide protection with a super-antioxidant called superoxide dismutase (SOD) from a rare French melon (a hero ingredient seen throughout the brand's most effective products)
White Swirl – contains anti-aging peptides designed to help to minimize the appearance of fine lines and deeper wrinkles
 Clear Gel – includes hyaluronic acid which helps hold in moisture for a fresh, dewy look
Believe it or not, I'm most excited to try the Skin Softening Cleanser. Most of the cleansers that I've tried have ingredients that dry out my skin, making it that much more difficult to keep moisturized. Since I tend to be GREAT in the morning with a full-on skin care routine, and slack before going to bed (I'm lucky if my face gets washed and moisturized), I figure that just forcing myself into a PM routine should help.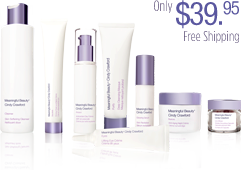 The Meaningful Beauty Kit is made up of 5 simple steps (plus it has 2 bonus products):
Skin Softening Cleanser
Antioxidant Day Crème SPF 20 UVA/UVB
Crème de Serum
Lifting Eye Crème – Advanced Formula
Skin Brightening Décolleté and Neck Treatment SPF 15
Glycolic Treatment Pads
Glowing Serum
Collagen keeps skin healthy, youthful and resilient. Unfortunately, as we age, we begin to produce free radicals, which can break down collagen. Add sun exposure and other harsh environmental factors to the mix, and you have the perfect recipe for wrinkles, fine lines and visible skin damage.

Fortunately, there's Meaningful Beauty. In a clinical study – within 6-weeks:

85% of participants reported their skin visibly improved.
91% of participants noticed an overall improvement in the healthier appearance of their skin.
76% of participants noticed a decrease in skin dullness and dryness.
85% of participants would recommend the product to a friend.
100% of participants reported no irritation.
I'll keep you updated on my progress (and give the products a chance to perform their magic). The entire collection is priced at only $39.95 (less than just one product at the drugstore). If you'd like to try them along with me, simply go to 
MeaningfulBeauty.com
and order.  Shipping is FREE and they have a 60-day money back guarantee.
I wrote this review while participating in a test drive campaign by Mom Central Consulting on behalf Meaningful Beauty and received a 5-step treatment kit to facilitate my review, a second 5-step treatment kit to giveaway, and a promotional item to thank me for taking the time to participate.